Hockey India announces the schedule for Hero Hockey India League 2014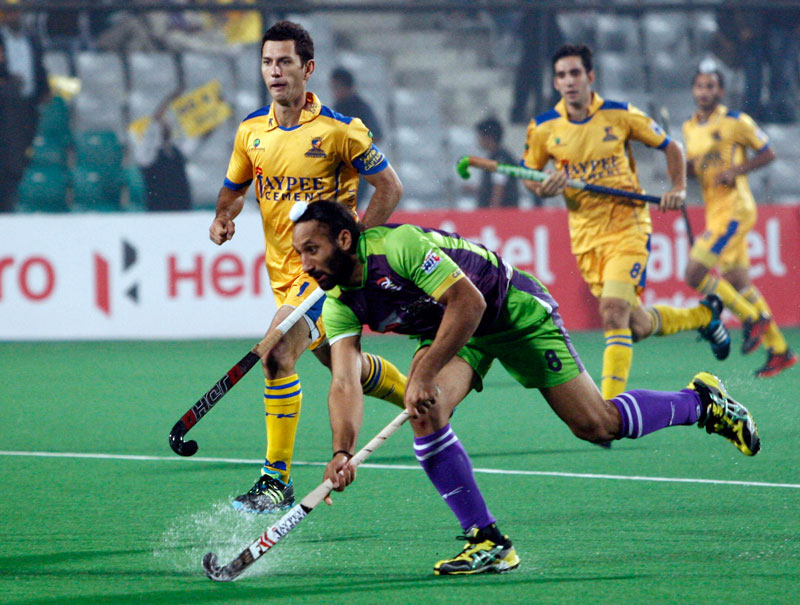 2nd January 2014, New Delhi: Hockey India today announced the schedule for the Hero Hockey India League which is all set to kick start from 25th January 2014 at Mohali with the Finals scheduled for 22nd and 23rd February 2014 to be played in Ranchi.
The first day of the League will witness the clash between Jaypee Punjab Warriors against the 2013 runners-up Delhi Waveriders at 8pm. The entire League will be broadcast LIVE on Star Sports, the broadcast partners for the tournament.
This year yet again hockey fans will get to witness 34 matches which will be played in a span of 30 days. This year the League will be played in Mohali, Ranchi, Delhi, Mumbai, Lucknow and Bhubaneswar with the opening ceremony scheduled for 25 January at Mohali Stadium.
On the 2nd day of the League- 26th January 2014, defending Champions Ranchi Rhinos will take on Uttar Pradesh Warriors on their home ground Ranchi, while on the same day Jaypee Punjab Warriors will play its second match of the League against Mumbai Magicians at Mohali. The match between Ranchi Rhinos against Uttar Pradesh Warriors will be played at 6pm while the second match of the day, Mumbai Magicians against the Punjab Jaypee Warriors will be played at 8pm.
The much awaited game of the League, Ranchi Rhinos vs Delhi Waveriders is scheduled for 27th January 2014 wherein Delhi Waveriders will be looking at settling scores against the defending champions. The match will be played at Ranchi at 8pm. It will be interesting to see whether Delhi Waveriders will be able to keep their cool and beat Rachi Rhinos in front of the latter's home crowd.
On 28th January 2014 playing for the first time in the League, Kalinga Lancers will be seen playing against Jaypee Punjab Warriors on their home ground Bhubaneswar at 8pm.
Hockey fans of Mumbai will get to witness the first match of the League being played in the city on 29th January wherein they will witness home team – Mumbai Magicians taking on Uttar Pradesh Warriors at 8pm. On 30th January 2014, Delhi will witness their team taking on Kalinga Lancers and this will be the first match of the League that will be played in the city at 8pm.
The semi finals and finals will be played in Ranchi on 22nd and 23rd February 2014 respectively. Enclosed is the entire match schedule for Hero Hockey India League scheduled for 25th January – 23rd February 2014.