Hockey legend Leslie Claudius passes away
654 //
20 Dec 2012, 19:13 IST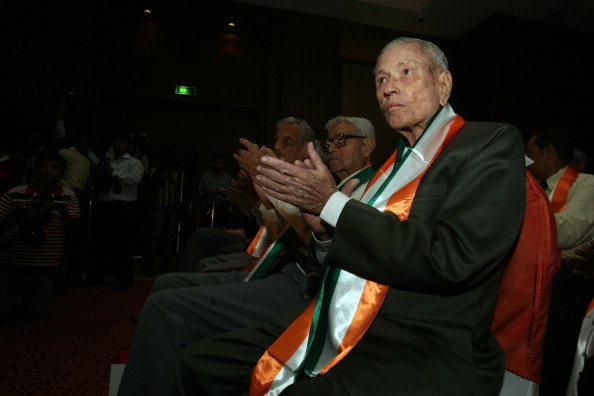 Kolkata - Triple Olympic hockey gold winner Leslie Claudius died at a private hospital here on Thursday after a prolonged battle with cirrhosis of liver, hospital sources said. Claudius, 85, is survived by his wife and three sons.
"He died at 3:25 p.m. due to multi-organ failure. He had been admitted with acute complications related to cirrhosis of liver on Tuesday," Woodlands Hospital public relations officer Suparna Sengupta told IANS.
Claudius was hospitalised four times over the past 11 months as he battled with the liver ailment.
An Anglo-Indian based in Kolkata, Claudius was member of three Olympic gold medal-winning Indian teams – London (1948), Helsinki (1952) and Melbourne (19560. At Rome (1960), he led India to a silver medal finish.
He represented the country during the golden age of Indian hockey, and etched his name in the Guinness World Records alongside compatriot Udham Singh for being part of a hockey team to win the maximum number of medals at the Olympic Games.
Born on March 25, 1927, in Bilaspur, Claudius initially dabbled in soccer, but switched to the stick game as a right half during the 1946 Beighton Cup hockey tournament as a "forced last-minute" replacement. He later made the right half position so much his own that several players changed their playing position as they feared so long as Claudius was there, they would not get into the national team.
After the 1948 Olympics, Claudius became an inseparable part of the Indian team participating in international games that included an East African tour (1952), the Malaysia tour (1954), the New Zealand and Australia tours (1955), the third Asian Games in 1958 and the Europe tour (1949).
Known for his extraordinary half-line distribution and tackling, Claudius' anticipation and covering was "out-of-the world", said another Indian hockey great, Gurbux Singh.
Despite his short 5'4″ frame, such was Claudius' greatness that the London Times once wrote of him: "Hockey is not worthwhile seeing if he is not playing."
In 1960, Claudius was made the Olympic captain, but that was also the first time India missed out on an Olympic gold, losing out 0-1 to Pakistan in the final.
He retired from international hockey after the 1960 Olympics, but continued to compete in domestic games till the 1965 season.
In 1971, Claudius became the sixth Indian hockey player to be given the prestigious Padma Shree award by the government and also served as the team manager for the 1974 and 1978 Asian Games. He was also a national selector for a few years.
On the personal front, tragedy struck in 1978 when he lost his young son Robert, who too had represented the Indian hockey team, to a car accident.
However, he got a rare honour during the 2012 Olympics, when the organisers named 361 London tube stations after Olympic legends. Six of the stops were rechristened after hockey players, three of them Indians – Dhyan Chand, Roop Singh and Leslie Claudius. Bushey was named after Claudius.