Indian Hockey - The lost glory!
2.81K //
08 Dec 2012, 21:44 IST
Hockey, our National Sport. Correction:  Hockey, our said-to-be National Sport. Oh, wait! Or is it cricket? What my General Knowledge book has taught me and what I assume from the various sources of media are two totally different things. So confusing it is.
To start with, I do not understand why is it that Hockey does not have many followers in our country in spite of being our National Sport. I did not do any survey to back the above "fact". All I did was to see two different fan pages on Facebook; Indian Hockey Team and Indian Cricket Team. The former has about 2.2 lakhs fans and the latter has over 60 lakhs fans. When Cricket is compared to Football to decide why Football is a better sport of the two, the first point that usually comes out is that a Football game is played for 90 minutes compared to 3 hours for a game of Cricket (whichever format is being played of the three). Is that really one of the major reasons as to why Football is a better sport of the two?
Well, a hockey game is played for 70 minutes ONLY.
A dialogue from the movie 'Chak De India!' really made me laugh out loud. Shah Rukh Khan's character in the movie, in the fighting scene, tells a guy who tried to attack a girl from the back with a Cricket-Bat – "Humaare Hockey mei chakke nahi hote hai."
I don't know what, according to we Indians, is the problem with Hockey. I don't know why it does not have many followers. In many ways, Hockey is very much like Football. Some of the few major differences being that Hockey is played with a stick and, of course, there's no glamour in Hockey whatsoever.
The biggest sporting event for Hockey is the Olympics, whereas, for Cricket, it's the Cricket World Cup. To draw comparisons between Hockey and Cricket, the former has made the country immensely proud. Indian Hockey team has won the Gold medal a record 8 times, whereas, Indian Cricket team has won the World Cup 3 times (twice in ODIs, and once in T20).
About 3 years ago, former Indian Cricket team Captain, Late Mansoor Ali Khan Pataudi demanded that cricket should be made India's National game. With due respect to him, on what terms did he make such a demand? Was it because he himself was a cricketer? Or was it because, according to him, Cricket has made the country "very proud"? Or perhaps, was it because, like him, Cricket is a glamorous sport (only for Indians though)?
Cricket is a relatively younger sport in India compared to Hockey. Changing the National Sport from Hockey to Cricket would be like changing one's Father because his Father can no longer take good care of him. It's time to make some effort to give Hockey its due. The sport has given us so much. Thanks to Hockey, the Indian team got us 8 gold medals in Olympics till date. More to come, I believe.
Yes, the current Indian Hockey Team is not performing very well in the International arena. There have been quite a few let downs including finishing 12th (last) in the Summer Olympics, 2012. But does that mean that we stop supporting them completely? I mean, Indian Cricket Team performed poorly in the 2007 edition of the ICC Men's World Cup, yet, thanks to the support they got by its former players, it went on to win the inaugural ICC T20 World Cup that very year. Yes, there were many critics but at the same time they were backed by their board and most importantly their fans. They didn't just make changes in the team like that. But in the case of the Indian Hockey Team, they were criticized not just by the critics, but also by their governing body. It's been less than six months since the Olympics and so many changes in the team have been made.
And you know what? If, hopefully, Indian Hockey team returns with the Champions Trophy, they would be given not more than 10 lakhs INR by their governing body, the respective player's state and Mr. Ajay Maken combined together.
For you information, each Indian player of the squad that won the ICC Cricket World Cup was awarded 1 crore INR by the BCCI alone. Let's not talk about how much they were rewarded by the government of the country and the respective player's state. Many of you might get pissed off knowing the figures.
Hockey is the National sport of India, but does a National Sport deserve all this? No, not at all!
What Indian Hockey needs today is a bunch of Administrators;
who can help getting sponsorships,
who can bring in the corporate society and club them with the sport,
who'll be loyal to the sport and, above all, the country,
possibly, the Ambani, Tata, and their likes who can bring in the much desired money that is needed.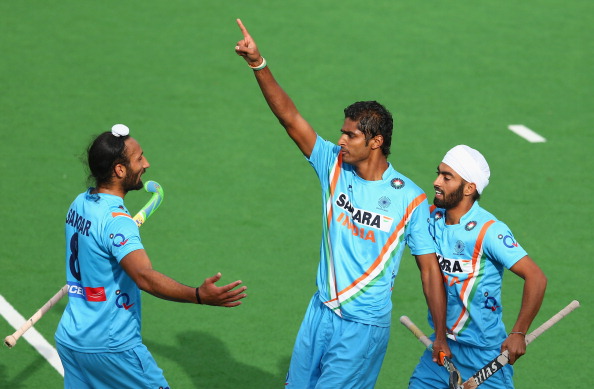 I don't think Hockey would require glamour to sell tickets of the matches and neither will it require glamour to make it to the living rooms of the urban Indian families. I once read somewhere that ' the pride at representing the country and winning the trophies and medals fills the spirit of a sportsperson, but it does not fill their stomach'.
What exasperates me is that many of us say that it is the pride of doing something for the country that must matter and not the monetary benefits one gets in return. Well, some things are easier said than done.
Forget about doing something for the country, how many of us have done something for the society seeking NOTHING in return? I am pretty much sure that people who come up with such statements or have such a mindset would never take up a job that would be appreciated by the society and at the same time would not help them earn much, rather fulfill their greed.
In case you think that a Hockey player does not work as hard as a cricketer then you are wrong. Name one Hockey player who does not look fit, can you? Well, even I can't. But I can name quite a few Indian cricketers who have a belly, forget about physical fitness. If a cricketer can bat well/ bowl well, he can play at the International level no matter how bulky he is (for e.g. Ramesh Powar). But that's not the case with a Hockey player. He should be able to cover at least 5 kilometers in the 70 minutes of game. I just have a feeling that this article is going to get me into some trouble.
Hockey India, the governing body of Hockey in India should look into the following matter today, rather now –
Indian Hockey lacks a transparent and coherent system. The selection of the officials is not done on the basis of merit. It's a pity!
Thirty-two of the Forty-eight National players do not hold any decent contracts provided by Hockey India. Why? Whatever little money the players get is from the sponsors. Well, the remaining 16 do not have any central contract whatsoever.
Why should Hockey India have any problem with World Series Hockey? Is it not providing the players with a platform? Is it not helping the players to get better at their game? Is it not helping them earn money which they totally deserve? And most importantly, is it not helping the game get more followers? Stop being a selfish spoilsport, Hockey India!
Encourage kids to take up Hockey. If that is the case, Hockey will only be a winner.
Why can't they offer the job of a coach to some former Indian player, say Dhanraj Pillai? That would help removing the communication barrier and would encourage the players to be more free to seek the coach's advice, share their game-plan and not be shy to talk over even minutest problem.
25000 INR for each player on winning a tournament? They are National players, they deserve a lot more. Even a state level cricket player earns more per test match than that amount.
And lastly, to get rid of the undeserving and uninterested people who are occupying the important seats in the administration of Hockey India.
One last thing: During the promotion of his movie, Chak De India, Shah Rukh Khan, in his interviews, used to say that he is an ardent Hockey fan and used to play Hockey during his school and college days and would love to do something for the game. According to him, in those interviews, Hockey was better than Cricket.
Yet, he owns a Cricket team in the IPL but.. Role model, he is!