SportsKeeda catches up with Deepak Thakur : Beacon of Indian hockey
Deepak Thakur needs no introduction for the fans of Indian Hockey. He broke into the lime light in a dramatic fashion after scoring back to back hatricks in the Junior World cup at Hobart, Australia, which India won beating Argentina in the final.
Deepak Thakur
SportsKeeda.com's correspondent, Sumal Surendranath caught up with the star in an e-mail interview. He answered the questions posed to him in his characteristic forthright manner.
Sumal@SportsKeeda: How were you first attracted towards Hockey?
Deepak Thakur: My interest in hockey was entirely due to my father, who wanted me to be a sportsman.
Sumal@SportsKeeda:   Can you please tell me about your family background?
Deepak Thakur:  My father is an ex- service man.  Both I and my sister are into sports. My sister is a national level badminton player.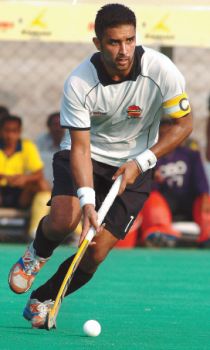 Sumal@SportsKeeda :  Which was your breakthrough year in your career till now?
Deepak Thakur :  Undoubtedly, the 2001 Junior World Cup at Hobart, Australia .I was declared the top scorer of 2001 Junior World cup with ten goals.
Sumal@SportsKeeda: What are your views on the state of Indian domestic Hockey?
Deepak Thakur: The domestic structure is in a bad shape. Nothing is organized as there is a communication gap. Frankly, no body bothers about sports as national spirit is absent. Bureaucrats are making money and players are not getting anything. We are far behind Europe. We celebrate one day as sports day in India, but for me, every day is a sports day.  National championships are never held on time. There is no annual calendar.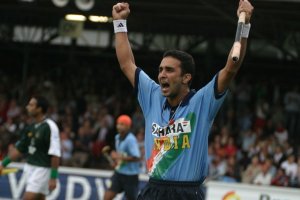 Sumal@SportsKeeda: What in your opinion is the reason for India's mediocre performance in International Hockey over the past few decades?
Deepak Thakur: Hockey has totally changed but we are still living in past. Infrastructure is lacking. We don't adopt new tactics from European countries. Sports today depends on scientific training .We do not have the correct approach towards diet, which is why we are far behind other Nations. We can compete with other teams but we may
not always win, which is what is happening over the past few years.
Sumal@SportsKeeda: What are your expectations regarding the Indian Hockey team's performance in the forthcoming World Hockey to be held at Delhi?
Deepak Thakur: Our new Spanish coach, Mr Brasa is really good . His way of putting across things is better than India coaches. He has made many changes and players are adapting  to it  but it will take some time.. "Pyaar ka pehla khat likhane main waqat to lagta hai ".  If we are ranked in top six teams globally, it means we are going in the right direction.
Sumal@SportsKeeda: What are your suggestions to popularize Hockey amidst the youth of India?
Deepak Thakur: Hockey should be promoted on TV. Many are unaware of the rules in Hockey, so how will they be attracted towards the game? Media can also help to popularize the game." Jo dikhata hai bhai wohi bikta hai"
Sumal@SportsKeeda: Are "Foreign Coaches" the need of the hour for Indian Hockey?
Deepak Thakur: In India we have good coaches but they have to adapt to the changes in Hockey. They should not forego opportunities to learn new tactics without being ashamed of learning.
Sumal@SportsKeeda: Who in your opinion are the players to watch out for in India?
Deepak Thakur: If a mother has 5 sons, can you u ask her which one is your favourite? For me ,every player is a star.
Sumal@SportsKeeda: Are Hockey academies necessary to hone skills of budding players as is being done in cricket?
Deepak Thakur: Yes, it is necessary because in hockey, most of the players hail from very middle class families. Through academies ,we can spot them and then teach them.
Sumal@SportsKeeda: Wishing a very happy new year and all the success in your career
Deepak Thakur: Thank you.