Legends of hockey- Leslie Claudius
791 //
12 Nov 2012, 00:39 IST
Eighty-five-year old Indian Olympic legend Leslie Claudius is currently suffering from the cirrhosis of liver. Claudius has been responding well to the treatment, and it is now certain that he will fight against this problem as well. Claudius was a fighter during his playing days and is one of the most celebrated Indian Olympian, winning three gold medals and a silver medal in field hockey.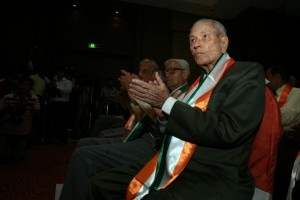 He was a part of the all-conquering Indian hockey team of the mid-twentieth century. Claudius was the part of the 1948 London Games, independent India's first games. He featured in only one game during the London Games. Being a 21-year-old young man during the time of the games, Claudius was in awe. Claudius got to learn a lot seeing the artistry of Indian skipper Kishen Lal and Patrick Jensen. Balbir Singh Sr. was a solid forward who was helped by clever passing of Lal and Jensen. Claudius was witnessing the high standards set by his seniors. In the finals, India beat Great Britain by four goals to nil at the historic Wembley stadium. India indulged in some wild celebrations after the victory. For the first time, independent India won their first medal, and 'Jana Gana Mana' was played at the Olympics. India's new national flag rose above Great Britain's. Claudius was already a part of history. He also witnessed Don Bradman's last innings at the Kennington Oval. Bradman lasted only two balls, which was a big disappointment for Claudius.
At the 1952, Helsinki Games, India comfortably won all their games, and bagged their fifth Gold medal. Balbir Sr. scored nine out of the 13 goals scored by India during the competition. In 1956 Melbourne Olympics, India won a close final against Pakistan by a margin of one goal to nil. Claudius was particularly impressed with India's goal keeper Francis. According to Claudius, Francis was one of the best goalkeepers India had.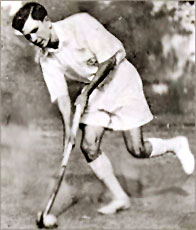 Claudius was a very fast runner. It was startling to see his presence wherever the ball went. He could outrun opponents, and would capitalize on their mistakes almost always. The legendary Dhyan Chand used to call Claudius "a sparrow". According to Dhyan Chand, who was the selector of the Indian team in the 1950s, Claudius was an automatic choice in the team.
At the 1960 Rome Olympics, Claudius was the captain of the team. India's lowest point came during that Olympic Games, when they were beaten by Pakistan in the finals by one goal to nil. Claudius still rues one missed opportunity by his team-mate Bhola, who failed to convert his pass. India lost their first game in 32 years.
You might be wondering how Claudius must have treasured his four medals. But sadly, his medals were stolen from his home in 1960, and he has not yet received any replacement medals. He is still hopeful, even till this day, that the international body does something about this.
Claudius has seen a huge paradigm shift in the Indian hockey. Today, he is deeply hurt to see the Indians playing catch-up in a game which they were the undisputed kings in, once upon a time. The alarm bells should have rung much earlier, according to him. The 1956 and the 1960 finals were very tight finishes. The administration continued to rest on India's past laurels and now we only have the glorious history to look back on, and the present is quite disturbing.
How has this legend been treated by our Government? Claudius does not have a house of his own. He lives in a rented apartment at Kolkata. He is treated as just another old man, who played hockey for his country. It seems no one cares about him. But Claudius has never complained. He has taken each and every situation sportingly. Be rest assured he will fight against his ill-health, and be victorious. The question is will anyone take notice of this legend, at least now?