Match Preview: Uttar Pradesh Wizards vs Punjab Warriors
1.05K //
26 Jan 2013, 19:29 IST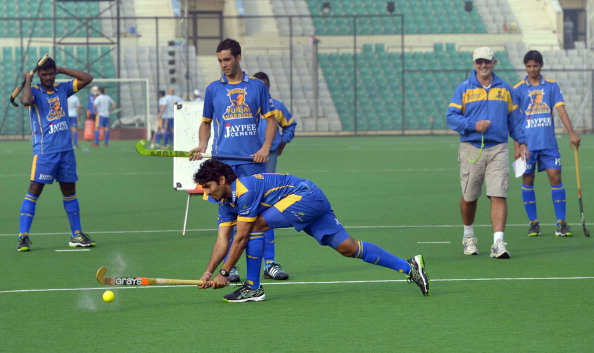 Venue: Dhyan Chand Sports College Stadium, Lucknow (Capacity–10,000)
Date: 27th January
Time: 3:00 PM
Broadcaster: ESPN
On the Super Sunday, we are hoping to experience a super match of Hockey, as Jaypee Punjab Warriors take on Sahara Uttar Pradesh Wizards; two teams which are looking to win and make their chances better for the semis.
Uttar Pradesh Wizards have been nothing more than 'decent' in their outings so far and will look to cut short the negatives and move ahead towards the aim of attaining the silverware. On the other side of coin, Jaypee Punjab warriors who were considered favourites before the tournament, were disappointing in the early stages, and haven't gelled as a team as they would have expected to. Nothing is over yet though.
Recent Performances :
Uttar Pradesh Wizards lost a thriller vs Ranchi Rhinos today by a 3-1 margin. The match was slow paced at the beginning but as time passed, they began to come out of the shell. Uttar Pradesh didn't convert the penalties they got and Mandeep's heroics stole the game from them. Just when it looked like Uttar Pradesh will manage a draw in the final minutes, a goal from energetic Tarundeep Singh closed the chapter.
Jaypee Punjab Warriors had a good outing by winning their first home match of the tournament in their last match by a 4-2 margin against the wand-less Magicians who are at bottom of the table. The win would have given much needed confidence for the Aussie dominated team.
Players to watch out for:
VR Raghunath – Uttar Pradesh Wizards - He's the 2nd highest goal scorer in the league with 4 gaols and will look to convert anything that comes his way.
"Some decisions went against us, hopefully we will come back strongly in the coming matches," quoted the Wizards' drag-flicker after the loss against Ranchi Rhinos.
Jaap Stockmann – Punjab Warriors - Many would have suggested Jamie Dwyer, the cool and experienced Australian as the Man to watch out for. But Jaap Stockmann, the Warriors' shot-stopper adds much more to the team than is mostly assumed. With Punjab's ordinary defence, he is doing well to save many goals. Punjab will bank on him at the back for sure.
Form Guide:
Uttar Pradesh Wizards: DWDWLL
Punjab Warriors: DWLLLW
Coaches:
Uttar Pradesh Wizards: Rolant Oltmans
Punjab Warriors: Barry Dancer
 The crowd at the Dhyan Chand Sports College stadium is always amazing and their support could lift the spirits of the wizards.
Prediction:
With the way they have been performing in the past, one can say both teams are inconsistent and the team that plays good hockey on the day will get the 5 points. It's a 50-50 chance for both teams. However, I will be ready to bet on the Punjab team.