"I am not adept at giving interviews, as there have not been many that I have been asked to do - as such, I have not been able to say much," says Neha Goyal rather apologetically after having taken us on an emotional trek down memory lane.
The tone is a shade hesitant, and at five-feet nothing, the off-pitch demeanour of the Haryana girl can scarcely be described as aggressive.
Yet, appearances can be quite deceptive as many teams around the world have agonizingly discovered - ask Alex Danson, and the English girls for instance.
Neha Goyal's goal stuns the hosts and Olympic champions
Ten thousand spectators, the vast majority of whom were vociferous English supporters, packed the stands at the Lee Valley Hockey Center on July 21 as the eagerly-awaited World Cup opener was about to begin.
As the giant red and white flags were held up in tandem with shouts of "England, England" which reverberated following the national anthems, it was Rani Rampal and co. who should have felt the jitters, but as the match got underway, it was the English defence which seemed to be in absolute disarray following a barrage of attacks from the Indians.
Coach Sjoerd Marijne had predicted to Sportskeeda that the pressure would be on the hosts, but following an initial attack of nerves, the English steadied their ship and very nearly earned a penalty stroke in the second quarter.
With just over five minutes to go for the long breather, Navjot made her way into the English circle and directed a pass to Neha Goyal who was positioned aptly in front of goal and sent the ball crashing past Maddie Hinch.
In dramatic style, India had the lead over the Olympic champions and England were forced to play catch up. Danson's side was saved the blushes as they managed to find a late equalizer but Neha's goal ensured that the Golden Girls were on the right track.
"The World Cup was by far the biggest tournament that I played in. The first match was against England and I really felt elated after having scored the first goal of the match."
Neha scored again in the vital crossover against Italy which the Indians won 3-0 but lamented the fact that her team failed to get past Ireland in the big quarterfinal.
"I really do not know what went wrong that day, but it was a really bad feeling after the match."
In an exclusive interview with Sportskeeda, Neha Goyal recounts her struggles with poverty which were exacerbated by an alcoholic father, but stresses, more importantly, that the soothing balm was delivered by her mother who offered unflinching support, and Pritam Rani Siwach who played the role of guide, mentor, guardian, and much more.
"When I was in the fifth standard, I used to be inspired by Pritam Siwach's photographs which used to be published in the local newspaper and I used to travel to the local ground to watch her play," says Neha.
"Pritam asked me why I paid a visit to the ground every single day, and it was then that I expressed my desire to start playing. She was the one who provided me with the equipment and the encouragement to start."
Incidentally, Pritam Rani Siwach scored for the Indians in a losing cause against South Korea in the Asian Games final of 1998, just as Neha Goyal did against the Japanese in the Jakarta final.
Neha was just 14 when she impressed as a junior in an U-21 tournament in 2011 and subsequently transitioned to the senior camp on the sheer strength of her talent and hard work.
"I am from a very humble background and I also wanted to be able to support my family by playing the game at the highest level. All the seniors in the team have supported me especially through the lean phases and I will always be grateful to them," says Neha as she reminisces about the early days.
"My teammates have always motivated me to overcome difficult times by stressing that I need to keep pushing myself to do better to make my family proud, and it has been my constant endeavour to try and emulate their achievements."
It has been an eventful year for the Golden Girls - so, which tournament of 2018 does Neha cherish the most?
"In my view, we did extremely well in the Commonwealth Games, and the World Cup, but our performance in the Asian Games was the best, in my opinion. The reason I say so is that it was definitely not easy to overcome the massive disappointment of losing the World Cup quarterfinals."
"The entire team was devastated following the loss to Ireland and we had to pick ourselves up really fast to be ready for another big challenge at Jakarta. The manner in which all the girls came back and managed to be at their peak in the Asian Games was commendable."
"My mother worked as a domestic help to support me"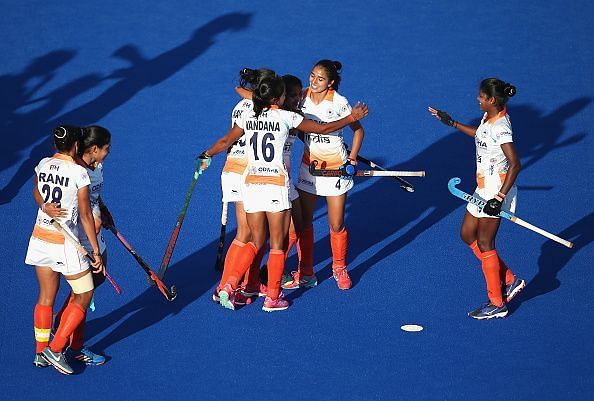 The architect of India's silver-medal performance of 1998 was on hand to congratulate Neha Goyal when she returned home after winning silver at Jakarta - it was an emotional meeting no doubt.
"Pritam had always stressed that under no circumstances should I ever look back. Her words have been the single-largest source of motivation for me. She has stood by me through the most trying circumstances, over the years, and continues to be there for me even today."
"Pritam recalled proudly that she had scored for India in the final at Bangkok just as I had done in the Jakarta final."
It has, indeed, been a momentous journey for Neha - which she says would not have been possible without the sacrifices made by her doting mother.
"My father, who is no more, was an alcoholic and was rarely ever at home when I was young. Pritam was a pillar of support for me even then."
"My mother has always been supportive of my decision to pursue hockey right from childhood. She had nothing of her own and helped provide for me by working as a domestic help. My mother's friends were apprehensive of my decision to take up a sport and advised my mother against backing the idea."
"She, however, refused to pay heed and thus helped me realize my dreams."
What, if any, are the unfulfilled hopes and ambitions for the 21-year-old champion?
"I am far from satisfied as I would like to earn a medal at the 2020 Tokyo Olympics. Of course, we have to first qualify but we are determined to do so and I am confident we can. I want to work as hard as I can and come home from Tokyo with a medal."
The journey has been tough - but Neha has a message for every young girl in India who wishes to pursue a sport.
"It is my belief that girls in India should take up a sport in order to make the nation proud. The focus, however, should be on hard work and not results. I have been playing for seven years but have cemented my spot in the team only now after being in and out for quite a while."
"I never stopped striving whether I was in the team or not, and my message to all the girls out there who want to take up hockey is to never give up trying."