World Series Hockey -- Badshahs defang the Lions
692 //
05 Mar 2012, 21:03 IST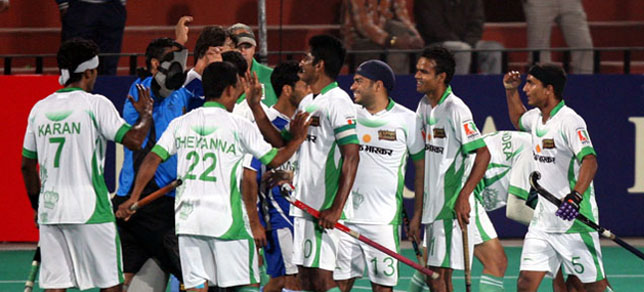 There are no free lunches in modern sport. But the Karantaka Lions seem to be the sacrificial lambs of the ongoing Bridgestone World Series Hockey series. At the Karnataka State Hockey Stadium in Bengaluru tonight, they crashed to their third defeat on the trot, albeit their first on home turf.
The team to find themselves crowned kings of the night were Bhopal Badshahs, by a 3-1 margin, and they took their tally to six points from three matches with this come-from-behind victory.
Karan Bhaskaran, son of Bhopal coach and 1980 Olympic gold medalist Vasudevan Bhaskaran, did the star turn for the visitors with a brace, a field goal in the 43rd minute and a drag flick conversion two minutes later. The classy Sameer Dad then showed composure and skill as he coolly scooped the ball past Devesh Chauhan in the 48th minute despite having his angle narrowed down by the defence.
Veteran Dhanraj Pillay gave the hosts the lead in the 41st minute after bundling in a loose ball following a cross from the right flank. Incidentally, all the goals were scored in the third quarter.
The home side, chasing their first points and with the least amount of goals in the kitty, were a disappointment despite having the home advantage, though they did have their chances to reverse the script. But they couldn't take the game by the scruff of the neck as they should have, dominating just a few periods of play and letting their rivals seize the upper hand for the rest of play.
The gold shirted Lions also had their share of misfortune though, as two of their tries struck the post before the change of ends, the unfortunate players being Amar Aiyamma and Len Aiyappa off a penalty corner.
The Badshahs were the first off the blocks with Pakistani import Waseem Ahmed spraying long passes from his pivot position and Kiwi medio Casey Henwood linking up well. Former India custodian Chauhan did well to block an indirect penalty corner attempt by Baljinder Singh in the fifth minute and he later rushed out to foil Bhaskaran after the Chennai native was put through by Dad. The head-band wearing forward muffed another opportunity earlier when Henwood threaded a neat through pass but he lost control of the ball after wrongfooting Chauhan.
Arjun Halappa worked his slender butt off in trying to force his side's first win, falling deep to pick up the ball and initiate some counters. The India reject would rue the fact that his colleagues could not take advantage of at least a couple of his crosses that sped across the goalmouth. Pillay too had his moments under the floodlights when he got a taste of the action off and on and was duly rewarded when he opened the account for his home side. But otherwise there were no standouts and another night to forget for Jude Felix's wards.