World Series Hockey -- Cheetahs maul the Lions
729 //
17 Mar 2012, 23:45 IST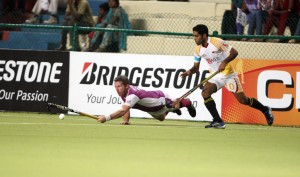 Chennai Cheetahs improved their prospects for a semi-final slot by mauling the Karnataka Lions in their own den, a comprehensive 4-1 win in a ninth round Bridgestone World Series Hockey clash in Bangalore tonight.
The visitors were well deserving of their crucial triumph and returned the compliment after losing their home match 3-5 to the Lions in the first leg. They also moved up the table to third place with 13 points, the same as second placed Bhopal Badshahs who however enjoy a superior goal difference. The Lions, who looked a bit flat after their back-to-back matches over two days, with jet lag thrown in to complicate matters, remain in the basement with 9 points after their sixth defeat.
Three goals came from set pieces, two from penalty corners and one from a stroke, and there were two field goals by Adam Sinclair (43rd minute) and Shivamani (69th) to give things a different perspective. Vikram Pillay (13th minute penalty stroke) and Imran Warsi (33rd minute penalty corner) were the earlier scorers for the winners. Sinclair had a late and well taken goal disallowed on referral as the ball was chopped into the circle or the rout for the hosts would have been even more comprehensive.
Vinayak Bijwad pulled one back for the losers by rescuing a messily taken penalty corner routine in the 35th minute with a stunning hit that zipped past Santosh Kumar at the near post.
The match started on a promising note with chances going astray at either end. Both sides boasted a deadly penalty corner exponent each in their ranks but only Warsi could make his mark with his 14th strike of the tournament. Jose Brasa's side, with the worst defensive record in the tournament, surprising for a European-coached side, however were not called upon to do anything extraordinary to take full points.
They got on the right track when former India midfielder Pillay converted a penalty stroke by sending Devesh Chauhan the wrong way. The Bangalore goalkeeper himself had committed the foul that resulted in the penalty, albeit after bringing off a smart save to deny Joseph Reardon from close. Warsi made it 2-0 in the 35th minute with a drag flick that thudded against the boards even while his counterpart Len Aiyappa had a bad 'hair-less' day at the other end.
The Lions sought to ride on the great home support at the Karnataka State Hockey Association Stadium and did on occasions as the Cheetahs gave away the ball repeatedly.  Goalkeeper Santosh Kumar brought off an outstanding save to deny Ravipal Singh in the 19th minute but the livewire forward kept getting frustrated as the game progressed. Skipper Arjun Halappa too was not the same sparkling self that he was yesterday in Mumbai. In the end, the spirit was willing but the flesh was weak as the tired Lions surrendered the initiative.