World Series Hockey – Comets end Strykers' unbeaten run
728 //
11 Mar 2012, 20:59 IST
Chandigarh Comets rallied splendidly to bring Pune Strykers' unbeaten run to an end in a thrilling sixth round clash of Bridgestone World Series Hockey at the PCMC Stadium in the western city that provided appetizing fare for the goodly Sunday crowd but left them disappointed at the result.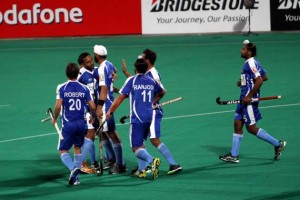 After Mario Almada gave Ken Pereira's outfit the lead in the 11th minute with a Super strike befitting his moniker on the run of play, the streaking Comets replied with goals from Canadian international Gabbar Singh (12th), Gurjinder Singh drag flick (41st), his seventh goal in the competition, and Lloyd Stephenson (51st) to run out comfortable 3-1 winners at the final hooter.
The humdinger of a match in which the Comets had the last laugh was played at a frenetic pace and saw end to end action with the two sides trading punch and counter-punch as both went for the jugular with all their guns blazing.
For the winners, skipper Rehan Butt finally lived up to his star billing with some great runs through the park though he hobbled out with a hamstring injury later. Defender Matthew Philips worked hard to keep his citadel standing, Malaysian midfielder Jiwa Mohan pitched in with some good interceptions and clearances while goalkeeper Harjot Singh was simply outstanding as he brought off several incredible saves to help the visitors survive the Strykers' onslaught. In one sequence in the second quarter he denied Gurpreet Singh from a penalty corner and then instantly came up with two rescue acts in quick succession including one from a push from close by Almada that had goal written all over it.
Pune set a scorching pace from the start and the Argentine opened the account with a lovely reverse hit after making space for himself in the circle. Stung by the reverse, the Comets upped the ante and forced their first penalty corner in the very next minute and from the scrimmage that resulted Gabbar notched his fifth goal of the league that caught Guri in the Pune goal napping as the ball went in at the first post.
While good defending and great goalkeeping helped the Comets keep the Strykers at bay, it was their poor penalty corner routines that did the latter in as Gurpreet was unable to add to the eight goals that stood against his tally due to some faulty stopping.  Pune forced six penalty corners in all but could turn none to account.
With their third win, Comets finally caught up with the Strykers — both have nine points — but the home side have one win less and three draws in the kitty.