World Series Hockey -- Comets maul the Mariners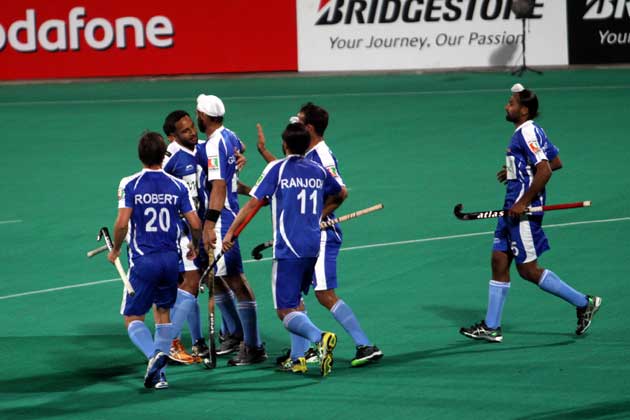 Chandigarh Comets today did not look like a side that had lost their two opening ties in desultory fashion at home earlier. They had Mumbai Mariners on the rack for the major part of their third round clash in the Bridgestone World Series Hockey tie at the Mahindra Stadium and trooped out out deserving 5-2 victors at the end of the night.
And had it not been for former India goalkeeper Adrian D'Souza, now out of favour with the national selectors, who pulled off save after sensational save from the relentless barrage of attacks generated by the Comets, the hosts could have lost by a bigger margin.
Much against the general trend of play, the seafarers surprisingly started in whirlwind fashion and were up by two goals in the space of eight minutes with the nippy Troy Sutherland (3rd minute) and the irrepressible Joga Singh giving the hosts the early momentum.
However, a brace each by penalty corner expert Gurjinder Singh and Canadian international Sukhwinder Singh Gabbar and a solo effort by Ranjodh Singh turned the tables on the home side.
The tide began to turn against the Mariners as the Comets found their bearings and Gabbar first breached the Mumbai defence in the 17th minute by scooping the ball into the net after a monentary lapse of concentration by the backs presented him with an unexpected opening. The defenders were expecting the referee to blow for a penalty corner after the ball was carried in the circle but he played the advantage and Gabbar pounced on it.
Drag flicker Gurjinder's goals in the 24th and 46th minutes first helped his side cross over on level terms at half-time and then take the lead in the third quarter.
Ranjodh Singh then compounded the misery for the losers with a solo goal in the 53rd minute that saw the entire Mumbai backline caught in sleepwalking mode. Gabbar lastly converted a stroke in the 70th minute, awarded after a referral, to complete the rout.
The Chandigarh strikers were also guilty of some incredible misses as Ramandeep flicked over the bar from close and international Bharat Chikara's angular push from handshaking distance rolled wide of the far post.
Mumbai had a few chances of their own to restore parity but it was not supposed to be their day as Aijub Ekka missed and Sutherland fumbled with a late chance which was saved on the goalline by Preetinder Singh. But with the Chandigarh defence marshalled by the lanky Matthew Phillips holding firm, they did not come by too many opportunities as well.
The only major setback for the winners was an injury to their skipper, Pakistani forward Rehan Butt, in the last quarter. He was rushed to hospital for treatment.
While Chandigarh finally opened their account, it was the second defeat for the hosts and they also remain on three points from a lone win in their second outing.