World Series Hockey – Len, the Lion-hearted!
704 //
06 Mar 2012, 23:03 IST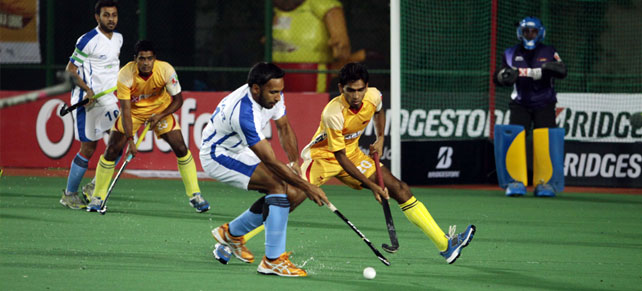 After being defanged in all their three earlier matches, Karnataka finally found their roar and an unlikely hero in Len 'the Lion-hearted' Aiyappa whose hat-trick of penalty corner conversions shot down high flying Chandigarh Comets 3-2 in a nail biting fourth round encounter at the Karnataka State Hockey Stadium in Bengaluru tonight.
It was a tense finish to the match as Jude Felix's lads held on in their den for their first win as the Comets threw everything at them as they slid to their third defeat.
The bald headed Coorgi defender scored in the 10th, 20th and 27th minutes off successive penalty corner awards earned by the home side in the Bridgestone World Hockey Series which is being dominated by the set piece strikers. His fourth effort in the last quarter was deflected by a rusher for a long corner. Perhaps, Chandigarh goalkeeper Swinder Singh could have done better with his work under the bar and saved at least one of those strikes.
Young and hardworking Arjun Antil too could have got on the score sheet for the victors but his crackling shot which beat Swinder all ends up, struck the post in the 59th minute. Karnataka had more bad luck a few minutes later when they did everything but put the ball in the net as confusion reigned in the Comet circle. Ix's
The Comets picked up their fabled pace with which they had bamboozled the Mariners last Sunday only after half time. Still, they did not play up to their full potential. They however were rewarded for their persistence when the gangling Ramandeep Singh finally squeezed a reverse hit from an acute angle past Jagdeep Dayal under the Karnatka bar in the 37th minute. The enterprising Bharat Chikara pulled another one back with a crackling top of the D shot in the 64th minute that beat Dayal all ends up. But the Lions held on to script a famous win.
It was a tactical and determined victory for the pride of Lions led by Dhanraj Pillay what with skipper Arjun Halappa being rested for this match. They kept possession of the ball as veteran Pak midfielder Adnan Maqsood played a steadying role and denied any pace to the speedy Punjab outfit. Solid defensive work by Aiyappa and left-back Zeeshan Ashraf also helped keep the nippy Comet forwards – Gabbar Singh, Chikara and Ramandeep – at bay.
For the Harendra Singh coached side there was nobody who could turn the game around tonight. Their international recruits — skipper Rehan Butt, Gabbar, Siwa Mohan, Matthew Phillips and Lloyd Stephenson – were as listless as their Indian colleagues, barring the lively Chikara whose untiring efforts went unrewarded.