World Series Hockey -- Len the Lion roars again!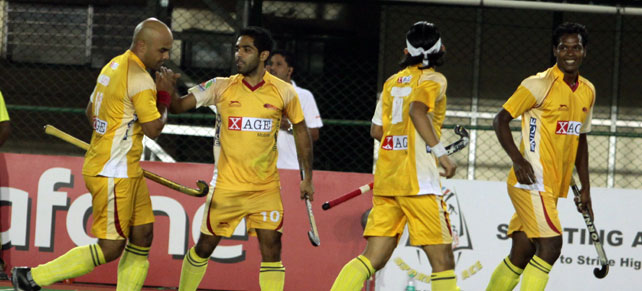 For a side that occupied the basement for quite a while and were written off by almost everybody, the transformation of the Karnataka Lions's fortunes has been remarkable. Jude Felix's side has got better with every outing and today they came up with another good show to script their fourth win in a row, a 5-2 upset of Bhopal Badshahs before a houseful Aishbagh Stadium in the penultimate round of the Bridgestone World Series tonight.
The man who has almost singlehandedly rewritten the script for the Lions is the close shaved Len Aiyappa who notched his second hat trick of the championship to help the visitors retain third spot with 21 points from their seventh victory and brighten their chances of a semi-final spot. On the other hand, the Badshahs, who crashed to their sixth defeat, remain in fifth spot with 17 points and the denouement left coach Vasudevan Bhaskaran fuming after the match.
The Coorgi's three consecutive strikes came in the 32nd, 45th and 50th minutes to take his tournament tally to a lucky 13. Arjun Halappa had given the Bangalore team an opportunistic lead in the 26th minute when he pounced on a defensive error in the circle to push the ball past Baljit Singh. The visitors capped their victory with a superb field goal by Naveen Kumar in the 66th minute in a sparkling move involving their hard working skipper. The goal forced the crowd to head for the exit.
Pakistani Waseem Ahmed reduced the margin from the Badshahs' fourth penalty corner in the 43rd minute and Karan Bhaskaran also came good four minutes later to make is 2-3. But that is where the Badshahs' resistance ended.
Former India custodian Devesh Chauhan also played a great part in the Lions' victory as he stood like a rock when the Badshahs threw hook, line and sinker at his citadel to try and reverse the script. Baljit Singh too kept the royals' hopes alive at his end though Halappa was unlucky to see his audacious scoop hit the post in the 63rd minute.
The first quarter a rather tepid affair with both teams probing for the elusive chinks in the rival armour as well as taking care not to expose any of their own. The first penalty corner of the match was only forced after the second quarter started.
However, things picked up considerably thereafter as the Badshahs came into the second quarter with renewed determination and were unlucky to miss the target after a fluent attack from the left flank. But the visitors, who had the Lion's share of possession till then, came roaring back to take the lead through their skipper. Aiyappa then put the Bangalore side on the path to victory with his hattrick though pivot Adnan Maqsood, defender Zeeshan Ashraf and Halappa also played their minor but not unimportant parts.