World Series Hockey -- Lions feast on Marines
712 //
16 Mar 2012, 22:55 IST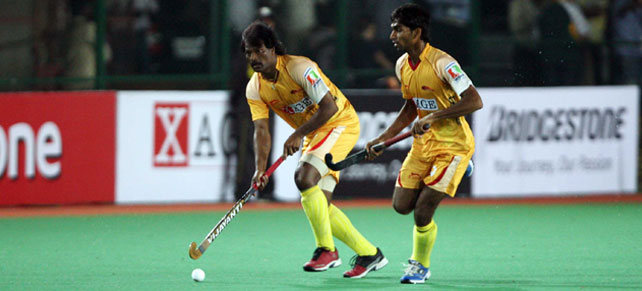 Things are hotting up in the Bridgestone World Series Hockey with Karnataka Lions storming back into contention by routing Mumbai Marines 4-2 in an exciting eighth round match at the Mahindra Stadium in Mumbai. The winners led 3-1 at half-time.
After Joga Singh opened the account for the hosts in the 7th minute, the Lions stormed back through a brace of goals by Arjun Halappa (20th & 25th minutes), Naveen Kumar (32nd) and a penalty corner conversion by Len Aiyappa (43rd). Bimal Lakra pulled one back in the 63rd minute with a snap shot but that was the end of Mumbai's challenge.
It was an appopriate riposte by Jude Felix's lads who had lost their first leg encounter by the odd goal in three. The Bangalore side cooked up some fluid moves with long haired skipper Halappa, Ravipal Singh, Arjun Antil and Kumar runing riot, helped by promptings from midfield general Adnan Maqsood of Pakistan.
It was the locals who tasted success from their first penalty corner when Joga smote in a rebound after goalkeeper Devesh Chauhan kept out Devinder Walmiki's powerful drag flick.
That was just the catalyst required to provoke the visitors into retaliation and it was India reject Halappa who took it upon himself to spark a change of fortunes with his individual brilliance, high work rate and splendid opportunism. His first goal was a simple tap in, the second materialised after Malaysian Mohammed Radzi made a diagonal run, rounded Ajmer Singh and took a shot that was blocked by Adrian D'Souza. But Halappa pounced on the rebound in a flash.
The Coorgi also had a hand in the third goal as he doggedly worked his way along the baseline, drew D'Souza out for a save and the loose ball fell to Naveen Kumar to flick into an untenanted cage. Aiyappa hammered the final nail in Mumbai's coffin with a blinder of a flick which struck the boards from Karnataka's first penalty corner in the third quarter. He however could not add to his tally with their second award late in the game.
Mumbai had their moments early on but the Karnataka defence rose to the occasion and kept the rivals on a tight leash. The Marines pushed up South African defender Clyde Abrahams into the midfield after the change of ends to try and retrieve their fortunes but the ploy did not work.
With their third win, the Lions improved their tally to nine points, just one behind the Marines who remain on 10 after their fourth defeat, all at home. The visitors however still inhabit the basement.