World Series Hockey -- Lions roar back into contention
706 //
21 Mar 2012, 23:11 IST
mumbai-karnataka-gallery8.jpg">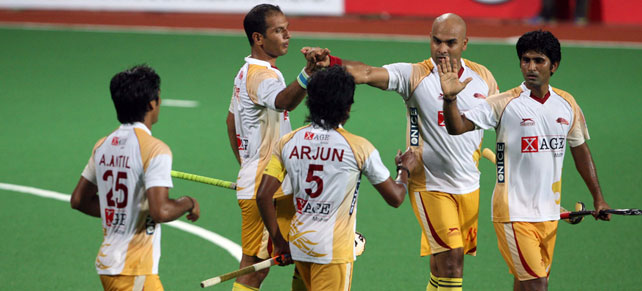 Karnataka Lions roared back into the reckoning by downing Pune Strykers 3-2 in a topsy turvy 10th round Bridgestone World Series match played at the Karnataka State Hockey Association Stadium in Bangalore tonight.
Karantaka began with gusto and the bustling Ravipal Singh deservingly gave the Lions an early in the 9th minute from out of nothing with a spanking top of the D shot that sounded the boards like a cracker. Their talismanic 'Kojak' replica Len Aiyappa then increased it in the 12th minute for his seventh goal of the tournament from the hosts' first penalty corner.
The Strykers rallied strongly and Nikkin Thimmiah found himself free at the far post to pull one back for the visitors in the 16th minute off a cross from the right wing that sliced through the negligent Lions' defence. The visitors then made it 2-2 when Bikash Toppo scored from a penalty corner rebound in the 29th minute after the Karnataka defence was again caught napping.
Malaysian import Mohammed Radzi then showed great commitment to notch the match winner in the 67th minute, throwing himself full length to deflect a hard hit into the rival circle that beat Pune custodian Guri all ends up.
The Lions now move out of the basement with 12 points, the same as Pune, who have one win less. They now need to get good results in their last four matches to squeeze into the top four.
Pune's lack of finishing ability and their inability to close out a match returned to haunt them yet again. The Strykers started slowly in this must win game but found their attacking fizz in due course. But they were repeatedly thwarted by former India goalkeeper Devesh Chauhan who made over half a dozen vital saves.
At the other end, Guri too denied Ravipal in the 44th minute while Dhanraj Pillay failed to connect into an open goalmouth three minutes later. The veteran was caught on the wrong foot afterwards when a bouncing ball crashed onto his knee and was quietly escorted off the field yet again.
Karnataka skipper Arjun Halappa was off colour today and was unable to rally his troops like he did in earlier matches. The Pune defence also held firm generally and conceded only two penalty corners to deny Aiyappa more opportunities to do the damage.
However, the Lions did press for the match winner in the last quarter and were rewarded when Radzi produced his moment of magic to help them take full points.
https://www.sportskeeda.com/predictor-game/
Predict the results in the WSH predictor game!
Make your predictions NOW!!!