World Series Hockey -- Shers finally lose the plot
731 //
07 Mar 2012, 21:01 IST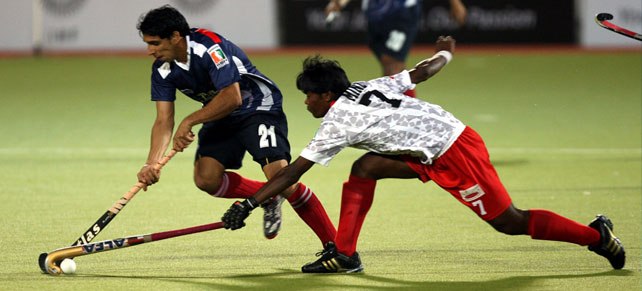 Table toppers Sher-e-Punjab's unbeaten run in the Bridgestone World Series Hockey was finally brought to an end by a determined Delhi Wizards who came from behind to record a famous 1-2 upset in their fourth round away clash at the Surjit Singh Hockey Stadium in Jalandhar.
The 'lions of Punjab' have only themselves to blame for their first defeat despite doing most of the attacking and enjoying most of the possession. But they had precious to show for their enterprise except for a solitary goal scored in the 22nd minute by Aussie indoor hockey star Matthew Hotchkis.
This was partly due to the prodigality of their fumbling forwards, the ineptitude of their penalty corner routines (they forced ten in all without success) and the agility of Kamaldeep Singh in the Delhi cage who brought off some critical saves.
Delhi reduced the margin in the 41st minute through Manoj Antil who was ideally placed to guide the ball home for a superb finish following a cross from the right flank. The goal perked up the visiting sorcerers and they came back into the game as an attacking force with Shakeel Abassi essaying the playmaker's roll to near perfection. It was the Pakistani forward who set up Gurvinder Singh for the match winner in the 64th minute. The latter's firm push from the top of the circle beat Punjab custodian Dinesh Ekka all ends up.
With the visitors resting their main magician Rajpal Singh for the match, and nobody putting his hand up to shoulder the leadership responsibilities till late in the day, it was an uphill battle for the visitors. They just had a couple of worthwhile attacks before the change of ends. Yet, they could have draw level had lanky German forward Philip Sunkel not missed incredibly at the far post late in the second quarter.
It was a shocking defensive lapse that allowed the Shers to open their account as Hotchkis, and a couple of other Punjab attackers too, found themselves completely unmarked in the circle with the head gear wearing Australian being the one to do the damage. The Shers had one more good chance to add to their tally but skipper Prabhjot Singh smacked the ball with a reverse hit onto the crossbar in the third quarter. Otherwise, it was a tale of missed chances for the wards of Rajinder Singh, a former India full back and also national coach.
Pune Strykers now have a chance to zoom to the top of the table if they can win or draw their match against Bhopal Badshahs in their hometown later tonight. Delhi move to six points with their second win while the Shers remain one point ahead.