World Series Hockey -- Shers overpower the Marines
670 //
14 Mar 2012, 21:02 IST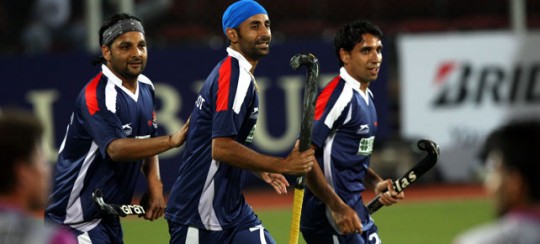 Sher-E-Punjab powered their way to a 3-2 triumph over Mumbai Marines in a fast paced seventh round match of the Bridgestone World Series Hockey at the Mahindra Stadium before a fairly packed house tonight.
Defensive mistakes let to the Mumbai side's downfall as they conceded two soft field goals in an action packed match between two teams in the top tier of the league in which the defences otherwise had a good outing. Deepak Thakur notched a brace for the winners, one from a penalty corner deflection in the 56th minute and another from open play as the Mumbai defence let the ball slip through for the former India player to easily sound the boards in the 63rd minute.
Earlier, the western outfit conceded their first goal in the opening minute when Pakistani midfielder Tariq Ariz pushed the ball onto the boards in a flash following a long corner taken by Matthew Hotchkis with the Mumbai defence caught napping.
Joga Singh equalised in the 12th minute off an opportunistic deflection after Xess Bhanmali had surprised the Jalandhar defence with a fierce hit into the circle from the middle of the pitch. And Devinder Walmiki pulled one more back with two minutes left on the clock from Mumbai's only penalty corner of the match as compared to Punjab's three – they took full advantage of their third award. But it was too late in the day to save the Mariners' bacon despite their frenetic hunt for the leveler that never came.
The Shers now move to 13 points and the top the table on better goal difference as compared to Bhopal Badshahs who also have 13 points. Mumbai, who slipped to their third defeat, remain on ten points and in fourth place.
Apart from the five goals that were scored in the match, there were plenty more chances that went abegging at both ends with the visitors having a more of them. The Shers took off in a flash and had the Mumbai defence on the backfoot no sooner had the match got underway as spearhed Thakur, Matthew Hotchkis, Gagan Ajit Singh and Mandeep Antil took shots that either went wide or were padded away by Adrian D'Souza.
Mumbai settled down slowly and launched most of their attacks from the right flank where half-back Walmiki was an enterprising customer and kept his forwards on the move. But their faulty trapping let Punjab off the hook on several occasions. On good move that originated on the left side of the pitch between Joga Singh and Troy Sutherland split open the Punjab defence but Joga missed the target by a mile.
On another occasion in the third quarter a mix up between Joga and Sutherland in the circle with the defence out of the picture and goalkeeper Dinesh Ekka at their mercy gave the Shers a valauable reprieve. It was not destined to be Mumbai's day.