World Series Hockey -- Warsi powers Cheetahs to victory
725 //
20 Mar 2012, 23:09 IST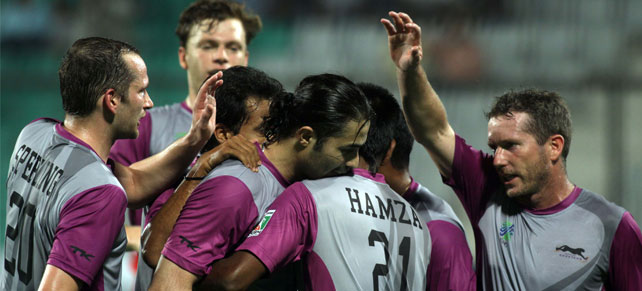 Imran Warsi did the star turn for the Chennai Cheetahs as they came from behind to devour the Bhopal Badshahs by a convincing 4-1 margin in a 10th round Bridgestone World Series Hockey encounter at the Mayor Radhakrishnan Hockey Stadium in the Tamil Nadu capital tonite.
The Pakistani drag flick expert, who came back on the pitch after suffering a grievous injury in the second quarter, scored just one goal in the 6th minute, but had a hand in the other three as the royal visitors found his expertise too hot to handle. One of his attempts from the 10 set pieces the hosts forced, resulted in a penalty stroke (converted by Vikram Pillay) while Adam Sinclair and Pillay pounced on the rebounds from his other efforts to complete the rout.
Waseem Ahmed gave the visitors a shock lead in the 3rd minute after Sameer Dad had weaved his way into the circle and squared the ball from the baseline for the Pakistani to sweep it in onto the woodwork.
Warsi dragged his side back into the game a few minutes later with his powerful conversion from the first PC his side earned to take his tournament tally to 15, almost half of what the Cheetahs have managed to score. Pillay then converted a controversial penalty stroke awarded by the third umpire in the 53rd minute to put his side in the lead and was on hand to round off the tally after Sinclair had also got his name on the score sheet.
The Cheetahs could have well run up a tennis score but former India goalkeeper Baljit Singh rose to the occasion time and again to foil the drag flick ace from the other side of the border. The Pakistani, who puts defenders in grave physical danger with the ferocity of his drag flicks, however was himself stretched out after collecting a ball smack on his face during open play. He however came back recharged in the third quarter to change the course of the game.
With this result, the Cheetahs extracted revenge for their loss in the first leg and retained their third slot on the table, increasing their tally to 16 points from their fifth win, while the losers remain in fourth position with 13 points.
Vasudevan Bhaskaran's side were very much in the game till half time in this encounter between two former India coaches. But his wards  fizzled out as the game progressed after their skipper and main playmaker, Dad, went into his shell. On the other hand, Jose Brasa's boys played a compact game and got a grip on the proceedings in due course, attacking on the counter, European style, and earning penalty corners which their bazooka wielder Warsi turned to full advantage.