World Series Hockey -- Wizards split points with Mariners
642 //
11 Mar 2012, 23:22 IST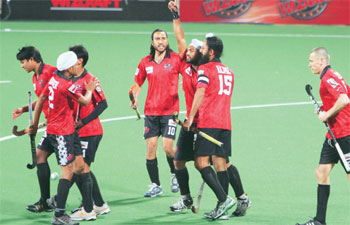 Delhi Wizards pulled a rabbit out of their hat as the minutes ticked away and split points with the Mumbai Mariners in an engrossing but scrappy 2-2 draw in a sixth round game of the Bridgestone World Series Hockey at the crowded Mahindra Stadium tonight.
Drag flicker Vikramjeet Singh pulled out his magic wand and saved the day for the visitors from the capital city by finding the equalizer in the 66th minute after firing them into the lead in the 12th minute. Mumbai got their goals through drag flicker Devinder Walmiki (25th) and Sandeep Michael (45th minute field goal) and would rue their missed chances. Had they taken them they would have zoomed to the top of the table.
Mumbai have 10 points now from three wins and a draw, the same as leaders Sher-E-Punjab and Bhopal Badshahs, while Delhi have taken their tally to seven points.
Mumbai's defence enjoyed a field day and goalkeeper Adrian D'Souza was barely called upon to exert himself except for the two goals he conceded from penalty corner routines. Diminutive left-back Ajmer Singh especially had a great outing and spearhead Philip Sunkel, stand in skipper Shakeel Abassi and Rajpal Singh of the opposition were well kept in check.
But on the distaff side the Mumbai attackers Troy Sutherland and Joga Singh, who started off the tournament with a bang,  failed to unfurl their sails and missed some great chances to break the deadlock. In a great move, Bimal Lakra once cut into the circle and laid the ball on a platter for the Aussie soon after half-time but he missed from a narrow angle.
Delhi took the lead when Vikramjeet put away their first penalty corner after Walmiki had committed a foul in the circle. This indiscretion from the young half-back was surprising as he had just been green carded a couple of minutes earlier. But the long haired player soon made amends by flicking a penalty corner award into the net that beat a diving Mrinal Choubey under the Delhi bar all ends up. Michael later made it 2-1, slotting the ball into an empty cage with Choubey stranded out of his charge following a barrage of shots.
Mathias Minz seemed to have put the visitors in trouble when he was penalized with a yellow card late into the last quarter but Mumbai failed to capitalize on their numerical advantage. But with the minutes ticking away, the Wizards earned a their third penalty corner and Vikramjeet rose to the occasion with his fourth strike in the championship to redeem the day for Delhi.