The Indian Kabaddi team is on the verge of a new era as the much-anticipated Asian Kabaddi Championship approaches. With former captain Deepak Hooda gone and veterans like Pradeep Narwal, Rahul Chaudhari, and Surender Nada missing, the team is looking for a new captain to lead them to glory.
The search for a new captain becomes critical as India's kabaddi team prepares to compete in the Asian Kabaddi Championship. The team management and selectors are tasked with identifying a leader who can inspire, strategize, and steer the squad to victory.
On that note, let's check out the three players who could lead India in the Asian Kabaddi Championship 2023:
---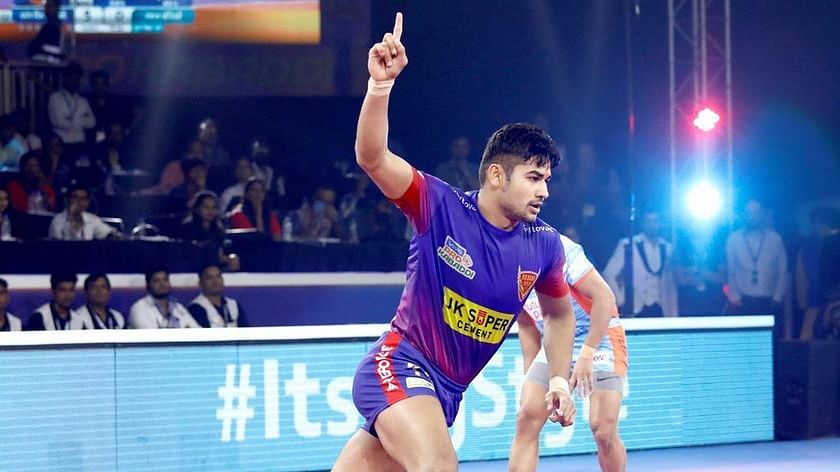 Naveen Kumar, also known as the "Naveen Express," is a rising kabaddi star. Naveen, the PKL 8 champion, is a nightmare for defenders due to his lightning-fast raids and incredible agility. With 85 matches and 948 raid points in his PKL career, he is the league's sixth-highest scorer.
His consistent performances and ability to outwit opponents with quick movements have earned him praise from both fans and experts. Naveen's youthful exuberance energizes the team, while his humility and eagerness to learn make him a valuable asset. His natural ability to connect with teammates and build team spirit makes him a strong candidate for captaincy.
---
#2 Pawan Sehrawat
Despite missing the previous PKL season due to injury, Pawan Sehrawat is now fully recovered and ready to make a significant impact. Pawan's agility, speed, and acrobatic abilities as an explosive raider have frequently taken defenders by surprise.
With 105 matches and 1037 raid points in his PKL career, he is the league's fifth-highest scorer. The ability to score crucial raid points even in difficult situations has earned him the title of game-changer.
Pawan's ability to remain calm under pressure and make sound decisions make him a natural leader. the 26-year-old sets a good example by consistently displaying determination and resilience, which can inspire his teammates to reach new heights.
---
#1 Sunil Kumar
Sunil Kumar brings a wealth of experience and defensive expertise to the table as a seasoned defender and current captain of the Jaipur Pink Panthers, the defending champions.
Sunil has an impressive tally of 281 tackle points in 114 Pro Kabaddi League matches. Sunil can dismantle opponents' raiding strategies thanks to his strong tackles and impeccable timing.
His outstanding performance of 64 tackles last season was critical to his team's title-winning campaign, demonstrating his ability to outwit raiders and anchor the defense.
Sunil uses excellent communication skills on the mat to coordinate the defense and instill confidence in his teammates effectively. He is well-suited to lead India's defense and inspire the team to perform at their best due to his disciplined approach and unwavering determination.
---
With India's rich history in the Asian Kabaddi Championship, having won seven gold medals out of the eight editions played so far, expectations are high. A strong and inspirational captain will be crucial in guiding the team towards another title triumph.
As fans eagerly anticipate the tournament, all eyes will be on the Indian team and the chosen leader who will steer them toward success. The Asian Kabaddi Championship 2023 presents an opportunity for India to reaffirm their dominance in the sport and add another glorious chapter to their kabaddi legacy.