As all UFC fans know, there's nothing as entertaining as seeing a brutal knockout inside the octagon, whether it's in a title fight or a preliminary bout.
From flashy, wild strikes to plainly vicious punches, 2022 has given UFC fans plenty of brilliant knockouts to savor, making it hard to whittle down a list of the best.
However, the following knockouts not only stunned the fans with their ferocity, but also made a major impact in the bigger picture too.
Here are the five best UFC knockouts of 2022.
---
#5. Alex Pereira vs. Sean Strickland – UFC 276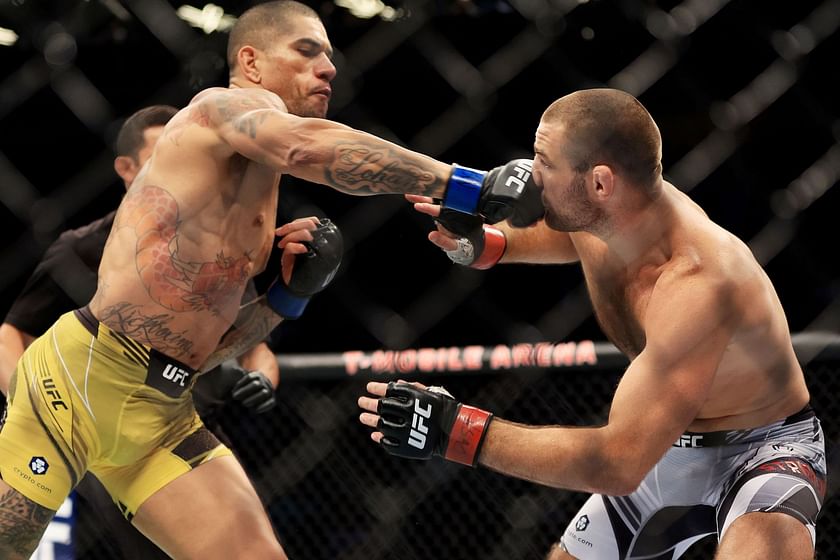 The most important knockout Alex Pereira scored in 2022 undoubtedly came over Israel Adesanya at UFC 281, as it gave him the middleweight title.
However, that knockout was due to a culmination of strikes, meaning the most devastating reminder of the power of 'Poatan' came a few months beforehand when he faced Sean Strickland.
At that point, Pereira was still largely untested in MMA and the fight with 'Tarzan' was his first against elite-level competition. Many fans expected him to crumble, with Strickland exposing the likely holes in his ground game.
That never happened. Instead, Strickland came in with a baffling gameplan. Not only did he choose to stand with the renowned Brazilian kickboxer, but he did so whilst barely keeping his hands up, too.
It didn't take long for 'Poatan' to make him pay. After slipping a lazy jab midway through the first round, Pereira clocked Strickland with his trademark shot – a brutal left hook.
'Tarzan' folded, and Pereira didn't even need to follow the shot up, as it was immediately clear that the fight was over. With this violent finish, 'Poatan' had punched his ticket to a title shot, and the rest is history.
---
#4. Molly McCann vs. Luana Carolina – UFC Fight Night: Volkov vs. Aspinall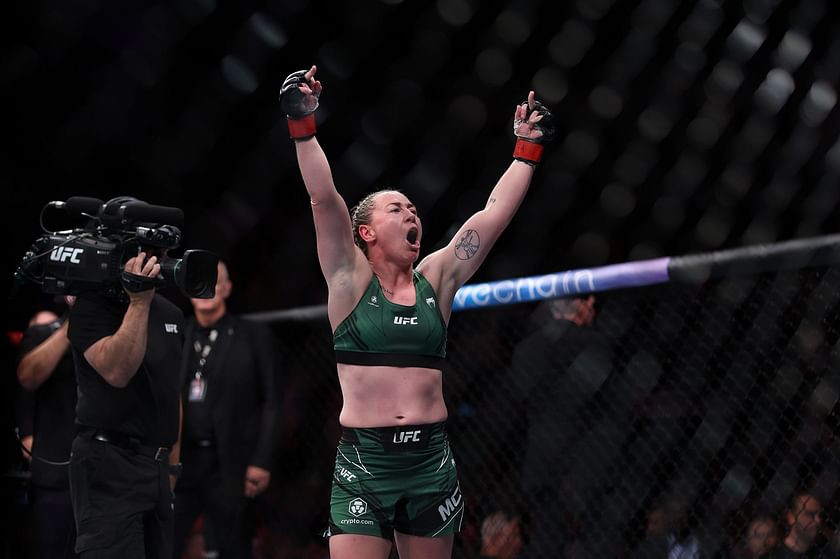 Okay, so in the end, Molly McCann's two violent wins in 2022 didn't end up meaning too much. 'Meatball' was beaten handily in her third fight of the year by Erin Blanchfield, knocking her back out of potential title contention.
Despite this, it's hard not to name the Liverpool native's March finish of Luana Carolina on a list of the best knockouts of 2022. Put simply, her stoppage of the Brazilian was one of those highlight reel-worthy strikes that will probably end up being replayed for decades.
McCann was ahead on the judges' scorecards going into the third round of the bout, but it'd been a competitive fight and the Brazilian definitely wasn't out of the running.
However, with the two women beginning to look tired in an early exchange, 'Meatball' then stunned everyone – including her opponent – by throwing a spinning back elbow.
The shot landed cleanly on Carolina's jaw and turned her lights out immediately, meaning McCann didn't even need to follow up. The fight was over, and unsurprisingly, the fans in attendance in London went wild for their home country hero.
We'd seen plenty of spinning elbow knockouts in the octagon before, but this was definitely one of the best, and belongs on any list of the greatest UFC knockouts of 2022.
---
#3. Weili Zhang vs. Joanna Jedrzejczyk – UFC 275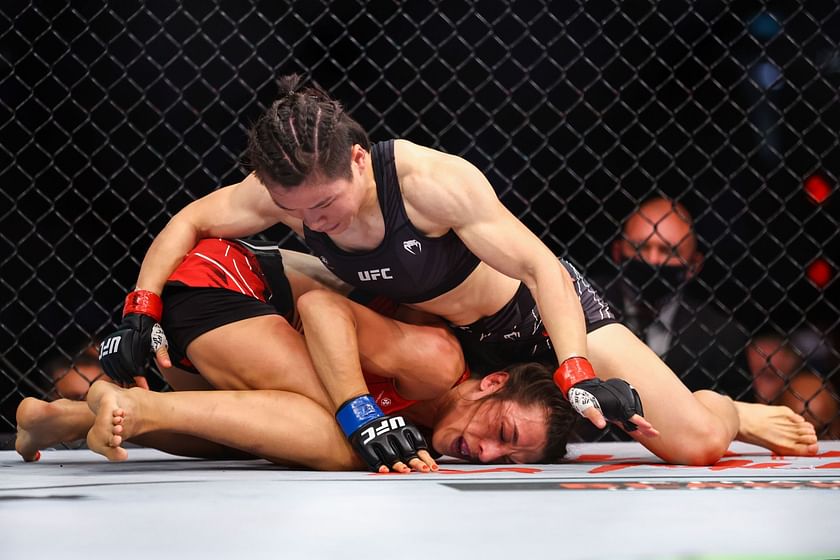 When Weili Zhang and Joanna Jedrzejczyk first met in the octagon with the UFC strawweight title on the line in early 2020, they produced arguably the greatest women's fight in MMA history, exchanging bombs for five rounds.
After such an epic war, a rematch was always likely to come at some point. Sure enough, with both women hunting for a shot at new champion Carla Esparza, they were booked to meet at UFC 275, this time in a three-round bout.
This time, it looked like 'Magnum' wasn't as willing to brawl with her Polish foe as she'd been the first time around. She largely dominated the first round on the ground, landing some heavy shots from top position before Jedrzejczyk escaped towards the end of the stanza.
That couldn't have prepared anyone for what would come next, though. After some back-and-forth action in the second, Zhang managed to land a side kick to the body, and then followed it with a ridiculous spinning backfist.
The shot connected perfectly, knocking Jedrzejczyk down face-first, and the fight was immediately called off.
The first fight was a straight-up classic, but with this knockout, Zhang managed to ensure that their rematch was just as memorable. The fact that Jedrzejczyk decided to retire after the fight only added to the occasion.
---
#2. Leon Edwards vs. Kamaru Usman – UFC 278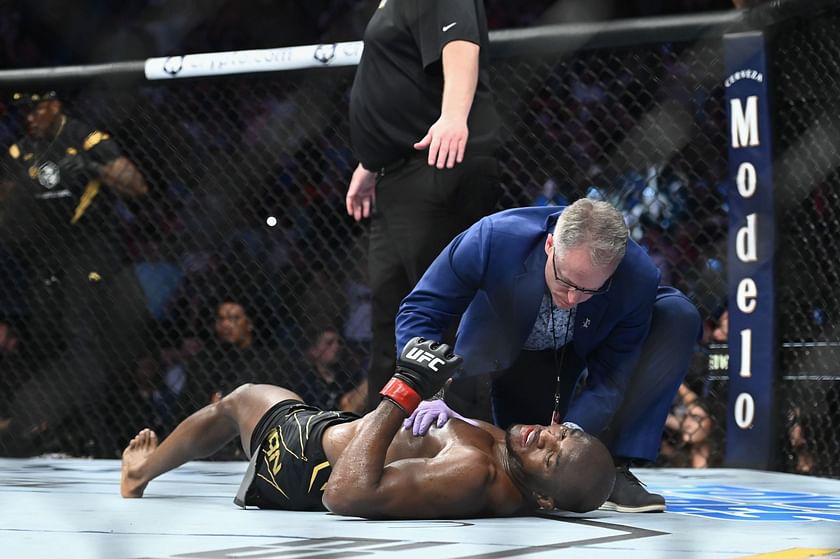 If Leon Edwards' last-gasp finish of Kamaru Usman at UFC 278 had come with a fluky, behind-the-ear punch, it still would've been remembered as a classic. After all, nobody really gave 'Rocky' a chance against the longtime welterweight kingpin, especially after he'd been dominated for the best part of five rounds.
However, not only did Edwards find a way to defeat 'The Nigerian Nightmare' with just under a minute of action remaining, but he did it in one of the flashiest ways possible – a brutal head kick.
What made this kick even more special was the fact that it wasn't a shot thrown out of desperation, either. Despite being way down on the scorecards, 'Rocky' still had the nous to set the strike up in textbook fashion, hiding it behind a feinted left hand.
Usman never saw it coming, and so Edwards' shin connected perfectly with the head of the reigning champion, switching his lights out immediately and stunning everyone watching.
Whether Edwards' title reign can last as long as Usman's remains to be seen, but it's safe to say that nobody will ever forget the way that he claimed the gold. Put simply, this was one of the greatest head-kick knockouts in UFC history.
---
#1. Michael Chandler vs. Tony Ferguson – UFC 274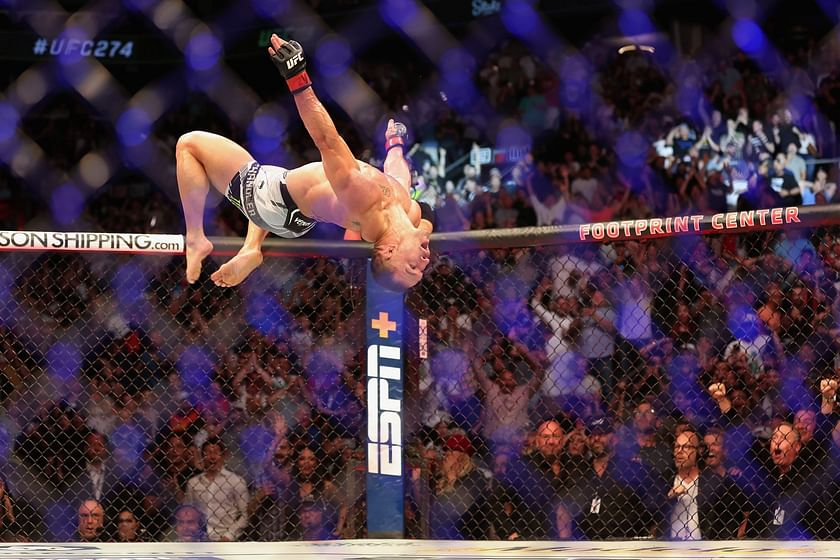 While it didn't win Michael Chandler a UFC title, it's safe to say that his finish of Tony Ferguson should comfortably be considered the very best knockout of 2022. 'Iron Mike' essentially landed the kind of strike that most fighters would dream about.
The bout between the former Bellator MMA lightweight champion and 'El Cucuy' was one of the most highly anticipated at UFC 274. Plenty was on the line, too.
Both men were coming off losses, and it was likely that while the winner would vault back into title contention, the loser's career would probably never truly recover.
Early on, it looked like that loser would be Chandler. Ferguson took the fight to him in the first round, looking almost as good as he'd done in his prime. He attacked 'Iron Mike' on the feet with some excellent strikes, and outworked him from the bottom, too, cutting him with his elbows.
In the second round, though, 'El Cucuy' didn't have time to get out of first gear. Chandler strode right out, and before Ferguson could throw a punch, he hammered him with probably the most brutal front kick in MMA history.
The kick landed cleanly to Ferguson's chin, knocking him silly, and the fight was over there and then. Even compared to the legendary front-kick knockouts scored by Anderson Silva and Lyoto Machida, this was special.
It stands with some of the greatest knockouts of all time, and is the best of 2022.