UFC 265 might've lost one of its title fights due to the ongoing COVID-19 pandemic, but the show still looked great on paper. And in the end, Houston was treated to a tremendous night of fights.
UFC 265 saw a new champion crowned in the heavyweight division, but outside of that, a great number of other fighters picked up crucial wins. Some fighters will likely move into title contention with those wins, while some others will simply be happy to keep their UFC career afloat by avoiding a loss.
Regardless, every win inside the octagon is vital these days, and so UFC 265 will remain a memorable night for many. So with that in mind, here are the five biggest winners from UFC 265: Derrick Lewis vs. Ciryl Gane.
---
#5 Jose Aldo – defeated Pedro Munhoz in UFC 265 co-main event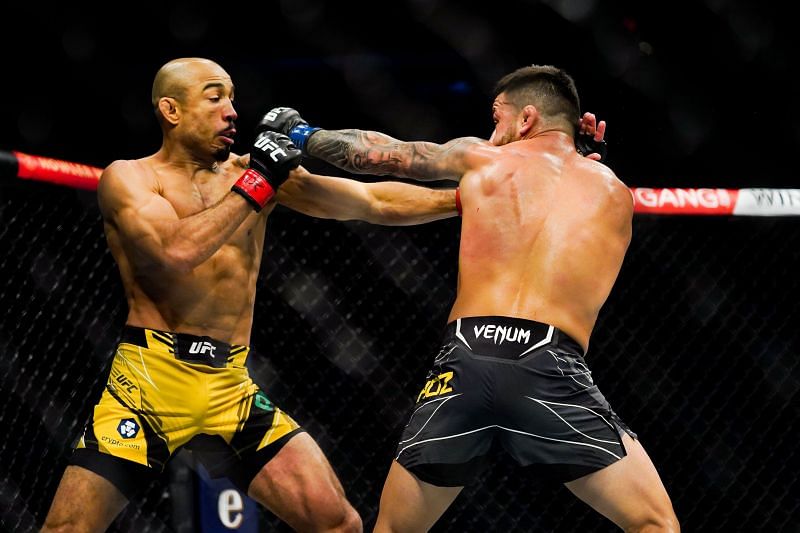 The bantamweight clash between Jose Aldo and Pedro Munhoz was moved into UFC 265's co-main event slot on late notice following the scrapping of the Amanda Nunes vs. Julianna Pena fight.
And while the showdown didn't produce a highlight reel finish, it was still a lot of fun, and demonstrated once again that Aldo still has plenty to offer the UFC even after a decade of action.
The legendary former UFC featherweight champion weathered plenty of storms from Munhoz, who was game throughout the fight. 'The Young Punisher' forced Aldo back pretty consistently and landed some solid punches, tagging Aldo on multiple occasions.
But despite his best efforts, he could never truly hurt the former UFC champ, largely because of Aldo's masterful defensive boxing skills and his slick counter striking.
Aldo's timing in this fight was perfect; he caught Munhoz coming in and landed plenty of heavy strikes, used leg kicks to slow him down further, and clearly outlanded his countryman when it came to the eventual decision.
People might like to count Aldo out after his one-sided UFC bantamweight loss to Petr Yan last year, but the truth is that with better judges in his fight with Marlon Moraes, he'd actually be 3-1 at 135lbs.
Based on last night, he's still very much a title contender in this division, and fights with the likes of Cory Sandhagen and T.J. Dillashaw could well be a lot of fun in the near future. There can be no disputing that he was one of UFC 265's biggest winners.
#4 Rafael Fiziev – defeated Bobby Green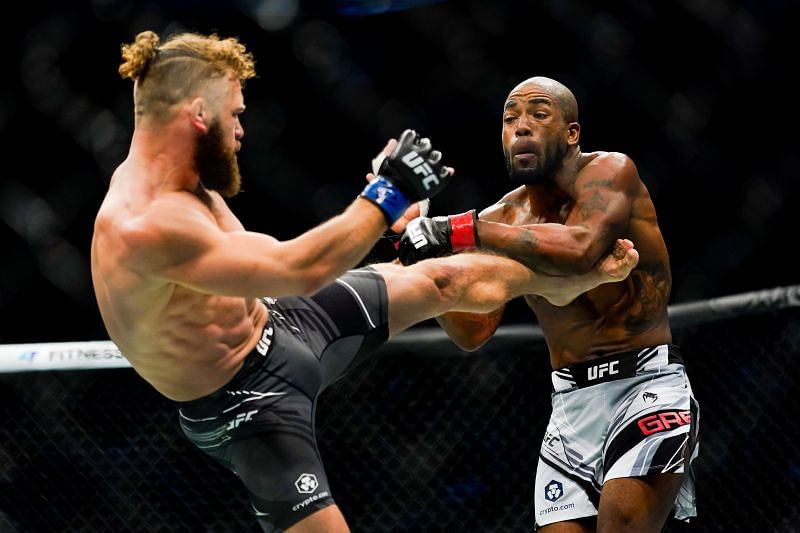 The UFC weren't shy in handing out bonus awards last night, giving a total of six $50k cheques in the end. The rightful winners of the 'Fight of the Night' bonus were lightweights Rafael Fiziev and Bobby Green – but it was Fiziev who picked up a win to earn a spot on this list.
The fight was a back-and-forth war, with both men landing plenty of heavy strikes while also talking trash at one another throughout the contest. It was filled with high-level exchanges, with nothing sloppy on show despite Green using his trademark low-hands style of boxing.
In the end – despite a stirring third round from 'King' – Fiziev was handed a pretty clear-cut unanimous decision, giving him arguably his biggest win to date. Green isn't a contender, but he's extremely tough to look good against, and so for 'Ataman' to do so is huge.
The win puts Fiziev on a four-fight winning streak in the UFC, and despite competing in one of the promotion's most loaded divisions, this victory should at least move him into position to fight on a main card next time out.
If that fight can be against someone in the UFC's top fifteen, then that's even better. Essentially, Fiziev has everything required to become a genuine contender in the near future.
---
#3 Jessica Penne – defeated Karolina Kowalkiewicz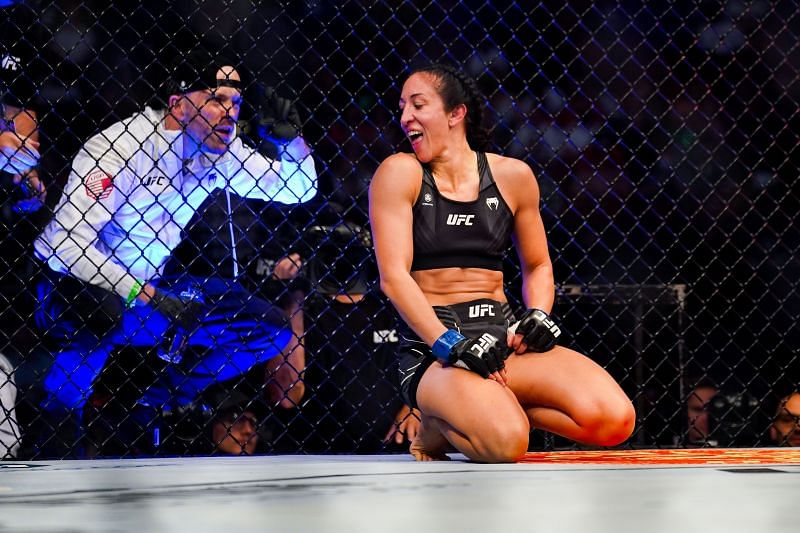 After missing the best part of four years of action due to a controversial USADA suspension, few fans could've blamed former UFC title challenger Jessica Penne for walking away from MMA altogether.
But the TUF 20 veteran instead returned earlier this year and picked up her first victory since 2014 over the overmatched Lupita Godinez. It was almost enough to make all that time on the shelf feel worth it.
Today, though, that win will pale in comparison to what Penne achieved at UFC 265. Not only did she defeat tough veteran Karolina Kowalkiewicz, but she did so in style, finishing the Polish fighter with a beautiful armbar in the first round.
It hardly came as a surprise to see Penne get emotional after the fight as the win has put her on a two-fight win streak - something that nobody could've foreseen while she was battling USADA a couple of years ago.
And while she's not likely to move back into contention for the UFC strawweight title at the age of 38, this win was enough to net her a nice $50k bonus cheque from the UFC – comfortably making her one of UFC 265's biggest winners.
#2 Vicente Luque – defeated Michael Chiesa
With Kamaru Usman disposing of top contenders quickly and easily in recent years, the fight between Vicente Luque and Michael Chiesa definitely had implications for the UFC welterweight title picture.
The two men had put together a combined run of seven wins in a row, and if the winner last night could pull it off in impressive fashion, then a title shot didn't seem too far away. In the end, it was Luque who came away with his hand raised – and to say he did it impressively would be a huge understatement.
'The Silent Assassin' escaped a couple of tight spots on the mat with 'Maverick' clamped to his back before somehow submitting Chiesa with a D'Arce choke, all inside four minutes.
So how dangerous is Luque, exactly? His record speaks for itself. While he'll never be known for his trash talking, his UFC ledger now stands at 14-3, complete with an insane 13 wins via some kind of finish.
Essentially, 'The Silent Assassin' can put an opponent away at any point in the fight from seemingly any area.
Colby Covington, Leon Edwards and Islam Makhachev might have their own claims to being the top contender for Usman's UFC welterweight title right now. But it's arguable that the most exciting title fight that could be made in the division would involve Luque – making him one of UFC 265's biggest winners.
---
#1 Ciryl Gane – defeated Derrick Lewis to win the interim UFC heavyweight title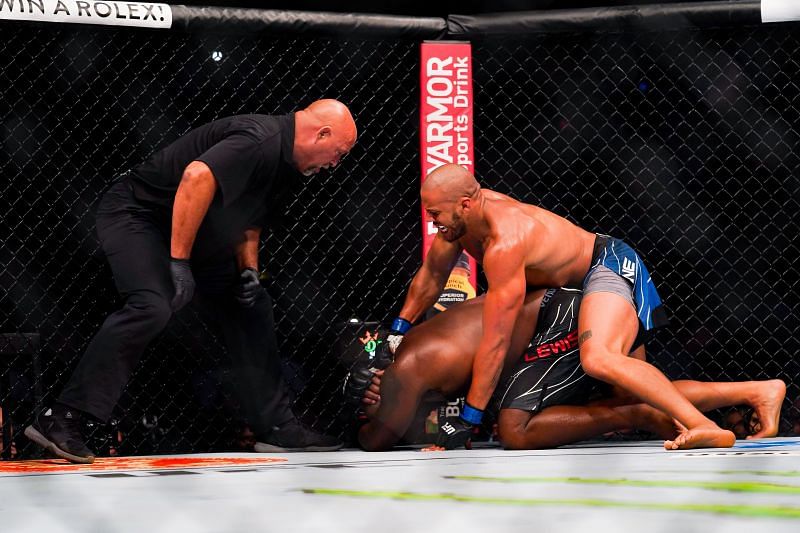 Naturally, the biggest winner from UFC 265 was Ciryl Gane.
Sure, plenty of fans felt that his interim UFC heavyweight title fight with Derrick Lewis was a bit bogus given undisputed champion Francis Ngannou isn't injured or suspended, but when it came down to it, the fight still felt like a big deal.
In the end, there was only one winner, as 'Bon Gamin' ignored a pro-Lewis crowd to thoroughly outclass 'The Black Beast'. Lewis' vaunted punching power was completely nullified when it came down to it, as he simply couldn't catch Gane to land anything significant.
Gane fought patiently, using a masterful grasp of range and timing in the first two rounds. Once he had Lewis hurt with leg kicks in the third, he closed in in ruthless fashion and finished 'The Black Beast' to claim UFC gold for the first time.
Attentions should naturally now turn to a possible fight between Gane and Ngannou for the undisputed title. Given Ngannou's record and Gane's own undefeated run, it's arguable that such a fight will be the biggest and best UFC heavyweight title bout since Cain Velasquez vs. Junior Dos Santos in 2011.
So who will win the fight, assuming the UFC can come to terms with Ngannou in the near future? It's hard to say. 'The Predator' has insane punching power, but so did Lewis – and he was outclassed by Gane's technique and poise.
Either way, it's clear that outside of Ngannou, 'Bon Gamin' is the best heavyweight fighter on the planet right now – and that's enough to make him UFC 265's biggest winner.