The UFC's latest Fight Night show did not have too much hype around it coming in, but in the end, it was a solid enough show.
UFC Fight Night: Rafael Fiziev vs. Mateusz Gamrot featured some excellent finishes, but who came away as the biggest winners?
As always, it's a debatable question, particularly with some wins in the octagon clearly being more valuable than others.
With that said, here are the five biggest winners from UFC Fight Night: Rafael Fiziev vs. Mateusz Gamrot.
---
#5. Mohammed Usman – defeated Jake Collier in a UFC heavyweight bout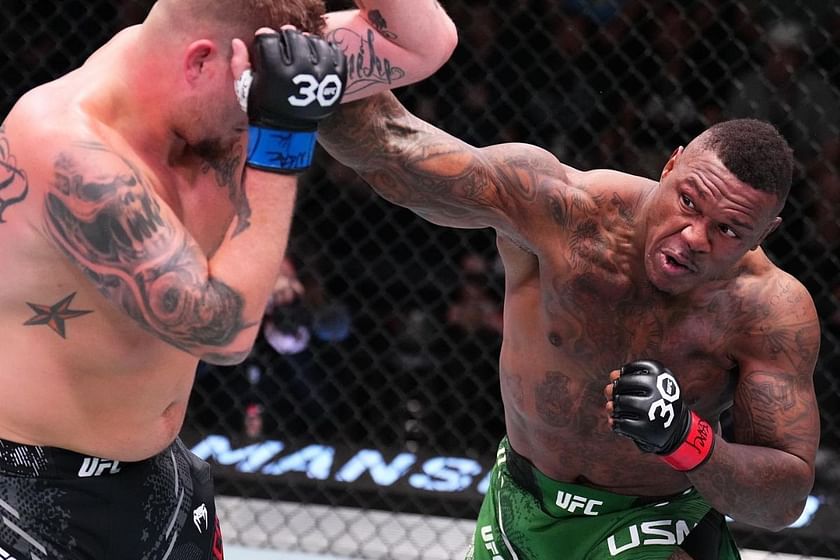 It wasn't the prettiest win on the card last night, but Mohammed Usman's late-notice victory over Jake Collier was still a big victory for the TUF 30 winner.
That's because 'The Motor' is now 3-0 in the octagon, and while he has a long way to catch up to his brother Kamaru's stellar record, he appears to be well on his way.
Last night's win was for all intents and purposes a straightforward one. Despite being hurt in the first round, Usman's jab kept Collier at bay for the majority of the fight, and when the final buzzer sounded, there was only ever going to be one winner.
What makes Usman one of last night's big winners, though, is the generally thin nature of the heavyweight division.
At 10-2 with three wins in the UFC, 'The Motor' could easily look to crack the top fifteen next time out, and there'd almost definitely be a case for favouring him to beat a couple of the fighters in there.
Therefore, as he's now likely one step away from a ranking, he should definitely be happy with his win this morning.
---
#4. Charles Jourdain – defeated Ricardo Ramos in a UFC featherweight bout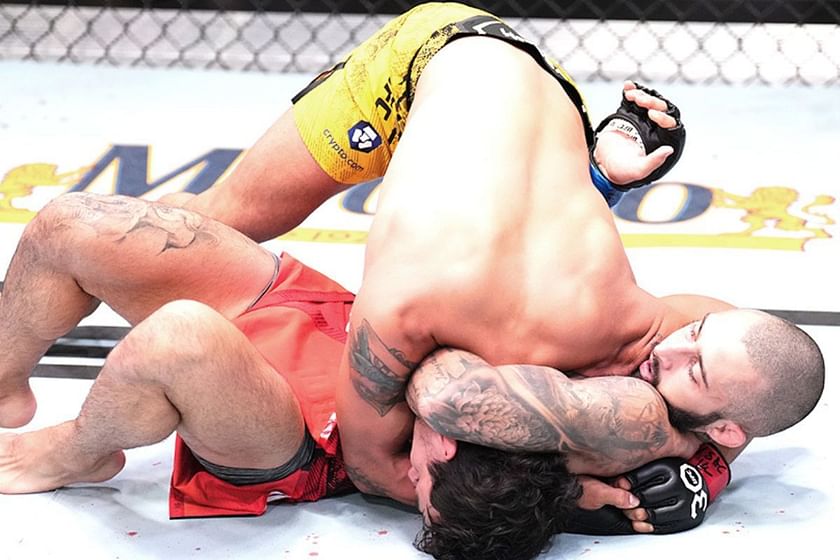 Any fighter who manages to claim a $50k bonus at a UFC event should be considered one of the event's bigger winners. Therefore, it was always going to be difficult to leave Charles Jourdain off this list.
However, 'Air' really did shine last night against a tricky foe in the form of Ricardo Ramos.
The native of Canada looked sharp from the word go, seemingly hurting Ramos with a couple of early strikes that forced him to look to take the fight to the ground.
That proved to be an error, though, as Jourdain quickly scrambled once the fight hit the ground, and eventually caught a guillotine choke that forced his opponent to tap out shortly after.
Jourdain is probably never going to develop into a genuine contender at 145lbs, as he's too wild and inconsistent overall. However, he remains one of the most exciting fighters to watch in the division, and so that means the promotion are never likely to cut him loose, either.
That alone is worth as much as a ranking to a veteran like 'Air', and so he belongs on this list of last night's big winners.
---
#3. Mateusz Gamrot – defeated Rafael Fiziev in a UFC lightweight bout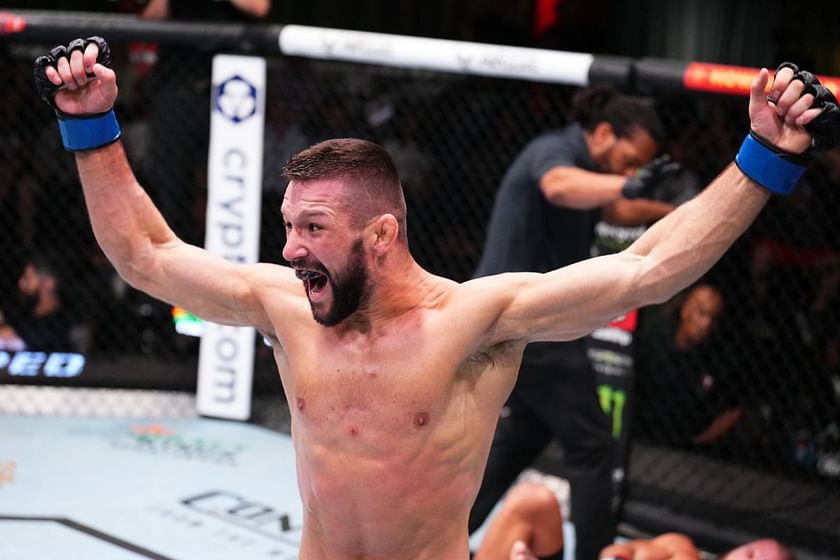 Usually, the winner of any UFC headline bout will find themselves at the top of a list like this. However, given the nature of Mateusz Gamrot's win last night, it'd be hard to justify that.
'Gamer' appeared to lose the first round of his bout with Rafael Fiziev by a hair, and it looked like the two men would be tricky to separate across five rounds.
However, after Gamrot landed a takedown in the second, Fiziev scrambled to his feet, only to blow out his knee on a kick attempt moments later. The fight was then called off, giving the event a highly anticlimactic ending.
It's likely that the Polish fighter will now switch spots in the rankings with Fiziev and move into the No.6 spot. Whether that will be enough to net him a fight with a top five-ranked opponent, though, remains to be seen.
However, 'Gamer' is clearly a very high level fighter in one of the toughest divisions in the promotion, and so hopefully, he can get back into action sooner rather than later. He won't have been happy with this win, but it was a big one nonetheless.
---
#2. Bryce Mitchell – defeated Dan Ige in a UFC featherweight bout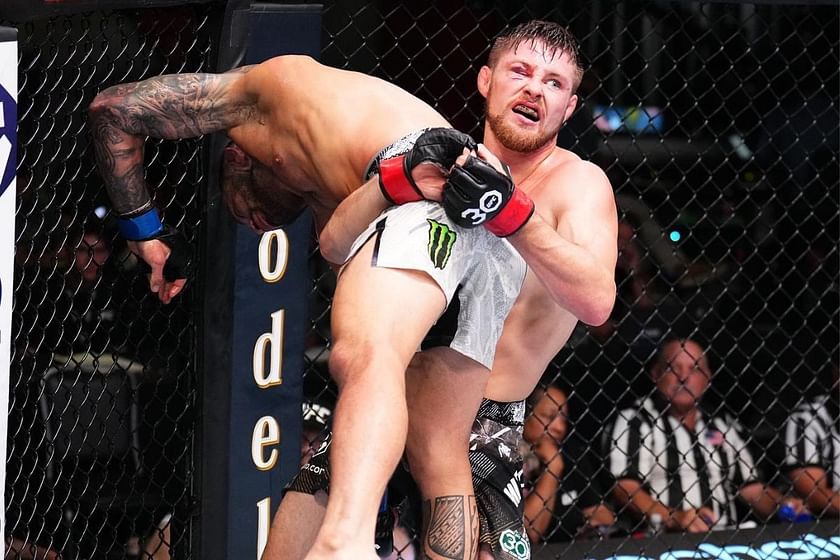 Featherweight contender Bryce Mitchell is undoubtedly one of the most unique fighters in the UFC right now, and the aftermath of his win last night didn't come without controversy.
After outpointing Dan Ige, 'Thug Nasty' spewed some conspiracy theories and his attempt at a prayer on live TV was quickly cut off by interviewer Michael Bisping.
However, it was hard not to be impressed by his fighting ability. Despite suffering some extreme damage, including a nasty cut over his left eye, Mitchell largely dominated opponent Dan Ige from start to finish.
Given the struggles he had against another heavy hitter in Ilia Topuria last time out, this was a very good showing from Mitchell, whose grappling skills make him a threat to any fighter in this division.
With his outspoken persona, too, 'Thug Nasty' could even develop into a potential star for the promotion in the near future, making him a huge winner from last night.
---
#1. Marina Rodriguez – defeated Michelle Waterson in a UFC strawweight bout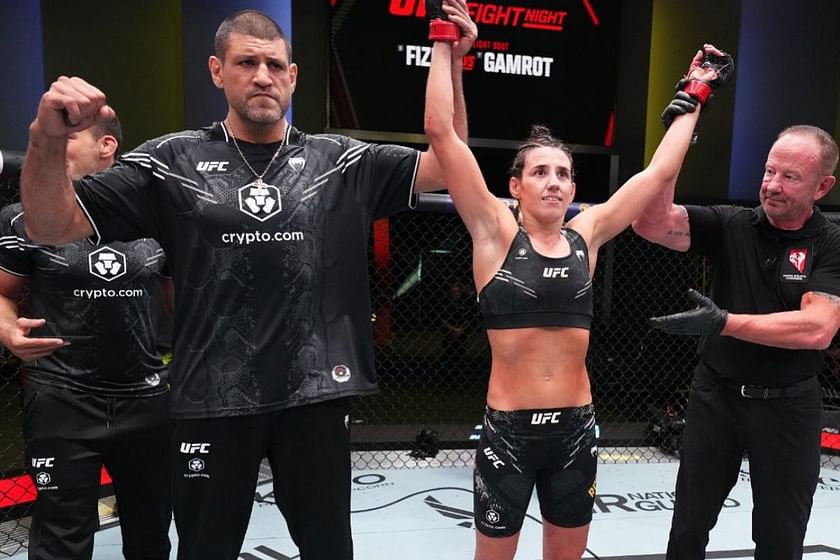 All things considered, it's probably fair to suggest that the biggest winner at last night's event was strawweight contender Marina Rodriguez.
The No.7 ranked fighter in the division basically destroyed Michelle Waterson over two rounds, eventually stopping her with a series of nasty strikes from full mount.
Given that Waterson had taken Rodriguez the distance in a UFC headliner as recently as May 2021, for the Brazilian to dispatch her in such ruthless fashion – earning a $50k bonus – was mightily impressive.
More to the point, while she's not ranked in the top five right now, there's an argument that Rodriguez is a genuine title contender. She already holds a win over Mackenzie Dern – who is strangely ranked above her – and was unlucky to come away with a loss to No.1 ranked Carla Esparza when they fought in 2020.
Sure, Rodriguez can't expect to receive a title shot with this win, regardless of how impressive it was. However, unlike the other two ranked winners last night, Mateusz Gamrot and Bryce Mitchell, it's almost certain she'll get a shot at a top five ranked foe next time out. That alone makes her the event's big winner.
Edited by Nicolaas Ackermann