When it comes to the UFC, there are few things that can get fans more pumped up for a big fight than an intense staredown.
While the UFC's biggest stars often look to be intimidating at the weigh-ins, some of the best staredowns in the promotion's history have taken place directly before fight time.
Naturally, some fighters are far more intimidating than others – or at least, they attempt to be. However, when two fighters come together both looking to scare their opponent, it's hard not to get excited for the war that could follow.
Here are the five most intense staredowns in UFC history.
---
#5. Matt Hughes vs. Frank Trigg – UFC 52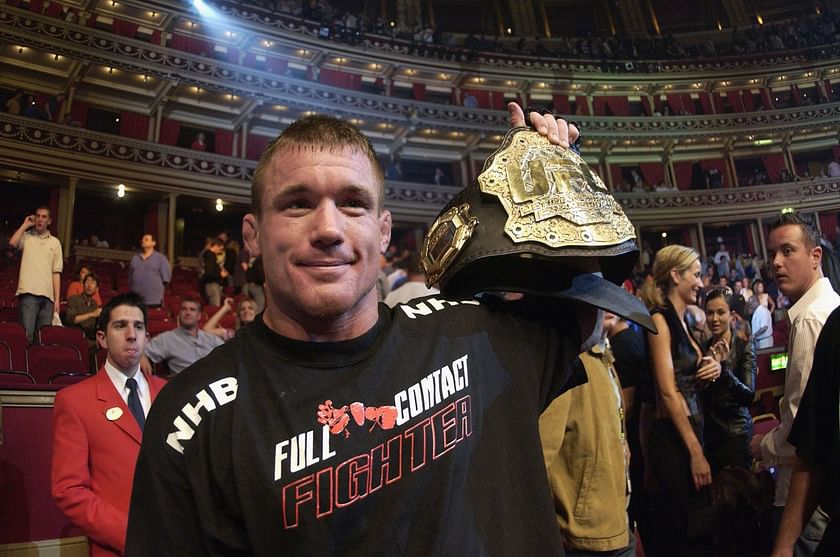 Matt Hughes' welterweight title rematch with bitter rival Frank Trigg at UFC 52 is often named as Dana White's favorite fight of all time.
The fact that White loved the fight should hardly come as a surprise. Not only did it feature a ridiculous amount of action crammed into one round, but it also saw one of the all-time great comebacks from Hughes. He submitted Trigg after being on the verge of being finished himself just moments earlier.
However, fans at the time who wondered how good the fight might turn out to be probably would've been swayed by the hugely intense staredown between the two men as referee Mario Yamasaki gave them their pre-fight instructions.
Neither man appeared to be listening to Yamasaki, instead, they went nose-to-nose, intent on psyching the other out. Eventually, Hughes pushed his rival away, only for 'Twinkle Toes' to respond by blowing the champion a kiss.
It was a pretty wild moment, particularly as Hughes had a reputation for being a largely mild-mannered fighter at the time.
While he would go onto famous rivalries with the likes of Georges St-Pierre and B.J. Penn, it's safe to say that judging by this, no opponent got under his skin quite like Trigg.
---
#4. Wanderlei Silva vs. Keith Jardine – UFC 84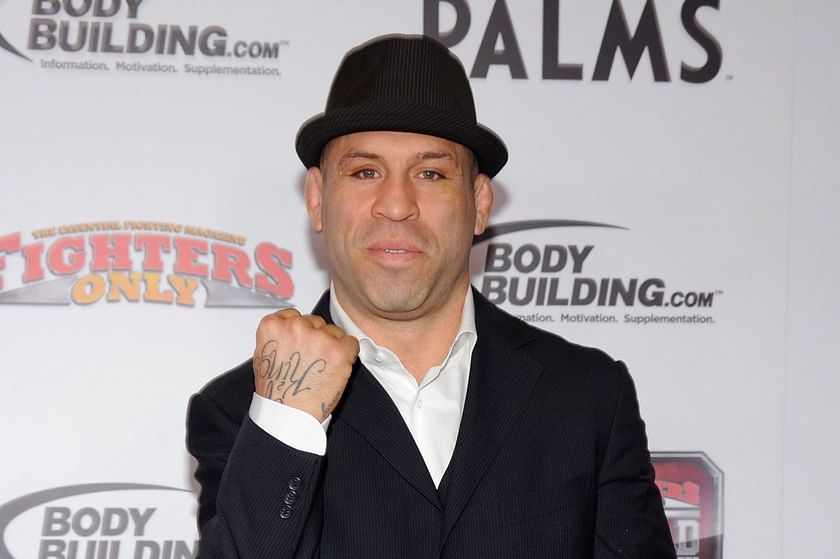 Ask many longtime MMA fans who the most intimidating fighter of all time is, and former PRIDE champion Wanderlei Silva will often be named. Silva was always renowned for his intense staredowns. When he arrived in the UFC in 2007, things didn't change.
When 'The Axe Murderer' was matched with another hugely intense fighter in the form of Keith Jardine in 2008, then, it was hard not to get excited. Sure enough, both men looked pumped to the gills during their entrances. Once they entered the octagon, things got even more intense.
Silva, as usual, walked directly towards Jardine, dipping his shoulders from side to side whilst never breaking his stare. He looked ready to kill. Somehow, though, 'The Dean of Mean' looked even more intense. Chomping on his mouthpiece, a snarl on his face, his goatee made him look almost like Satan himself.
There was no way the fight was going to be anything but entertaining, and Silva and Jardine didn't let anyone down. After a wild brawl in the opening seconds, 'The Axe Murderer' stunned his opponent and didn't let up, swarming on him with strikes and putting him away in under a minute.
The bout remains Silva's biggest highlight reel moment in the octagon, and the intense staredown only added to the occasion.
---
#3. Diego Sanchez vs. Clay Guida – Ultimate Fighter 9 Finale
While his career in the promotion didn't end how he'd have liked it to, Diego Sanchez remains one of the most intense fighters in UFC history. In his prime, 'The Nightmare' was one of the most entertaining, too.
Not only did Sanchez regularly produce true classics in the octagon, but he'd also get in the face of his opponents prior to their bouts like few others. His staredowns were so intense that Joe Rogan once named him the "king of mean-mugging."
In 2009, though, 'The Nightmare' appeared to have met his match when it came to the art of the staredown. Matched with Clay Guida at the TUF 9 Finale, the two men went nose-to-nose at the weigh-in, and things didn't change once they got into the octagon.
With a number of security guards keeping them separate, Sanchez strode towards Guida after he'd been announced, and 'The Carpenter' did not back down an inch.
The two lightweights stared at one another like they were ready to go to war, and when the fight began, they didn't disappoint, brawling wildly from the off in one of the craziest moments in UFC history.
Remarkably, the fight actually went the distance, with Sanchez winning a decision. The action it produced, though, instantly marked it out as an all-time great fight – and the tone was definitely set by one of the promotion's most intense staredowns.
---
#2. Nick Diaz vs. Carlos Condit – UFC 143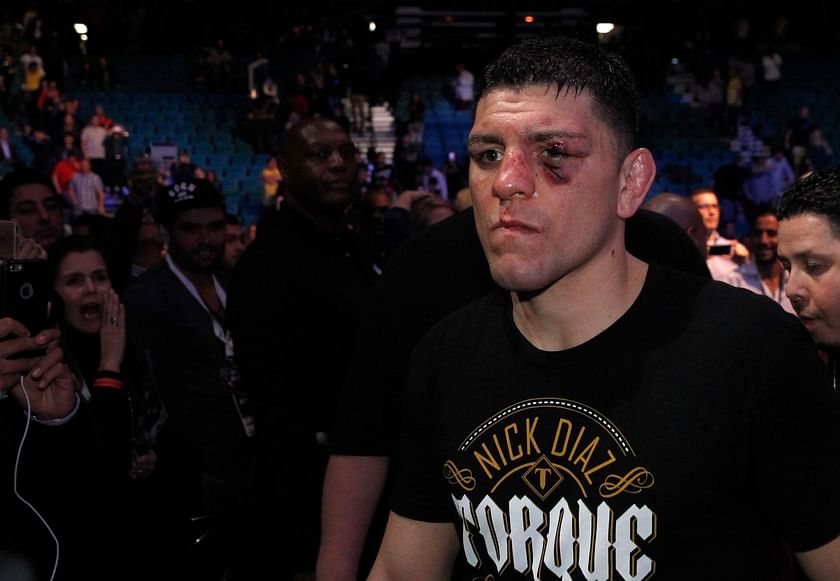 Stockton bad boy Nick Diaz has always been renowned for his ability to get under the skin of his opponents. Part of that ability comes from his intimidating behavior before a fight.
Over the years, we've seen Diaz routinely attempt to psyche out his opponents by going nose-to-nose with them. Famously, he outright headbutted B.J. Penn at the weigh-in for their 2011 bout
However, his most intense staredown definitely came before his UFC interim welterweight title clash with Carlos Condit. The two men didn't really have a rivalry prior to being matched together, but nobody would've believed that when they went head-to-head as referee Steve Mazzagatti attempted to give them instructions.
Pressing their foreheads together like a pair of rams, neither Diaz nor Condit seemed prepared to back down and were eventually separated by Nevada State Athletic Commission officials.
Unfortunately, the wild staredown didn't quite lead to the fireworks that fans would've hoped for in the fight itself. Instead, Condit produced a much more cerebral performance than anyone expected, using his striking and movement to largely pick Diaz apart en route to a decision win.
It was almost hard not to be disappointed that the two welterweights didn't simply brawl it out. With an interim title on the line, though, it was hard to blame 'The Natural Born Killer' for taking the smarter approach.
---
#1. Cain Velasquez vs. Junior dos Santos – UFC 166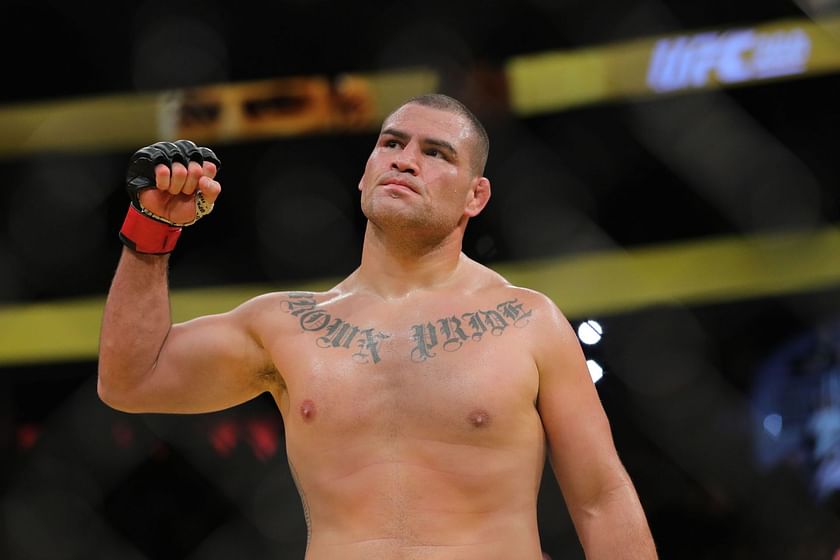 In a recent interview, former UFC middleweight title challenger Chael Sonnen named former heavyweight champion Cain Velasquez as the scariest fighter in the promotion's history.
In all honesty, it would be hard for anyone to disagree with him. In his prime, not only did Velasquez have both a fearsome reputation and near-unmatched fighting ability, but he was also a genuinely scary-looking fighter.
With a huge head and a mean stare, any fighter backing down from Velasquez would've been justified. That wasn't the case for Junior dos Santos, though.
The Brazilian knockout artist became the first man to defeat Velasquez when he stopped him to claim the heavyweight title in 2011. When Velasquez then regained his title a year later, it didn't take long for the promotion to set up a trilogy bout.
Unsurprisingly, everyone was excited to see the third fight, as it pitted the best two heavyweights of their generation against one another. To make things even more memorable, they also treated fans to the most intense staredown in UFC history, too.
Interestingly, the staredown didn't come during the pre-fight instructions. Instead, it happened as dos Santos was being introduced by announcer Bruce Buffer.
'JDS' had a simple routine during his announcement. He'd stare across at his opponent, then walk towards them, whirl his right hand around, and point down at the ground.
Velasquez, though, was having none of that. As dos Santos strode towards him, Velasquez stepped forward and the two men went nose-to-nose for a moment before 'JDS' stepped back to his corner.
It was a wildly intense moment, but it was also a clear message from Velasquez that he was the more intimidating fighter. He proved it minutes later, punishing his Brazilian foe for five rounds en route to a TKO victory.