From the moment Itsuki Hirata joined ONE Championship, everybody knew that she was built for greatness. After two years in the Singapore-based promotion, the Japanese fighter has matched all of the expectations thrown her way.
It's no surprise then that she has earned her place in the final four of the ONE Women's Atomweight World Grand Prix. She will meet Ritu 'The Indian Tigress' Phogat in a semifinal clash in Singapore at ONE: NextGen on October 29.
Truth be told, it won't be much of a shock if she wins it all. After all, Itsuki Hirata was one of the pre-tournament favorites to emerge as the victor and earn a future title shot at reigning ONE women's atomweight world champion 'Unstoppable' Angela Lee.
However, if there are still naysayers on Itsuki Hirata's capabilities, let's look at five reasons why Itsuki Hirata is one of the best fighters in ONE Championship today.
---
#5. Itsuki Hirata's tenacious takedowns
One has to consider this when talking about Itsuki Hirata: at her core is her judo skills. She picked these up the moment she decided to follow in her brother's footsteps at age six.
Since then, she has excelled in martial arts at every level, using those skills to take down her opponents with hip throws. She banked on that grappling skill to establish herself as one of the most dangerous fighters in the game today.
However, Itsuki Hirata is no one-trick pony. She has added to her arsenal over the years, including an explosive double-leg takedown that she has found success with a number of times. An example of this came against Nylene Crowley at ONE: Warrior's Code back in February 2020.
#4. Itsuki Hirata: the submission specialist
Since we're already talking about grappling, it's also worth mentioning how dangerous Itsuki Hirata is on the ground.
The Tokyo-born fighter has utilized all the lessons she got from two-division DEEP world champion and former ONE featherweight world title challenger Kazunori Yokota. She has made her sensei proud, tapping all of her opponents out on her way to winning the Japanese reality show Fighting Agent War.
Itsuki Hirata has never shied away from hunting for locks and punished her first two opponents in ONE with her killer holds. In her debut at ONE: Legendary Quest in June 2019, she scored a first-round submission win over Angelie Sabanal. She then went on to lock up Rika 'Tiny Doll' Ishige in an armbar to pull off a second-round submission win at ONE: Century in October that year.
Since then, her opponents have been wary of her ground game and careful not to give any window of opportunity for 'Android 18' to secure a submission hold.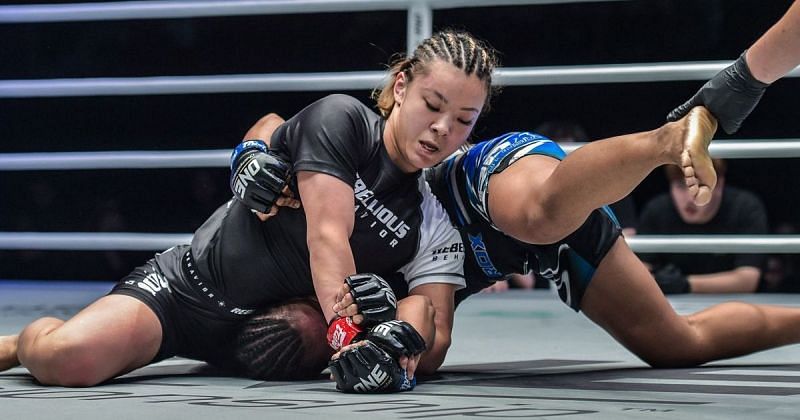 ---
#3. Itsuki Hirata's soul-crushing right hand
Much has been said of Itsuki Hirata's grappling, but her striking prowess is also no joke. Just ask Rika Ishige, who was at the wrong end of a sharp overhand right from the rising Japanese star.
You could also seek out Crowley, who was repeatedly tagged with punches that forced referee Kemp Cheng to call for the bell.
Or even Miku Nakamura, who found herself in the unenviable position of a ground-and-pound from Itsuki Hirata in the second round of their main event match at Road To ONE: Young Guns last February.
It's a perfect display of Itsuki Hirata's evolution. She has added a stand-up game to her repertoire, which has only made her a more dangerous draw for anyone standing in her way.
#2. Itsuki Hirata is out for redemption
What separates the good fighters from the great is their continued desire to be the best. Itsuki Hirata is no exception.
Although she made it past Alyse 'Lil' Savage' Anderson in the quarterfinals of the ONE Women's Atomweight World Grand Prix, she would admit that she was not satisfied with her unanimous decision performance at ONE: Empower last September.
Many pundits admitted that Itsuki Hirata's showing against the American was not what they expected, especially for someone that was touted to be among the strongest contenders in the field.
She agreed, saying that she was "frustrated," although she vowed that "Itsuki Hirata will make steady progress."
That could only mean bad news for Phogat and whoever is left in the Grand Prix after the semifinals.
---
#1. Itsuki Hirata is the barrier breaker
We always admire fighters who aren't afraid to break stereotypes and gender norms, and Itsuki Hirata is proud to be at the forefront of this.
As one of the top fighters in the women's atomweight division, the 21-year-old Krazy Bee standout has been vocal in her desire to show that female fighters are just as capable as males inside the ONE circle. So much so that she advocates for more female matches to be in the main event slot:
"I personally believe that the tendency of men being the main events will change. I would like to see more women-only events in Asia and around the world," Itsuki Hirata said. "I think even male athletes look at female athletes' bouts and might think we are amazing, so that is what I would like to achieve."
That's why one can only imagine her glee at being placed as the headliner for the Road To ONE: Young Guns against Nakamura and taking part in ONE Championship's groundbreaking all-female card ONE: Empower.
"We live and fight regardless of gender. So in that respect, I don't think we have huge differences [from the men]," she said.