Fighting techniques are always evolving in the UFC, and quite often, what works at one point probably won't be quite as successful down the line. On the flip side, techniques that would've been frowned upon a few years back are now commonplace.
Just a handful of years ago, nobody would've believed that spinning kicks could work in the UFC, but nowadays, they produce some of the flashiest and most spectacular knockouts of all.
Once considered a 'Hollywood' move that belonged to Jean-Claude van Damme flicks rather than 'real' fights in the UFC, spinning kicks always elicit a massive reaction from UFC fans. And essentially, if a fighter can knock out an opponent with one, they go straight into folklore.
On that note, here are five spectacular spinning kick knockouts in the UFC.
---
#5 Uriah Hall vs Gegard Mousasi – UFC Fight Night 75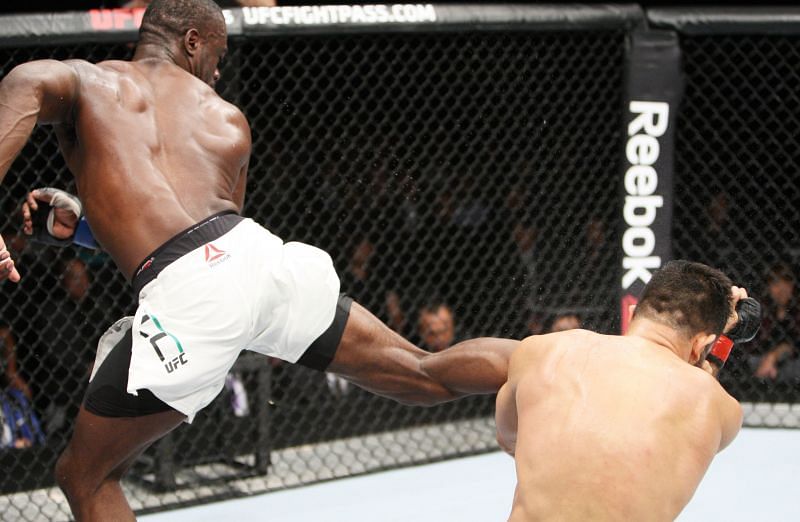 Uriah Hall made his reputation off the back of one of the nastiest spinning kicks in MMA history. 'Prime Time' used a spinning hook kick to knock out the unfortunate Adam Cella during the tapings of TUF 17, leaving Cella unconscious for some time in a scary scene.
However, when he reached the UFC proper, Hall struggled to live up to the level he had built on TUF, and after a handful of disappointing losses, he was largely deemed a flop of sorts. But that changed when he took on the highly regarded Gegard Mousasi on late notice at UFC Fight Night 75 in 2015.
After a difficult first round that saw him dominated on the ground, 'Prime Time' decided to throw caution to the wind. When Mousasi looked to close him down as the second round began, Hall leapt into the air and landed a ridiculous spinning back kick to the face of his opponent.
Mousasi stumbled backwards, and seconds later Hall followed up with a flying knee that dropped him before finishing him off with strikes on the ground.
It was one of the most spectacular finishes in UFC history. While Uriah Hall still couldn't quite recapture his TUF form, his win over Mousasi rocketed him up to the top ten of the UFC's middleweight division for the first time.
#4 David Loiseau vs Charles McCarthy – UFC 53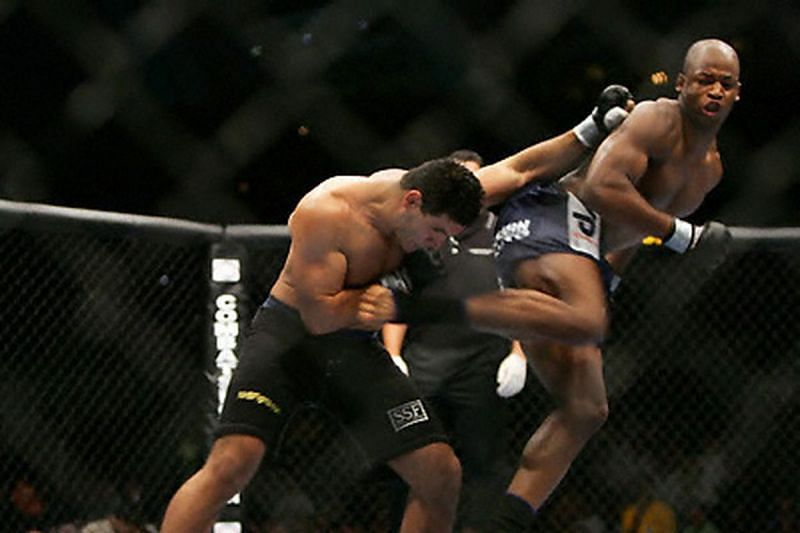 Back in 2005, spectacular strikes were rare in the UFC. A large number of the athletes that peopled the promotion at that point were workmanlike. So powerful wrestlers such as Matt Hughes and Matt Lindland tended to be largely dominant over fighters who primarily relied on their striking.
But one early indicator of that trend beginning to change came at UFC 53 when Canada's David Loiseau stunned Charles McCarthy with a truly spectacular kick, making himself a minor superstar in the process.
Early on in the fight, the less experienced McCarthy looked like he was on his way to a UFC debut win. He took Loiseau down and gained control throughout the first round, but 'The Crow' showed excellent defense and was able to survive. In the second round, he changed things up and created an all-time highlight-reel moment by landing a wild spinning back kick directly to McCarthy's body.
'The Chainsaw' staggered back, unable to mask the pain he was in, and sensing his opponent was badly hurt, Loiseau steamed in with a flying knee and a series of punches to finish McCarthy off.
Everyone watching was blown away by the finish – at that point, fans believed spinning kicks were largely useless in MMA. But less than a year later, Loiseau was challenging for the UFC middleweight title. His spinning kick remains part of the UFC's introduction video at live events.
---
#3 Stephen Thompson vs Jake Ellenberger – TUF 21 Finale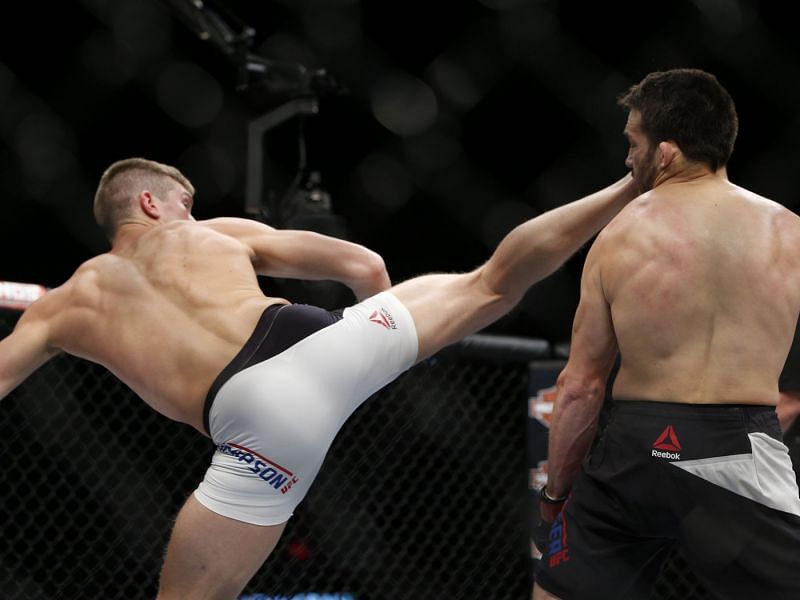 Stephen Thompson is undeniably one of the most successful practitioners of a traditional martial art – in this instance kempo karate – to ever step into the UFC.
'Wonderboy' has used his incredible striking to take out multiple opponents over the years. But his most spectacular finish came in 2015 when he faced off with perennial contender Jake Ellenberger in the TUF 21 finale.
Thompson hadn't quite established himself as a top-level welterweight contender at that stage. But he was on a four-fight win streak, and Ellenberger was seen as a step up in competition for him.
Early on, it looked like things would go badly for 'Wonderboy'. Ellenberger caught him with a left hook and buckled him, knocking him down. But Thompson managed to recover, and minutes later, he ended the fight in explosive fashion.
A spinning hook kick from nowhere dropped 'The Juggernaut', and when the latter wobbled back to his feet, Thompson threw another. This time his leg whipped around, caught Ellenberger on the temple and instantly turned out his lights.
Ellenberger fell to the ground unconscious as'Wonderboy' not only had the biggest win of his career at that point, but he also produced one of the most spectacular spinning kick finishes in UFC history too.
#2 Joaquin Buckley vs Impa Kasanganay – UFC Fight Island 5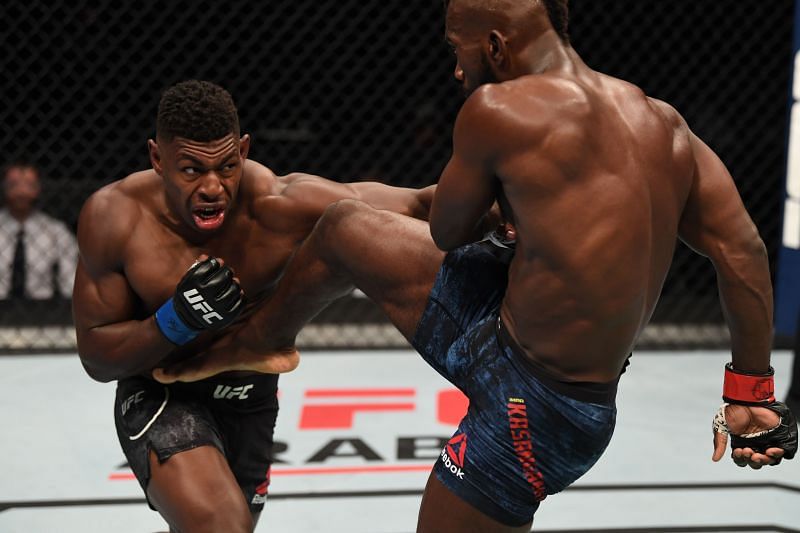 Joaquin Buckley could hardly have started his UFC career in less spectacular fashion. 'New Mansa' entered the UFC in August 2020 on late notice, and fell to a knockout at the hands of Kevin Holland.
That meant when he was matched with Impa Kasanganay at UFC Fight Island 5, fans could've been forgiven for largely ignoring the middleweight bout. After the fight, though, everyone knew exactly who Buckley was.
After a back-and-forth first round, the second round saw Buckley throw a head kick at his opponent. Kasanganay blocked it by catching the leg. But before he could react further, 'New Mansa' jumped into the air and used his other foot to land a ridiculous spinning kick to the head.
Kasanganay was knocked silly, falling to the ground as stiff as a corpse, and Buckley immediately became a viral star, with clips of the kick being seen across the world, even by people who weren't UFC fans.
While 'New Mansa' hasn't really been able to follow the kick up by climbing into contention for the UFC middleweight title, he'll probably be part of UFC highlight reels for years to come, and was comfortably most observers' pick for the best knockout of 2020.
---
#1 Edson Barboza vs Terry Etim – UFC 142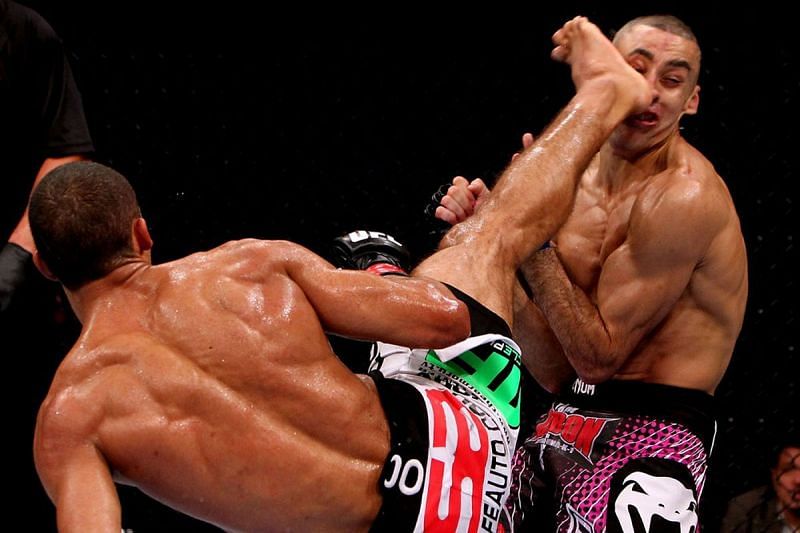 The most spectacular spinning kick knockout in UFC history remains the one unleashed by Edson Barboza on Terry Etim at UFC 142 back in 2012. Other fighters have come close, but nobody has quite been able to replicate what the Brazilian did.
In the third round of what was a back-and-forth fight to that point, Barboza surprised Etim with a jumping spinning wheel kick that landed cleanly on the jaw of the British fighter, turning his lights out instantly. Etim looked to be frozen in time, stiffened up like a corpse, and fell backwards to the ground, where he didn't move for an astonishing length of time.
The kick was probably the closest thing to Jean-Claude van Damme's legendary 'helicopter kick' that we've ever seen in the UFC; the fact that Barboza went airborne to land it still separates it from other wheel kick knockouts unleashed by the likes of Stephen Thompson and Thiago Santos.
It might be almost a decade old now, but the clip of this knockout never seems anything but stunning, and it'll probably remain that way for at least another decade to come.