The UFC is now a worldwide phenomenon, with millions of fans watching its events across the planet. So, unsurprisingly, the promotion's fighters can become huge stars, particularly if they can deliver the goods inside the octagon.
One way to become a star in the UFC is to unleash a knockout that goes viral across the world, but unsurprisingly, it's often hard for a fighter to live up to the hype that follows.
While some fighters like Conor McGregor and Francis Ngannou have been able to follow a viral knockout with more of the same, plenty of others have been unable to, and instead have sometimes been considered busts by the UFC fanbase.
With that in mind, here are five UFC fighters who delivered a viral knockout and then failed to live up to the hype.
---
#5. Uriah Hall (UFC record: 10-7)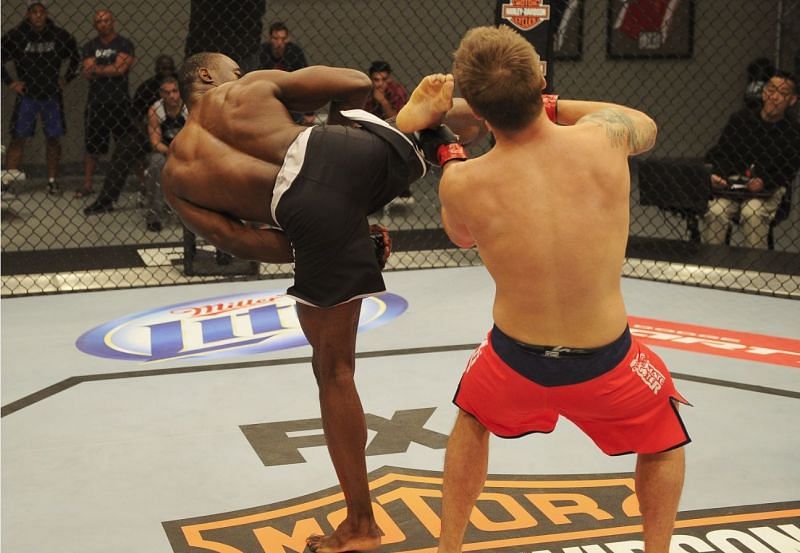 Uriah Hall's UFC record is somewhat underrated these days, and if he wins his fight with Sean Strickland this weekend, 'Prime Time' will be riding a five-fight winning streak and should be considered a UFC middleweight title contender.
However, had he been able to live up to the hype he garnered prior to his official UFC debut in 2013, he probably would already have claimed the UFC middleweight title and become a legendary champion.
Hall was part of the cast of the 17th season of The Ultimate Fighter, and before his first fight aired on the show, UFC President Dana White waslabelinglabelling him "the new Anderson Silva."
When his fight with Adam Cella did air, it quickly became understandable why White felt that way about Hall. 'Prime Time' used a spinning hook kick to knock Cella unconscious in what was one of the scariest knockouts in MMA history.
And when he followed that with two more violent knockouts of Bubba McDaniel and Dylan Andrews, the hype went into overdrive, with White labeling Hall "the most dangerous fighter in TUF history."
It seemed academic that he'd overwhelm the smaller Kelvin Gastelum in his UFC debut in the season finale, but, incredibly, Hall fought a more passive bout and lost a decision, before following that with another dull decision loss to John Howard.
At that stage, the hype around 'Prime Time' was all but gone, and even though he's scored wins over fighters such as Gegard Mousasi and Thiago Santos since, he's never quite reached the level suggested by that insane knockout of Cella in 2013.
#4. Houston Alexander (UFC record: 2-4)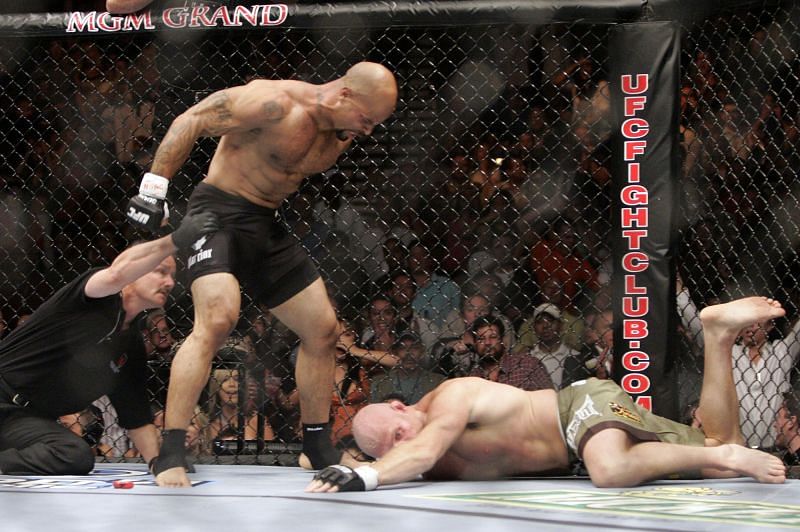 When top-ranked light heavyweight contender Keith Jardine was matched with the unknown Houston Alexander at UFC 71 in 2007, the entire UFC fanbase was stunned. After all, Jardine was coming off a win over Forrest Griffin and looked all set to charge into title contention. Alexander, meanwhile, had never fought in the UFC, and was better known for his other career as a radio DJ.
But incredibly, despite being dropped in the opening seconds, Alexander came roaring back and battered Jardine with strikes from the clinch, knocking him out in just 49 seconds.
The win turned 'The Assassin' into an overnight sensation, and when he followed that win up with another thunderous KO of Alessio Sakara, it seemed like the UFC had stumbled onto a new breakout superstar.
Despite Alexander quickly becoming a viral star, hardcore UFC fans were still suspicious about whether he could really live up to the hype. And unfortunately, they were quickly proven right.
'The Assassin' was dismantled by Thiago Silva in the co-main event of UFC 78, stopping his hype train dead just six months after the Jardine knockout. And when Alexander then lost to James Irvin and Eric Schafer, he found himself outside the UFC only a year after he'd looked like the next big thing.
Alexander would make a return to the octagon in 2009, but only for an uninspiring loss to Kimbo Slice of all people, and after that fight he was once again released. He has not returned to the UFC since and last fought in 2017.
---
#3. Ryan Jimmo (UFC record: 3-4)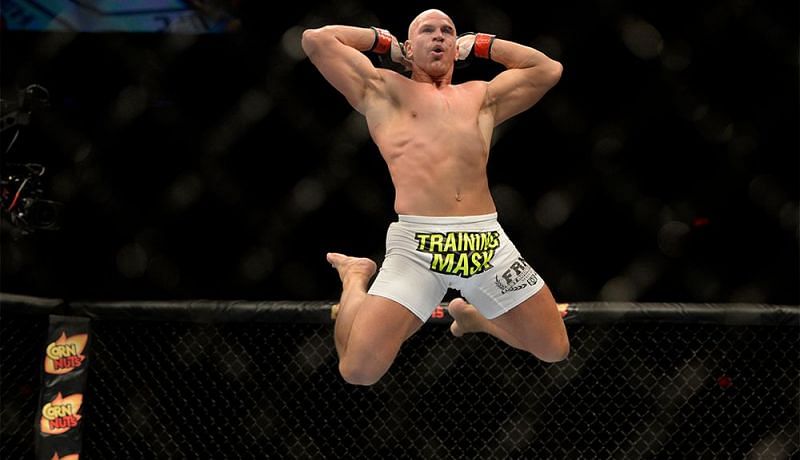 For many years, Canada's Ryan Jimmo was known as one of the best fighters to not be part of the UFC's roster. By 2012 he'd built up an impressive record of 16-1, but his reputation for dull fights meant that the UFC seemed wary of signing him.
Eventually, the promotion cracked and brought him into the octagon and, to everyone's surprise, 'The Big Deal' unleashed one of the best knockouts ever seen in the UFC.
In one of the fastest knockouts in UFC history, Jimmo turned out the lights on Anthony Perosh at UFC 149 in just seven seconds with a big right hand, before then celebrating by doing the famed "robot" dance.
The Canadian became an instant sensation with UFC fans, who were immediately clamoring to see him fight again, despite the protests of hardcore fans who were adamant that 'The Big Deal' didn't always fight that way.
And when Jimmo dropped James Te Huna with a head kick in the early moments of his second UFC fight, it looked like the promotion had unearthed a superstar. Unfortunately though, the Canadian failed to put Te Huna away and lost the bout via a unanimous decision.
And from there, while he won two more UFC bouts, Jimmo simply couldn't live up to the standards of his debut knockout. He was washed out of the UFC in 2015 off the back of two straight losses, and then sadly passed away following a hit-and-run incident a year later.
#2. Todd Duffee (UFC record: 3-2-1)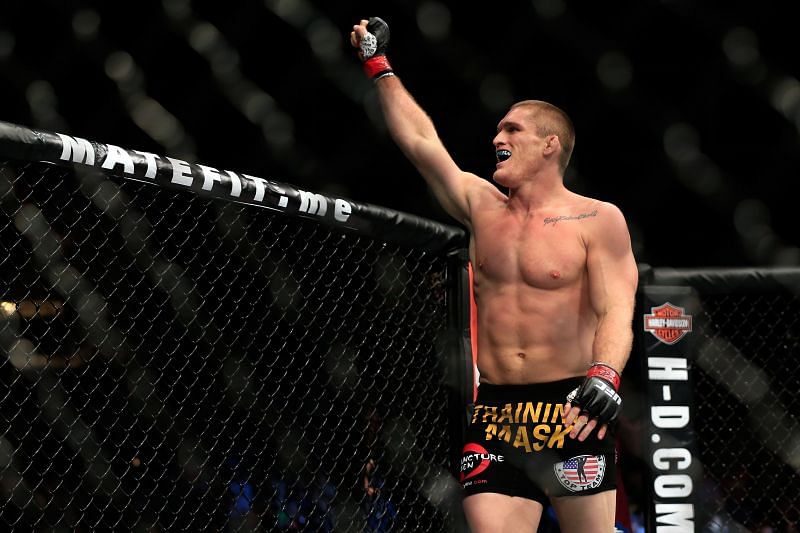 Another fighter who garnered a ton of hype thanks to a fast knockout in his UFC debut was heavyweight Todd Duffee.
Built like a heavily muscled cartoon character, Duffee came into his fight with Tim Hague at UFC 102 with a 5-0 record, and when he knocked Hague out in just seven seconds, the UFC fanbase was thrilled.
Duffee became an instant star thanks to his viral knockout, with fans talking him up as a potential contender for the UFC heavyweight title before he'd even stepped into the octagon for a second time.
However, the bloom quickly came off his rose when he was on the wrong end of another viral knockout in 2010. In this case, Duffee had been beating Mike Russow from pillar to post for the best part of three rounds before Russow landed a hail mary knockout with just over two minutes remaining.
And before Duffee could attempt to get his hype train up and running again, he was abruptly released by the UFC in late 2010, reportedly for "attitude problems" after clashing with management.
He returned in 2012, but has only fought four times since, going 2-1-1, and has largely suffered with continual injuries, making him a classic case of a UFC fighter who couldn't live up to the hype that his viral knockout created.
---
#1. Joaquin Buckley (UFC record: 2-2)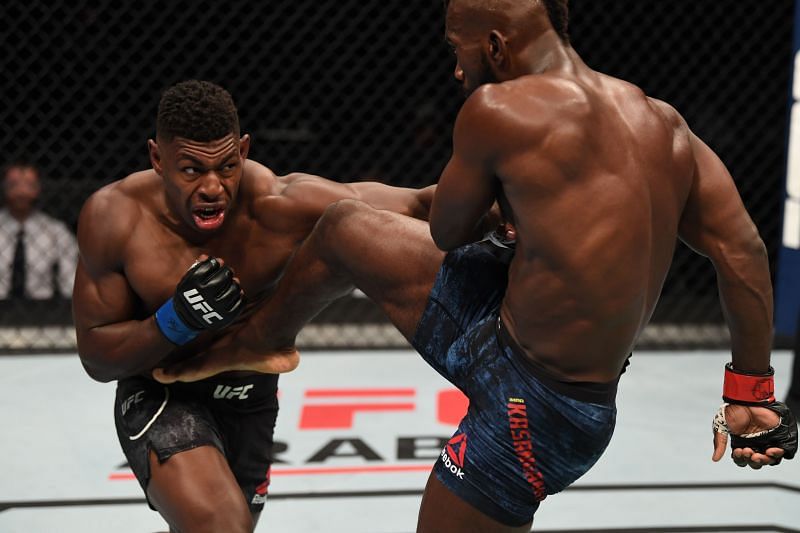 2020 saw plenty of historic moments inside the UFC, from the retirement of Khabib Nurmagomedov to the crowning of new UFC champions like Jan Blachowicz and Petr Yan. However, perhaps the most viral moment came in October thanks to a fighter unknown to casual fans called Joaquin Buckley.
'New Mansa' had debuted in the UFC two months earlier, suffering a knockout at the hands of Kevin Holland after taking the fight on just a week's notice.
Nobody really expected him to make any kind of impact in the octagon, and when he was booked against Impa Kasanganay at UFC Fight Island 5, few eyebrows were raised. However, that all changed in the second round of the fight.
Kasanganay attempted a kick, only for Buckley to catch his leg, and then in a move reminiscent of a pro-wrestling enziguiri, he leapt into the air and caught Kasanganay with a spinning back kick to the head.
Kasanganay was immediately knocked unconscious, and Buckley had scored one of the greatest knockouts in UFC history. Suddenly, 'New Mansa' had gone from being an unknown to one of the most talked-about fighters on the entire UFC roster.
And when he scored another knockout, this time over Jordan Wright at UFC 255, the hype around him went into overdrive.
It was unsurprising, then, when the UFC booked him against Alessio Di Chirico in a showcase fight on the main card of their first ever event on the ABC network.
Unfortunately though, with fans expecting another special knockout, Buckley simply couldn't deliver the goods. Instead, he found himself on the wrong end of a highlight reel knockout as Di Chirico finished him with a head kick in just two minutes.
'New Mansa' is now booked to fight again in September, but to say expectations around him have now been dampened would be an understatement.