This weekend sees Israel Adesanya and Robert Whittaker face off in their long-awaited rematch with the UFC middleweight title on the line. Naturally, Whittaker will be hoping that the fight doesn't go the same way as their first bout.
If Robert Whittaker's clash with Israel Adesanya ends in the same way as their first fight, though, it won't be the first rematch in UFC history to end up as a copy of the earlier bout.
We've seen plenty of rematches in the octagon over the years that have seen a fighter promise a different result, only to fall in the exact same way that they'd done to the same opponent previously. Essentially, some fighters just seem to have the number of their rivals.
With that in mind, here are five UFC rematches that went the same way as the first fight did.
---
#5. Cain Velasquez vs. Junior dos Santos – UFC 166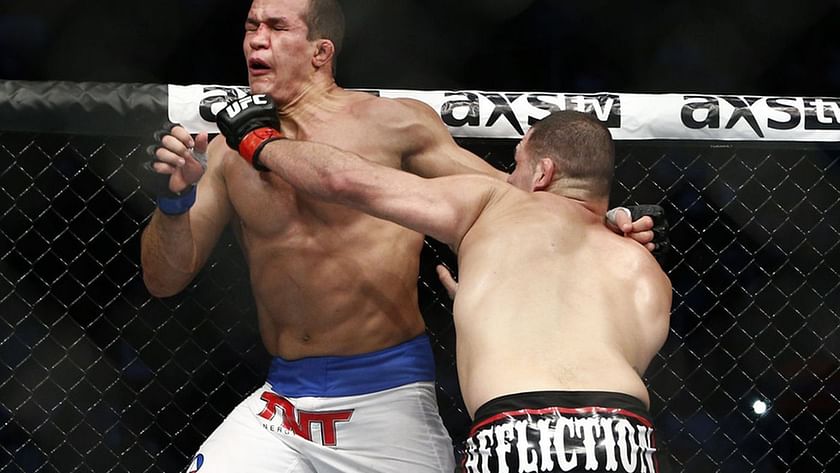 When Cain Velasquez won the UFC heavyweight title from Brock Lesnar in late 2010, most fans believed that a new era had begun in the division. After all, Velasquez was undefeated and had sliced right through the likes of Antonio Rodrigo Nogueira and Ben Rothwell before crushing Lesnar. Essentially, he looked unbeatable.
That changed in an instant when he ran into Junior dos Santos and suffered a first-round knockout defeat, losing his title in the process. However, Velasquez had reportedly been injured in that fight and when he was granted a rematch with 'Cigano', he wasted no time in righting the wrongs.
The former collegiate wrestling standout pushed a pace that was too high for dos Santos to match, abusing him in the clinch, taking him down and hammering him with heavy strikes both standing and on the ground.
The fight ended with a clear-cut decision for Velasquez, who regained his title. However, less than a year later, he was faced with dos Santos again, after the Brazilian showed some new striking wrinkles in a win over Mark Hunt.
The Brazilian's fans hoped that he would find a way to use this striking power against his rival. Unfortunately, he simply wasn't equipped with the right tools to deal with what Velasquez had to offer.
Instead, the third meeting between the two was literally a carbon copy of the second, with Velasquez mashing dos Santos in the clinch and battering him from pillar to post. The only difference was that while 'Cigano' survived to the final buzzer in their second bout, he was stopped in the final round of their third.
This was a rematch that proved one thing; despite suffering a loss in his first meeting with dos Santos, Velasquez was firmly the better fighter overall.
#4. Ronaldo 'Jacare' Souza vs. Chris Camozzi – UFC on Fox 15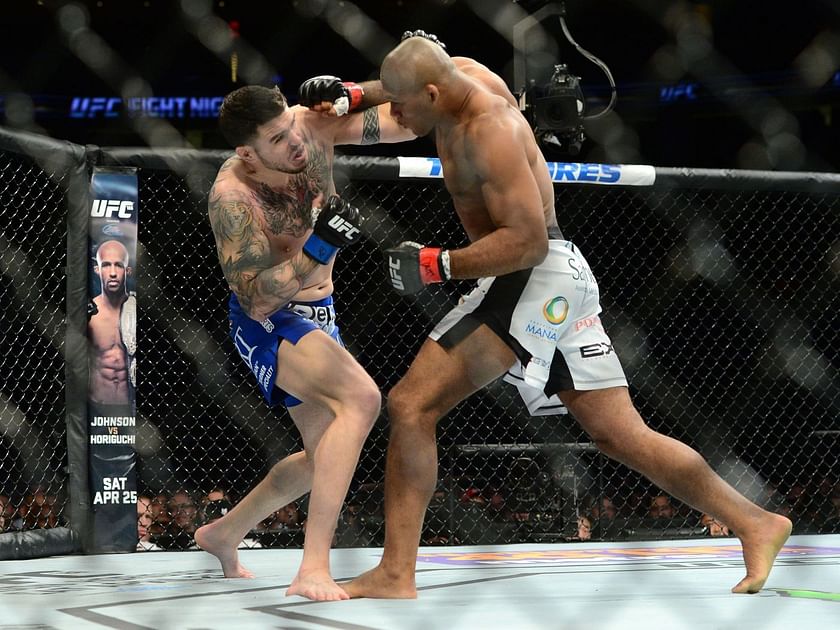 When the UFC inked former Strikeforce middleweight champion Ronaldo 'Jacare' Souza to a contract in 2013, UFC fans were hopeful that the grappling whiz would add an exciting new face to the 185-pound division.
However, they were disappointed when his first opponent, top 10-ranked Costas Philippou, was sidelined prior to their bout and replaced by journeyman Chris Camozzi.
On paper, this seemed like a one-sided fight. In execution, it turned out that way too, as Jacare immediately took Camozzi to the ground and worked him over, submitting him with an arm triangle midway through the first round.
Following the bout, Jacare indeed moved up into title contention, beating the likes of Yushin Okami and Gegard Mousasi. Camozzi, meanwhile, lost his next two UFC bouts and found himself released by the promotion.
The odds on the two men ever rematching seemed hugely slim. Incredibly, two years later, when Yoel Romero pulled out of a title eliminator with Jacare, the only man willing to face the Brazilian, again, was Camozzi.
The TUF 11 veteran had won two fights on the regional circuit, but quite why the UFC couldn't have found a more suitable opponent for Jacare was anyone's guess.
Everyone figured the fight would be an easy win for Jacare. Sure enough, in what was basically a carbon copy of the first bout, Souza simply took Camozzi down and arm-barred him, submitting him in a minute less than he'd done two years prior.
While Camozzi did deserve some credit for his willingness to fight Souza, the rematch remains probably the most pointless in the promotion's history.
---
#3. Chuck Liddell vs. Tito Ortiz – UFC 66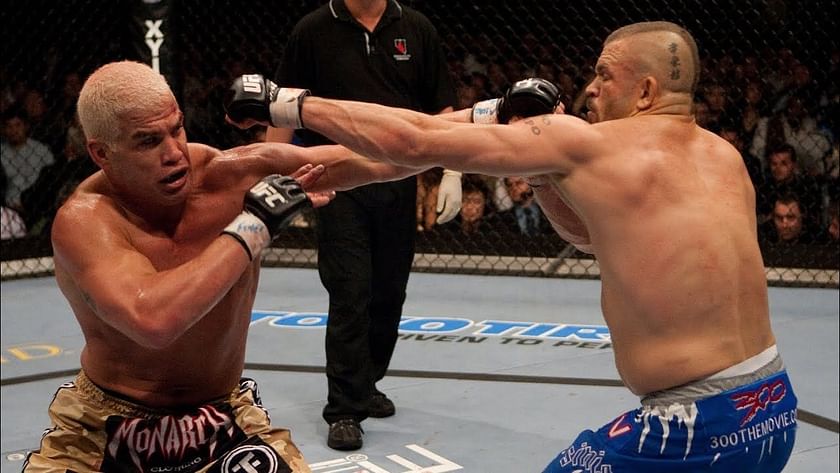 When former UFC light heavyweight champion Tito Ortiz finally faced off with his old training partner and former friend Chuck Liddell in April 2004, it was one of the most highly-anticipated bouts in the promotion's history.
Despite the tales of Liddell dominating Ortiz in their sparring sessions, nobody was really sure whether 'The Iceman' really had what it would take to defeat 'The Huntington Beach Bad Boy'. In fact, a great number of fans figured Ortiz would simply take Liddell down and smash him as he'd done to opponents like Ken Shamrock and Elvis Sinosic.
However, he was never able to come close. Liddell's footwork allowed him to stay out of range of Ortiz's takedowns. After goading the former champion into a brawl, 'The Iceman' simply outgunned him and finished him off with a vicious combination that left him in a bloody heap.
Two and a half years later, Liddell held the UFC light heavyweight title, while Ortiz had worked his way back up the ladder thanks to wins over Vitor Belfort and Forrest Griffin. With the two men standing as the promotion's biggest stars, a rematch made all the sense in the world.
Despite that, it was hard to imagine that Ortiz could find a way to make the correct adjustments he needed to defeat Liddell. Sure enough, those doubters were proven right.
Just as in the first fight, Ortiz was largely unable to impose his will on Liddell. Even when he did land a takedown, 'The Iceman' simply powered his way back up to his feet.
Standing, meanwhile, Liddell was again able to bait Ortiz into a shootout that he just couldn't win. The fight went to the third round rather than the second, but still ended in a carbon copy of their previous bout, with Liddell raining blows onto 'The Huntington Beach Bad Boy' until the referee was forced to step in.
Far from being pointless, though, despite this rematch ending in the same way as the initial fight, the event it headlined drew a record buy-rate on pay-per-view that stood for nearly three years.
#2. Daniel Cormier vs. Anthony Johnson – UFC 210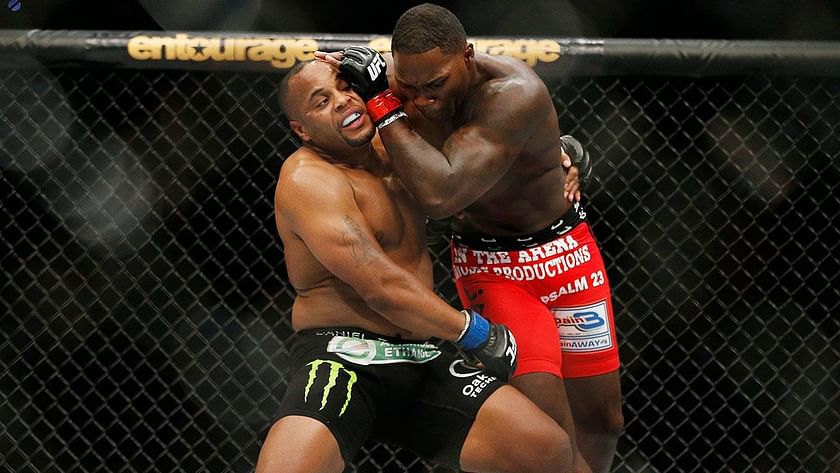 When Anthony Johnson returned to the UFC after a two-year absence in early 2014, hopes were high for him to succeed in the light heavyweight division.
'Rumble' ended up surpassing expectations by destroying Phil Davis, Antonio Rogerio Nogueira and Alexander Gustafsson. In the summer of 2015, he was granted a title shot against champion Jon Jones.
However, when Jones' personal issues forced the UFC to suspend him and strip him of his gold, Johnson was instead faced with top contender Daniel Cormier in a fight for the vacant title.
'Rumble' thought he had the title won when he dropped Cormier in the opening moments of the fight with a right hand. When 'DC' managed to survive, it quickly became clear that Johnson just didn't have the wrestling ability and gas tank to beat the former Olympian.
Sure enough, Cormier eventually took Johnson's back in the third round and choked him out to become the new titleholder.
'Rumble' didn't take long to re-establish himself as the division's top contender, though. He returned just four months later to knock out Jimi Manuwa and then took out Glover Teixeira and Ryan Bader, too.
With Cormier still holding the title, with Jones suspended for a second time, it made sense to hand 'Rumble' a rematch. Sadly for the native of Florida, he hadn't learned his lesson.
This time around, Johnson wasn't even able to land one of his haymakers before Cormier was on him like glue. As before, 'Rumble' couldn't shake him off. The fight ended in the exact same way as their first meeting had, with Cormier submitting his challenger with a choke.
It was be the last time fans would see 'Rumble' in the octagon, as he chose to hang up his gloves post-fight. How much of that decision was based on the knowledge that he just couldn't beat Cormier remains a mystery.
---
#1. Chuck Liddell vs. Randy Couture – UFC 57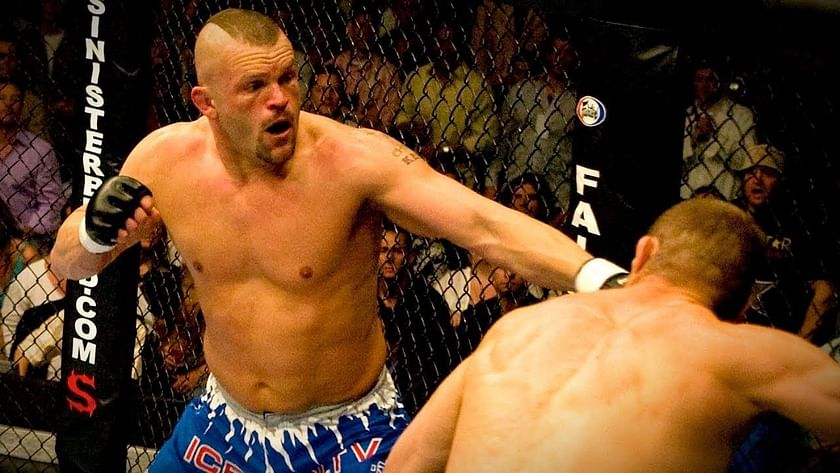 When Chuck Liddell first faced off with former UFC heavyweight champion Randy Couture in the summer of 2003 with the interim light heavyweight title on the line, 'The Iceman' could've been forgiven for being overconfident.
After all, the interim title had been created largely because champion Tito Ortiz appeared to be ducking a fight with Liddell, who was on a 10-fight win streak and had been destroying all that was in his path. Couture, meanwhile, was about to turn 40 and looked way past his prime.
However, 'The Natural' turned all that on its head by using some slick boxing skills to avoid Liddell's haymakers and hammered him en route to a third-round TKO win.
Two years later, the two stars faced off in a rematch. This time, 'The Iceman' had made the correct adjustments. He stayed out of Couture's range and simply waited for an opportunity to use his superior speed to land a brutal counter-punch. 'The Natural' was knocked out for the first time in his career and Liddell was the new champion.
When the UFC signed a third bout between the two in early 2006, Couture promised to recreate the success he'd had in the first fight by taking Liddell down and battering him with his ground-and-pound.
Unfortunately for the legend, it wasn't to be at all. 'The Iceman' was again willing to let Couture come to him. While he didn't stop him in the first round, he did hurt him, as well as escaping a takedown.
The second round followed the same pattern. Like in their previous meeting, when Couture overextended in an attempt to land a left hand, Liddell pounced, delivering a counter right hand that dropped 'The Natural' to end the fight.
This was essentially a simple story of Liddell discovering a path to victory over Couture in their initial rematch and then Couture being unable to block that path in their third bout. It was arguably the best victory of Liddell's career.