To succeed in the UFC, a fighter needs a massive amount of tools, from striking and grappling skills to an endless gas tank. Many of the most successful fighters have also displayed iron chins.
Over the years we've seen a number of UFC fighters with seemingly iron chins that allowed them to absorb huge shots. Eventually, however, some of those iron chins were cracked.
An iron chin can falter for a number of reasons, from an accumulation of a career's worth of punishment, to one bad beating, to a fighter simply getting old.
Either way, whenever it happens, it's alarming for the fans to see and it can signal the end of a top-level UFC career for a fighter.
Here are five UFC fighters who saw their iron chins get cracked.
---
#5. Frankie Edgar – former UFC lightweight champion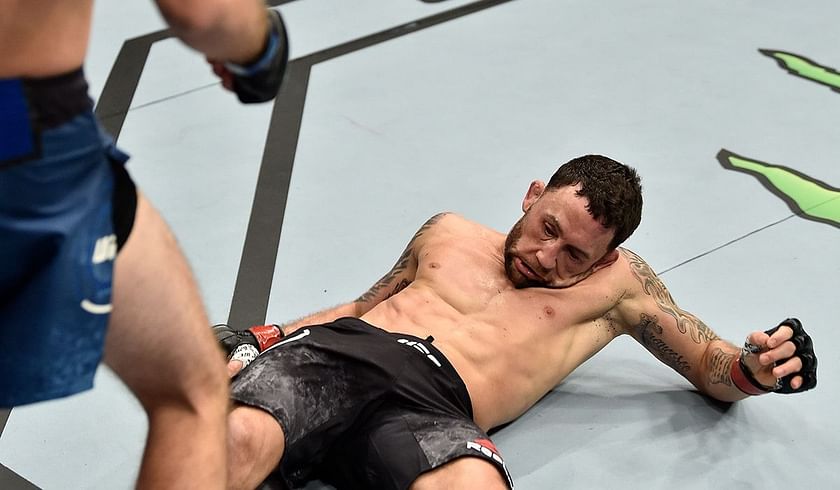 A true legend of the UFC, Frankie Edgar famously claimed the UFC lightweight title by defeating BJ Penn at UFC 112 in 2010. It was a period in which many fans felt that Penn was invincible.
Edgar went onto hold the title for two years. It was during this period that he really gained a reputation for having one of the greatest chins in UFC history.
'The Answer' took inhuman punishment in two fights against challenger Gray Maynard. Not only did he survive multiple knockdowns in both clashes, he came back to win the second with a knockout of his own.
While Edgar eventually lost his title to Benson Henderson in 2012, the strength of his chin certainly didn't diminish afterwards. He continued to be able to absorb punishment, going through tough fights with the likes of Jose Aldo, Cub Swanson and Jeremy Stephens.
However, things changed for 'The Answer' when he fought Brian Ortega at UFC 222 in early 2018. The early going of the fight saw Ortega stun Edgar with an elbow strike. 'T-City' then followed with a knee that knocked him out for the first time in his career.
Edgar rebounded with a second win over Swanson and then went the distance with UFC featherweight champ Max Holloway. However, it seemed clear that his legendary durability was beginning to fade.
Late 2019 then saw him knocked out by Chan Sung Jung. Since then, he's suffered two further KOs at the hands of Cory Sandhagen and Marlon Vera.
In this instance, it seems like a career's worth of wars have caught up with Edgar, meaning that his once-granite chin is now well and truly cracked.
#4. Diego Sanchez – former UFC lightweight contender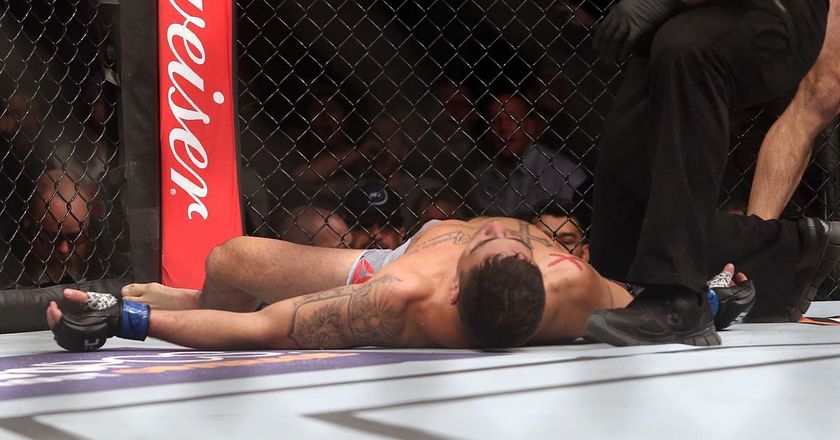 Fighters with a Mexican or Latino background are often renowned for their toughness. Former UFC lightweight title challenger Diego Sanchez was no exception to that rule.
In his early days, 'The Nightmare' would seemingly will his way to victories over his opponents. His incredible mental toughness even allowed him to beat more talented foes at times.
While Sanchez was never able to claim UFC gold, even as his career approached its twilight, his legendary toughness remained. Quite how he survived his fights with BJ Penn, Martin Kampmann and Gilbert Melendez is anyone's guess considering the punishment he absorbed.
Unfortunately, even a fighter as tough as 'The Nightmare' was unable to take that much punishment forever.
Despite coming into the fight off the back of a win, Sanchez suffered his first TKO loss at UFC 200. More worryingly, it came against Joe Lauzon, a fighter hardly known for being a concussive puncher.
'The Nightmare' then suffered bad knockouts at the hands of Al Iaquinta and Matt Brown, proving that his once-iron chin had been cracked for good.
While he did survive for a little longer in the UFC, he was no longer renowned for his toughness. His career with the promotion eventually ended in late 2020.
---
#3. Anderson Silva – former UFC middleweight champion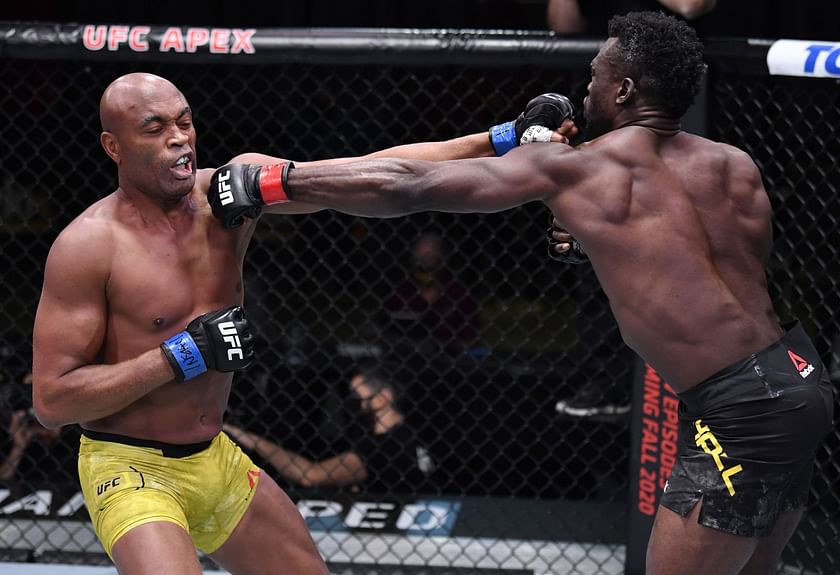 Over a period of seven years, legendary UFC middleweight champion Anderson Silva became renowned as one of the greatest fighters to ever grace the octagon.
'The Spider' had otherworldly striking skills, a highly underrated grappling game, and excellent cardio. However, perhaps the most underrated facet of his skillset was his extreme toughness.
Silva's iron chin made him capable of absorbing unbelievable amounts of punishment. Fans would often see him drop his hands to take clean punches to the jaw without even flinching.
His 2010 title defense against Chael Sonnen, for instance, saw him take a five-round beating before somehow coming back to win with a triangle choke. Remarkably, he barely looked worse for wear.
That all changed when Silva faced Chris Weidman at UFC 162 in his 11th title defense. After attempting to draw Weidman in with his trademark taunting, Silva was caught with a heavy left hand – and knocked out for the first time in his career.
Simply put, 'The Spider' was never the same again. While many fans blame the leg injury he suffered in his rematch with Weidman for his career slide, the truth is that his chin was gone after that first fight.
He was badly hurt by Weidman prior to the leg break in their rematch. He was later badly rocked by the likes of Michael Bisping, Derek Brunson and Israel Adesanya, and ended his UFC career being knocked out by Uriah Hall.
'The Spider' therefore remains a perfect example of a fighter who saw his iron chin thoroughly cracked.
#2. Donald Cerrone – UFC welterweight contender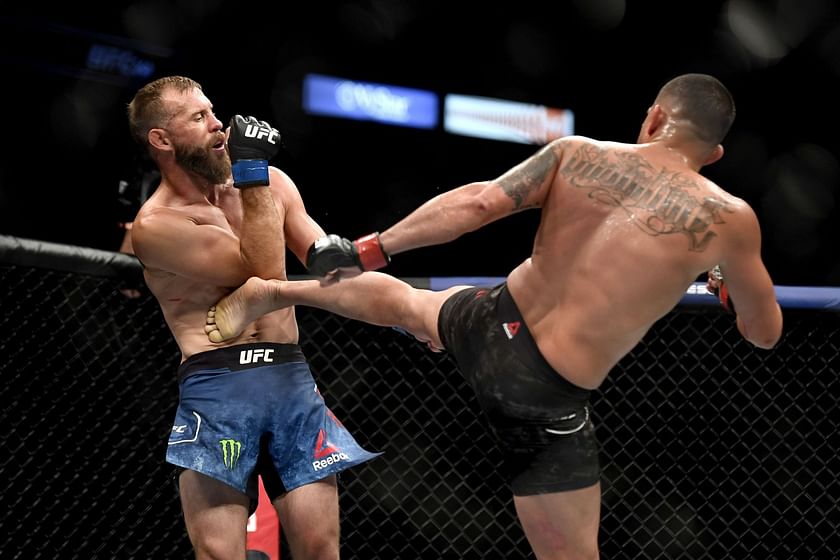 When he debuted in the UFC in early 2011, three things marked Donald 'Cowboy' Cerrone as a genuine superstar.
Firstly, his willingness to fight any opponent at any time. Secondly, his willingness to throw caution to the wind and put on wildly exciting fights. Thirdly, his unbelievable toughness, made possible by a granite chin.
Unfortunately, while 'Cowboy' is still willing to face any foe in the octagon and still seems willing to throw caution to the wind, his once-iron chin appears to be cracked for good.
Cerrone was once able to withstand a ludicrous amount of punishment. He famously bounced back from a horrendous knockdown to beat Melvin Guillard, one of the most concussive punchers in UFC history. He also repeated the feat against fighters like Edson Barboza and Eddie Alvarez.
However, more recently, it seems like the years of wars have finally caught up with 'Cowboy'.
We saw the first signs of this back in 2017, when he suffered shock TKO defeats at the hands of future UFC welterweight title challengers Jorge Masvidal and Darren Till.
While he's won a number of fights since then, it's painfully clear that his chin isn't what it once was. This was demonstrated in his bad TKO losses to Justin Gaethje and Conor McGregor.
Most recently, he was stopped by journeyman Alex Morono, a fighter whose best shots he surely would've absorbed a few years ago.
If the UFC journey is truly over for 'Cowboy', it's safe to say that the downward spiral began when his iron chin was cracked.
---
#1. Chuck Liddell – former UFC light heavyweight champion
Arguably the best example of a fighter who had his iron chin cracked remains the legendary Chuck Liddell, who held the UFC light heavyweight title from 2005 to 2007.
'The Iceman' was renowned for his knockout power and his ability to take out even the toughest opponents. He was equally well-known for a truly astonishing chin too.
Liddell's game was all about counterpunching, but unlike someone like Anderson Silva, he didn't really rely on his reflexes and speed to avoid big shots from his opponents. Instead, 'The Iceman' would simply eat their best punches before returning fire with devastating effect.
In the early part of his career, this served him incredibly well. He came from behind to defeat opponents such as Alistair Overeem, Guy Mezger and Vitor Belfort, and his only losses came on the ground.
However, once 'Rampage' Jackson became the first man to knock him out with a standing punch – taking his UFC light heavyweight title in the process – it all went downhill.
Liddell was able to turn back the clock in a win over Wanderlei Silva, but he then suffered seriously bad knockout losses to Rashad Evans, Mauricio Rua and Rich Franklin. Seemingly, his once-iron chin had turned into paper.
Those losses forced 'The Iceman' into retirement – and an ill-advised return in 2018 showed that his chin had not regained its iron nature. He suffered another bad KO loss, this time at the hands of old rival Tito Ortiz.
Edited by John Cunningham