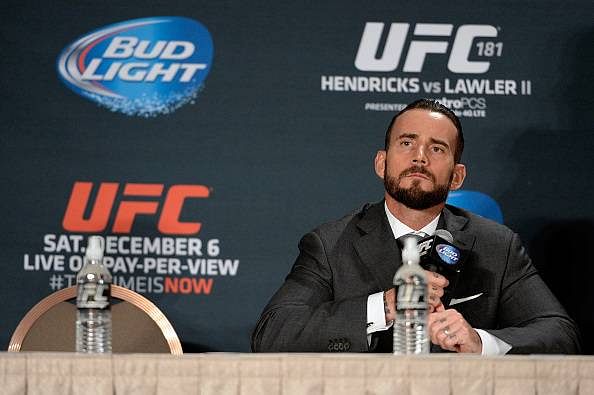 It goes without saying that the qualities that an MMA fighter in the UFC requires and those that a pro-wrestler utilizes in his profession are two entirely different kettle of fish. The mental aspects and the physical necessities of the athletes markedly vary in either camp, with little common ground between them generally.
However, athletic ability and mental toughness are among those universal attributes that are vital keys to success in any combat-oriented sphere, and once in a while, we are privy to successful cross-overs from the WWE to the UFC.
The obvious name here is Brock Lesnar, who made a brief but successful transition from pro-wrestling into the UFC. More recently, CM Punk fans will be waiting with bated breath and crossed fingers as even he looks set to launch his career with the UFC.
The skill-set required for the UFC includes a variety of disciplines like Brazilian Jiu-Jitsu, kick-boxing, judo and boxing to name a few, and pro-wrestlers were historically not well-versed in such martial art forms. That made it all the more spectacular if a WWE superstar did transition into MMA.
As we survey the WWE landscape in the present day though, the in-ring fighting reflects signs of branching out towards an MMA style, with an increasing number of wrestlers opting to include pure striking stemming from various disciplines into their arsenal of attacks.
This spurred me on to work out a list of WWE superstars who could possibly make the transition into the UFC. You would be surprised to note that a few of them might even have a realistic chance of thriving!
---
Daniel Bryan
No surprises here then. The perpetrator of the "Yes!" movement is well-known for his kicking technique and actually landing his kicks during the match. Normally a mild-mannered person, Daniel Bryan's awe-inspiring transformation when he fights is a thing to behold, as his unbridled intensity filters through in his matches.
Behind the scenes, Bryan trains shoot-grappling with one of Randy Couture's coaches and also tries to fit in kick-boxing sessions as and when he can. Of course, considering his current injury status, all bets are off and as fans, we're more concerned with his safe return to TV programming – as well we should be.
But don't be caught unawares if Bryan decides to follow the CM Punk route in the future and trade in the WWE for a shot at pursuing his passion, MMA, with greater integrity.
Former UFC Lightweight champion Benson Henderson credits Bryan's work ethic, stating how he "busts his butt" in training the way MMA fighters do, and doesn't just trail off after ensuring that his performance levels in the WWE are kept up. Throw in his adeptness at the submission game and Bryan easily emerges, off the top of any fan's mind, as the superstar in the WWE most likely to succeed if he switched to the UFC.
"King" Barrett
The winner of the 2015 King of The Ring is an impressive physical specimen with an equally appealing finishing move in the Bull hammer Elbow. Whenever I see Barrett perform I am struck by the fact that his body is lithe and lean as opposed to buffed and bulked, which is the subtle difference between the physique of a prototypical shoot fighter and that of a pro-wrestler. Couple that with the scar, albeit only mildly discernible, that streaks his torso beneath his right shoulder leading up to his triceps and you have the stuff of legend.
According to Barrett, before his WWE journey began, his world revolved around the dingy underground fighting scene that played out in the streets of Liverpool. He claims to have been a good enough fighter to have participated, and emerged victorious, in a few big-money underground bare-knuckle boxing fights.
After one such fight in the nondescript alleyways of Budapest, as he left with his victory money, Barrett was apparently attacked by a mugger armed with an 8-inch blade. Barrett ended up with a scar and a serious stab wound for good measure, but displayed other-worldly toughness and endurance in neutralizing the mugger, to put it diplomatically, and then proceeded to leave with his money.
"King" Barrett is undisputedly one of the toughest men in the WWE, and with his bare-knuckle boxing background, it isn't too far-fetched to think that he might capably don the 4-ounce gloves too.
---
Samoa Joe
The WWE's recent Indie Superstar acquisition Samoe Joe is perhaps the wrestler most known for maintaining an avid interest in MMA. Apart from a background grounding in judo, he practises BJJ and Muay Thai extensively. That filters through in the athleticism and pure striking that he employs in the ring.
It is also noteworthy to mention that it was Joe's extensive contacts in the MMA field that helped set CM Punk on the way by hooking him up with the relevant trainers when he chose to cross over from the WWE to the UFC.
Despite being a wrestler on the independent circuit before signing for TNA, Samoa Joe's mainstream pull has transcended that of a typical Indie wrestler. Little wonder that his recruitment has proven to be a value-addition to the NXT roster. But weight issues have dogged his career, particularly from the latter stages of his tenure in TNA.
If he ever chooses to pursue what is a very viable alternative career in the UFC, perhaps cutting down some weight would be beneficial towards the invaluable cardio aspect that comes under severe scrutiny during MMA fights.
Sheamus
Connon McGregor, with his abrasive and confrontational style, has evolved into the smack-talking box-office attraction that the UFC was direly missing after Chael Sonnen's retirement. While his utter disrespect towards Jose Aldo in the build-up to their fight has the audience eagerly awaiting the showdown on the edges of their seats, creating a stir is not something new for McGregor.
Towards the end of 2014, McGregor and Sheamus indulged in a war of words on Twitter, caused by McGregor answering an interview question about who would win if they both squared off. Naturally, neither man was willing to back down, and sparks flew in their Twitter exchange before they decided that they would settle the matter over a bottle of whiskey during Christmas. (How Irish!)
Regardless, this fuelled speculation as to whether Sheamus can hold his own in an MMA set-up; considering his past experience as a bodyguard and bouncer, we can be sure that he does not shy away from confrontation. McGregor would either run circles around Sheamus using his speed and agility to strike and move, or the fight could well end with one accurate Brogue Kick. What's your take?
---
Dolph Ziggler
Surprised? Don't be.
Dolph Ziggler is arguably the most accomplished amateur wrestler in the WWE's employ, and he still holds the high school and college records for most number of pins. Apart from that, he also recalls having trained in boxing as well, owing to his desire to be the best athlete at college. Despite never dabbling in MMA before, he does display salient qualities that could ease out a transition from the WWE to the UFC.
Ziggler possesses athletic ability in abundance, amply evidenced by his all-out, high intensity style, and he is also comfortable in using his kicks to strike – an important facet of MMA fighting. If he were to add a well-rounded striking game to his expertise in wrestling, Ziggler could re-package himself into a note-worthy MMA fighter.
If the WWE continue suppressing his growth to within the upper-mid card, it would be interesting to see if Ziggler eventually loses his patience and follows the other most adopted route of successful collegiate wrestlers – of that into MMA.