UFC events may have wrapped up for 2022 but that hasn't stopped fans from compiling data involving some of the most technical finishes across the sport this year.
The table below courtesy Reddit user @sjstell is a list of the most used submissions in the UFC this year.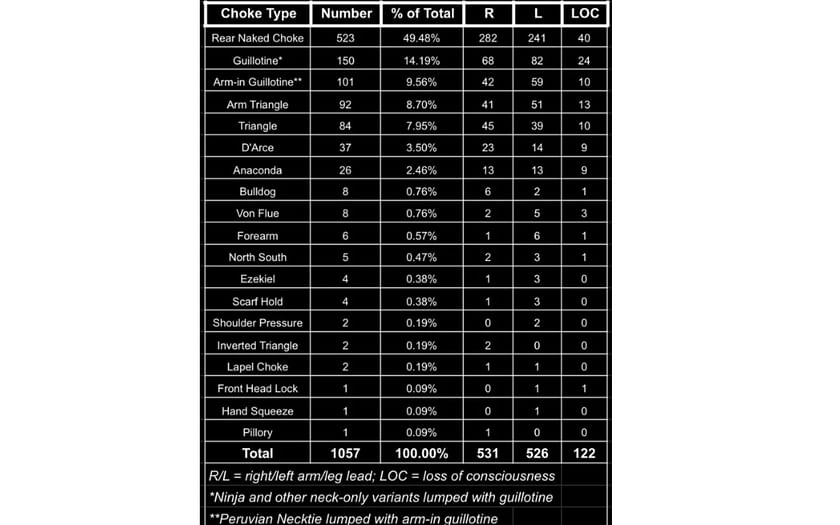 The rear-naked choke (RNC) tops the list as the most successfully used submission with 523, taking up a huge 50% of the list. The eagle-eyed user has also included loss of consciousness (LOC) as a result of a submission, with 40 fighters refusing to tap before being choked out.
Arguably the most famous RNC of the year was Jiri Prochazka's on Glover Teixeira at UFC 275. The clash was a Fight of the Year contender that 'Denisa' was losing before he locked in the submission on the Brazilian jiu-jitsu expert with under 40 seconds left in the final round.
Fourth on the list is the arm triangle, rendering 13 of the 92 recipients unconscious. The table also includes which arm or leg was used during the submission, with 41 right arm/leg and 51 left arm/leg submissions.
The arm triangle is also one of the famous submissions of the year as it was used by Islam Makhachev to defeat Charles Oliveira for the vacant lightweight title. The Russian fighter dropped the Brazilian with a huge shot before pouncing on him and securing the tap from 'do Bronx in the second round.
Place your bets for the upcoming UFC fight night main card and earn $$$.
---
Chael Sonnen believes the UFC in 2022 has been run "unlike" any other since the organization's inception
Hall of Famer Chael Sonnen recently reflected on the hugely successful year for the UFC and MMA as a whole during the 14th annual World MMA awards.
Sonnen was on the red carpet when he was approached by MMA Junkie's Mike Bohn, who asked the former title challenger about the promotion's landscape heading into 2023.
According to 'The American Gangster', despite the organization's success, Dana White from a number of years ago would be seriously unimpressed with some of the decisions made by his current self throughout this year:
"2022 has been ran unlike any other year in MMA. If 2022 Dana White walks into 2008 Dana White's office, 2008 Dana White kicks him out."
The 45-year-old added:
"This is a star-driven business. We took out biggest stars, we put them on ice. With that said, ratings went up, box office were completely sold out. Pay-per-view did just fine, it's unlike any year. Jon Jones can't get a fight at heavyweight, meanwhile, I'm watching the worldwide leader and there's a guy named Sergey that's the main event of a heavyweight."
Catch the full interview here: