The UFC is an abbreviation for the Ultimate Fighting Championship. That was once a title to be won, not just the name of the most successful MMA organization in the world.
The Ultimate Fighting Championship was a tournament to decide the best MMA fighter in the world. UFC 1, 2 and 4 were won by Jiu-Jitsu expert Royce Gracie. The diminutive Brazilian demonstrated that skill and not size was the key factor in the fight game and revolutionized the sport of fighting.
Eight UFC Hall of Famers were tournament winners. The aforementioned Gracie, two-time tournament winners, "The Beast" Dan Severn, Mark "The Hammer" Coleman, Don Frye, UFC 13 tournament winner "The Natural" Randy Couture, UFC 16 tournament winner Pat Miletich, UFC Japan tournament winner Kazushi Sakuraba and The Ultimate Fighter 4 tournament winner Matt Serra.
It is an exclusive club that will grow with future Hall of Fame inductions. The traditional UFC tournaments ceased to be from UFC 23 onwards. That event held on November 19, 1999, was subtitled UFC Japan 2 and hosted an all Japanese elimination tournament to crown the first-ever (and ultimately only ever) UFC Japan Champion. That title was won by Kenichi Yamamoto.
This slideshow will look back at the early years of the UFC between 1993 and 1999 when the tournament format was crucial to UFC's success and those legendary fighters from the 1990s who enjoyed great success in the company and MMA but never won a tournament final.
So, without further delay, let's delve into the archives and look back at the four most famous names from that period who will never possess a UFC tournament title on their resume.
Are there any names we have missed?
Feel free to leave your thoughts in the comments section below!
#4 Tank Abbott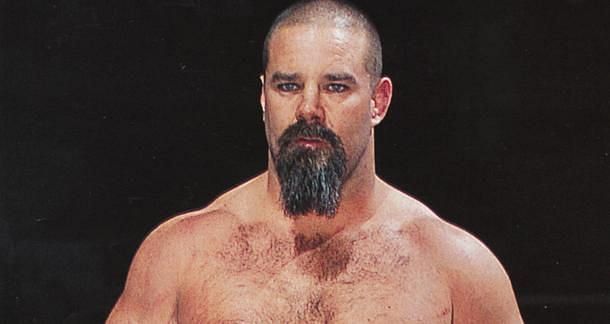 Always the bridesmaid, never the bride is not phraseology you would commonly associate with David "Tank" Abbott, but that sentence would definitely sum up his UFC career accurately.
Tank holds the record for most UFC tournaments competed in with five, yet he never won one of them.
Tank burst onto the MMA scene way back in July 1995, wherein he competed in the UFC 6 tournament. He battered John Matua and Paul Varelans as he reached the final, only to succumb to the greater wrestler, Oleg Taktarov via rear naked choke.
He made the semi-finals of Ultimate Ultimate 1995 and UFC 11 before he again reached a tournament final at Ultimate Ultimate 1996. This time, he faced the fearsome striker and grappler, Don Frye. After initially rocking Frye with a trademark right hand, Tank was caught in a rear naked choke to deny him the Ultimate Ultimate title.
Tank's final tournament appearance came at UFC Japan in December 1997 and although he won his first round bout, he withdrew from the competition due to injury.
Despite being so closely associated with the early UFC tournaments, the legend never did win the big one. In fact, he never won a MMA title of any kind during his long career.
Always the bridesmaid, indeed.
#3 Kimo Leopoldo
Kimo Leopoldo burst onto the MMA scene at UFC 3 when he battered two time defending UFC tournament champion, Royce Gracie in the first round.
The opportunistic Gracie did find a way to win by reversing a rear waist lock into an arm-bar for the win by submission. The crowd went wild for Kimo's performance as post-fight he looked in great shape whereas Gracie had to be carried out of the Octagon. Gracie, in a classless move also refused to shake Kimo's hand.
Kimo would not compete in another UFC tournament until Ultimate Ultimate 1996 wherein he bested Paul Varelans in a thrilling encounter. The six foot three inch, 250 Ibs Kimo was dwarfed by the six feet eight inch tall, 340 Ibs Varelans, who kept him pinned to the mat for several minutes. Kimo hung in there and as Varelans tired, he escaped from the big man's grasp and reverse mounted him and pounded away with strikes for the come from behind victory.
Unfortunately, Kimo extended so much energy with this victory that he withdrew from the tournament due to exhaustion. That robbed the world of a Kimo versus Don Frye semi-final which would have been something extraordinary.
Kimo never competed in a UFC tournament again but his performances inside the Octagon were nothing short of legendary.
#2 Tito Ortiz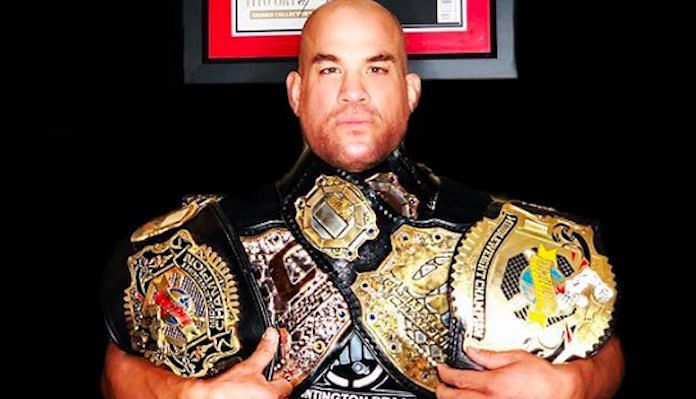 UFC 13. That was the event, held on May 30, 1997, which introduced Tito Ortiz to MMA audiences.
Given the Huntington Beach Bad Boy's hugely successful Light-Heavyweight career in the UFC, one would expect that he would have won his tournament debut. However, that was not the case.
UFC 13 saw Ortiz's first win but also his first loss in the company in which he would make his name.
That event saw Ortiz compete as an alternate in the Light-Heavyweight tournament wherein he defeated Wes Albritton via TKO. When Enson Inoue withdrew from the final due to injury, Ortiz stepped in to fight Guy Mezger in the final. However, the more experienced Mezger would beat Ortiz via a guillotine choke submission.
Ortiz never competed in another UFC tournament despite the later great fame he would achieve in the promotion.
He would avenge his loss to Mezger at UFC 19 before he went on to lift the Light-Heavyweight strap at UFC 25 by defeating Wanderlei Silva. Ortiz would reign for three and a half years before he was stunningly upset by former Heavyweight Champion, Randy Couture at UFC 44.
#1 Ken Shamrock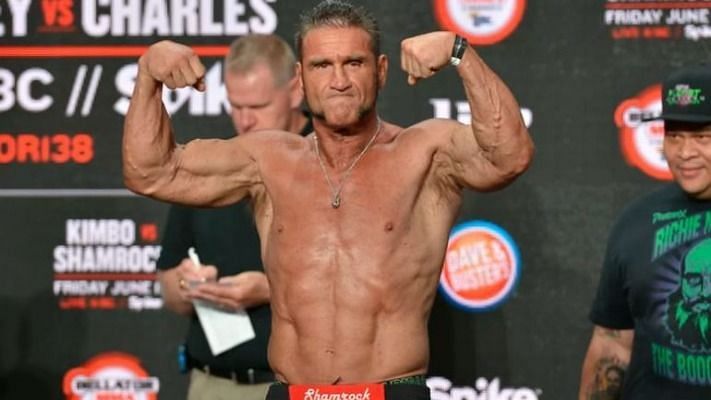 Ken Shamrock has won MMA tournaments. However, the UFC Hall of Famer never won in UFC, the company which made him famous.
Shamrock has worked for many MMA and pro-wrestling promotions over the past three decades, but UFC is where he is still most closely associated.
It is somewhat surprising then, that despite competing in several UFC tournaments, this pioneer of MMA never won one.
He competed in UFC 1 and made light work of Pat Smith in the first round before submitting to the eventual winner, Royce Gracie in the Semi-Final. Shamrock by his own admittance had taken the smaller Gracie for granted. Eager to avenge his defeat, the "World's Most Dangerous Man" as he would become known signed up to UFC 2, but had to withdraw due to injury. UFC 3 was promoted around Shamrock and Gracie and the pair were separated in the brackets in the hopes that both would make it to the final.
Neither did.
Gracie was so exhausted after his first round victory over Kimo Leopoldo that he could not compete in his Semi-Final bout. Shamrock defeated Christophe Leininger and Felix Mitchell to advance to the Final, but when Gracie withdrew, so did he. Shamrock had little interest in fighting anyone other than the Brazilian in the Final. Given he had also suffered a hand injury in the previous round, Shamrock had no desire to contest the Championship fight. However, this would be the closest he would ever come to winning a UFC tournament.
Shamrock became the first UFC Superfight Champion at UFC VI and would not compete in another tournament until the Ultimate Ultimate 1996, which turned out to be his final UFC appearance for six years, when he defeated Brian Johnstone in round one, but was forced to withdraw through injury once more.
Shamrock is perhaps the most famous MMA superstar ever who never won a UFC tournament title.