| | |
| --- | --- |
| Full Name | Royce Gracie |
| Date of Birth | December 12, 1966 |
| Nationality | Brazilian |
| Height | 6 ft 0 in |
Royce Gracie: A Brief Biography
Royce Gracie is a former UFC Fighter and Hall of Famer with a professional MMA record of 15-wins, 2-losses, and 3-draws. Gracie holds a 7th degree red/black coral belt in Gracie Jiu-Jitsu.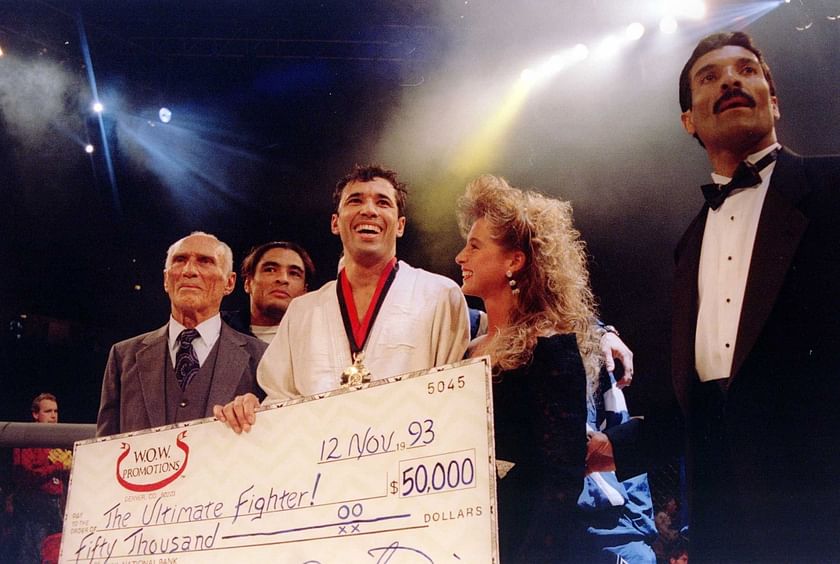 Royce Gracie UFC
Royce Gracie was a Gracie Jiu-Jitsu practitioner who transitioned to MMA to compete in the UFC 1 Tournament. Gracie dominated everyone in the tournament, defeating Art Jimmerson in the first round, UFC Legend Ken Shamrock in the semi-finals, and Savate practitioner Gerard in the finals to win the tournament and increase the popularity of Gracie Jiu-Jitsu.
Gracie continued his dominating run as he took part in the UFC 2 tournament and used his superior grappling skills to outclass the competition. He submitted legendary karateka Minoki Ichihara in the opening round and dominated future Pancrase fighter Jason DeLucia to enter into the semi-finals.
Gracie submitted Remco Pardoel in the semi-finals despite Remco weighing in at 250 lbs. He dominated Patrick Smith in the finals and made him submit to his punches.
Gracie's UFC tournament winning streak ended at the UFC 3 tournament as he defeated Kimo Leopoldo in the first round but withdrew from the tournament before the next round began due to exhaustion
He returned at the UFC 4 tournament and went on a tear as he submitted Ron Van Clief, Keith Hackney, and professional wrestler Dan Severn to win the tournament.
Gracie's winning streak came to a halt in his next fight against Ken Shamrock at UFC 5. Shamrock and Gracie fought for over 36-minutes in an instant classic that ended with a draw as both fighters couldn't finish each other and because there were no ringside judges.
He returned to the UFC in 2006 to fight Matt Hughes at UFC 60. The aging Gracie failed to keep up with Hughes and got TKO'ed in the last seconds of the first round.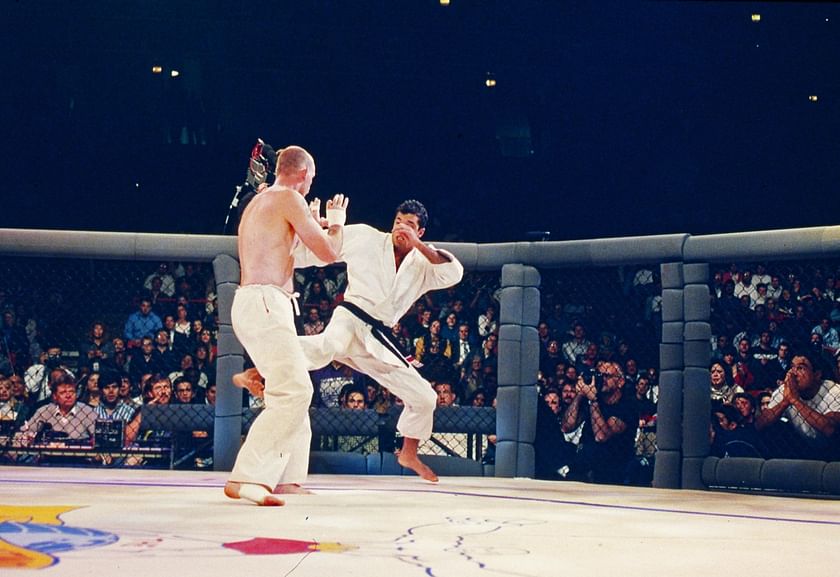 Royce Gracie Pride and K-1
Royce Gracie entered the Pride Grand Prix 2000 and defeated Nobuhiko Takada via unanimous decision. His next fight against Kazushi " Gracie Hunter" was a grudge match fought under different rules as proposed by the Gracies. The fight had unlimited rounds and no referees stoppage. Sakuraba and Royce fought a 90-minute war that ended with the Gracie Clan throwing in the towel at the end of the 6th round. This was Royce's first loss in MMA.
Royce drew his next fight against Hidehiko Yoshida at Pride Shockwave 2003. This was his last fight for the promotion as he went to fight at K-1 in 2004. Gracie fought twice in K-1, defeating Akebono Taro and drawing Hideo Tokoro.
Royce Gracie Bellator
Gracie rematched Kazushi Sakuraba at Dynamite!! USA in 2007. Gracie outclassed Sakuraba and defeated him via unanimous decision. He tested positive for anabolic steroids after the fight but the decision was not overturned. Gracie went on a hiatus from MMA in 2007 and returned in 2016 to rematch Ken Shamrock at Bellator 149. Gracie TKO'ed Shamrock in the first round and has not fought since the fight.
Royce Gracie
Career Stats
Current Status:
Royce Gracie's current record stands at 15-2-3. He is on a 2-fight win streak in MMA
Win-Loss-Draw:
| | | | |
| --- | --- | --- | --- |
| Matches | Wins | Losses | Draws |
| 20 | 15 | 2 | 3 |
Wins by KO/TKO:
2
Wins by Submission:
11
Wins by Decision:
2
Current Titles:
None
Reach:
76 in (194cm)
Weight:
176 lb / 80 kg
Weight Class:
Welterweight

Light Heavyweight
Middleweight
Royce Gracie Last Fight
Royce Gracie's last fight was against Ken Shamrock at Bellator 149. Gracie won the fight via second-round TKO.
Royce Gracie Record
Below is the professional MMA record of Royce Gracie:
| | | | | | |
| --- | --- | --- | --- | --- | --- |
| Result | Record | Opponent | Method | Event | Date |
| Win | 15-2-3 | Ken Shamrock | TKO (knee and punches) | Bellator 149 | 19/02/2016 |
| Win | 14-2-3 | Kazushi Sakuraba | Decision (unanimous) | Dynamite!! USA | 02/06/2007 |
| Loss | 13-2-3 | Matt Hughes | TKO (punches) | UFC 60 | 27/05/2006 |
| Draw | 13-1-3 | Hideo Tokoro | Draw | K-1 PREMIUM 2005 Dynamite!! | 31/12/2005 |
| Win | 13-1-2 | Akebono Taro | Submission (omoplata) | K-1 PREMIUM 2004 Dynamite!! | 31/12/2004 |
| Draw | 12-1-2 | Hidehiko Yoshida | Draw | Pride Shockwave 2003 | 31/12/2003 |
| Loss | 12-1-1 | Kazushi Sakuraba | TKO (corner stoppage) | Pride Grand Prix 2000 Finals | 01/05/2000 |
| Win | 12-0-1 | Nobuhiko Takada | Decision (unanimous) | Pride Grand Prix 2000 Opening Round | 30/01/2000 |
| Draw | 11-0-1 | Ken Shamrock | Draw | UFC 5 | 07/04/1995 |
| Win | 11-0 | Dan Severn | Submission (triangle choke) | UFC 4 | 16/12/1994 |
| Win | 10-0 | Keith Hackney | Submission (armbar) | UFC 4 | 16/12/1994 |
| Win | 9-0 | Ron van Clief | Submission (rear-naked choke) | UFC 4 | 16/12/1994 |
| Win | 8-0 | Kimo Leopoldo | Submission (armbar) | UFC 3 | 09/09/1994 |
| Win | 7-0 | Patrick Smith | TKO (submission to punches) | UFC 2 | 1103/1994 |
| Win | 6-0 | Remco Pardoel | Submission (lapel choke) | UFC 2 | 1103/1994 |
| Win | 5-0 | Jason DeLucia | Submission (armbar) | UFC 2 | 1103/1994 |
| Win | 4-0 | Minoki Ichihara | Submission (lapel choke) | UFC 2 | 1103/1994 |
| Win | 3-0 | Gerard Gordeau | Submission (rear-naked choke) | UFC 1 | 12/11/1993 |
| Win | 2-0 | Ken Shamrock | Submission (rear-naked choke) | UFC 1 | 12/11/1993 |
| Win | 1-0 | Art Jimmerson | Submission (smother choke) | UFC 1 | 12/11/1993 |