In the world of the UFC, time waits for no man – or woman – and so every legendary fighter ends up seeing their career come to an end at some point.
Right now there are a number of legends still competing in the UFC who could well look to hang up their gloves soon, with a couple of them having outright announced their retirement bout. Will their retirement stick? It's hard to say, as we've seen numerous retired fighters return to action, usually to poor results.
Either way, here are five UFC legends who could look to retire in the near future.
---
#5. Andrei Arlovski – former UFC heavyweight champion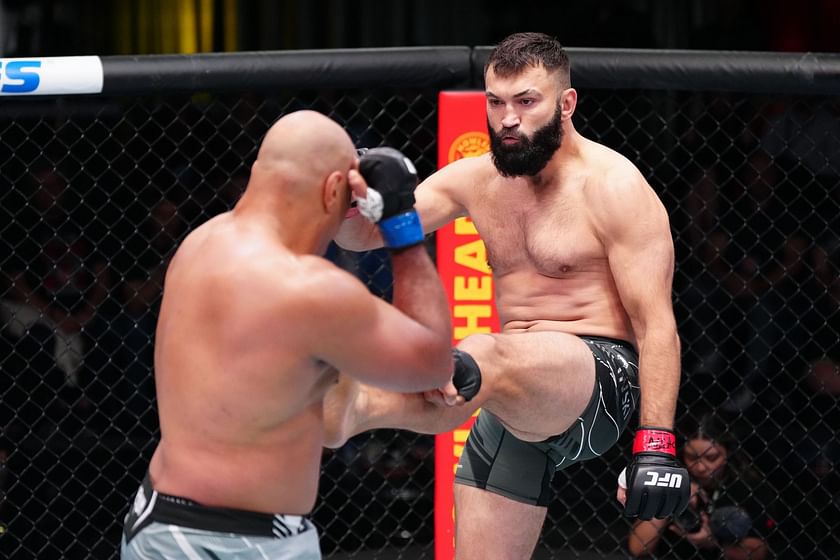 The longest-tenured fighter in the UFC, in terms of how long ago he made his octagon debut, is former heavyweight champion Andrei Arlovski. Remarkably, 'The Pitbull' is now competing in his third decade with the promotion, having first fought back in 2000.
Given he's now 43 years old, then, could Arlovski be nearing the end of his storied career? Right now, it feels likely. The native of Belarus was riding an unlikely four-fight winning streak prior to last month. However, his recent bout with Marcos Rogerio de Lima went horribly. Arlovski was knocked down and submitted in just under two minutes.
The issue for Arlovski is that he still seems to have the striking skill to be able to defeat the UFC's lower-level heavyweights. Based on his loss to 'Pezao' his durability is all but gone at this stage.
Therefore, does he stick around to try to beat more low-level foes, risking a bad knockout at any point? Does he simply decide that enough is enough and step away before he suffers some really bad damage?
Naturally, it's a question that only 'The Pitbull' can answer, but logically, the best path for him would be the latter one. It's very possible that he knows it. While he may well take one more fight, it's definitely probable that it could be his last.
---
#4. Robbie Lawler – former UFC welterweight champion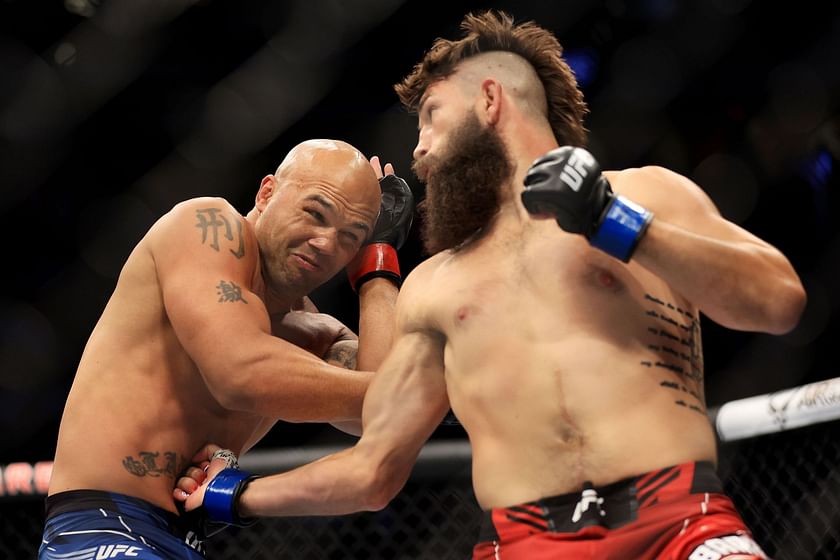 Talk of former UFC welterweight champion Robbie Lawler's potential retirement has been going on for years now, beginning when he hit a slide after losing his title back in 2016. Six years after that title defeat, is it finally time for 'Ruthless' to hang up his gloves? It definitely feels possible.
It's true that Lawler outright stated that he had no plans to retire any time soon as recently as June, but that was prior to his bout with Bryan Barberena. The clash saw a close first round, but ended terribly for the former champion. The bout saw him stopped by TKO for the first time in years.
Is it possible that the loss to 'Bam Bam' may have changed Lawler's mind, then? It's definitely a fair question. 'Ruthless' does have his next fight booked, as he'll fight Santiago Ponzinibbio in December. If he loses that one, though, it'll be hard for him not to listen to calls for him to step away.
After all, he's been fighting since he was 19 years old. Next March will see him turn 41. That's an insane amount of time by anyone's standards. Given that he's been to the top of the mountain and has nothing left to prove, he ought to consider hanging up his gloves for the good of his own health.
---
#3. Nick Diaz – UFC welterweight contender
Former UFC welterweight title challenger Nick Diaz might not have had as many fans call for his retirement as his old rival Robbie Lawler, but it definitely feels like his lengthy and storied career could come to a close soon.
It's true that Diaz hasn't quite taken as much damage as some of his peers, largely because he's fought so sporadically over recent years. Diaz has only stepped into the octagon on just three occasions in the last decade.
However, the Stockton-based fighter is now 39 years old. In his last fight – a rematch with Lawler in September 2021 – he was beaten by TKO. Not only by TKO, but he refused to get back to his feet after a hard shot, which was uncharacteristic of the Stockton native. To some, it appeared that he simply wasn't in the right shape or frame of mind to compete any more.
Diaz does have fights left on his current contract with the UFC. Incredibly, it's been suggested that he might be ready to make a return to the octagon in late 2022, although that hasn't been confirmed as yet.
Given that he reportedly made a hefty pay cheque for his bout with Lawler, though, he may have little reason to return again.
However, it may be the case that he returns for one last time – a "last little money grab" in the eyes of some – and then finally hangs up his gloves. It's a decision that would make a lot of sense.
---
#2. Shogun Rua – former UFC light-heavyweight champion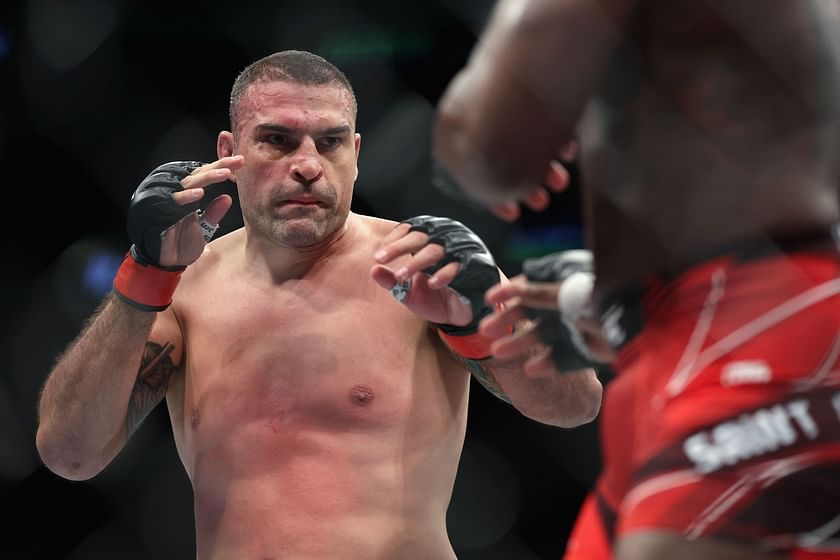 One legend who appears to have planned out his retirement perfectly is former light-heavyweight kingpin Shogun Rua. One of the greatest 205lbers of all time, the Brazilian won the prestigious PRIDE Grand Prix before joining the UFC in 2007. He then claimed gold three years later.
However, it's fair to say that Shogun has fallen on hard times in recent years. He's lost his last two bouts, falling to Paul Craig and Ovince St. Preux. His only win since 2019 came against Antonio Rogerio Nogueira, who retired directly afterwards.
So it came as no surprise to hear Shogun openly discuss his retirement plans prior to his bout with St. Preux, which took place in May. The Brazilian outright stated that he intended to retire after two more fights, including the St. Preux clash. He now has a fight booked for the UFC's next visit to Rio de Janeiro, which is scheduled for January 2023.
He's been matched with an unheralded foe in the form of Ihor Potieria. With the fight being the final one on his current contract, it feels like the promotion is throwing him a bone of sorts. The UFC may be looking to set him up with a win in front of his home country so he can go out on a high note.
If that's the case, it's only what Shogun – a legend who should be considered one of the true all-time greats of MMA – deserves.
---
#1. Frankie Edgar – former UFC lightweight champion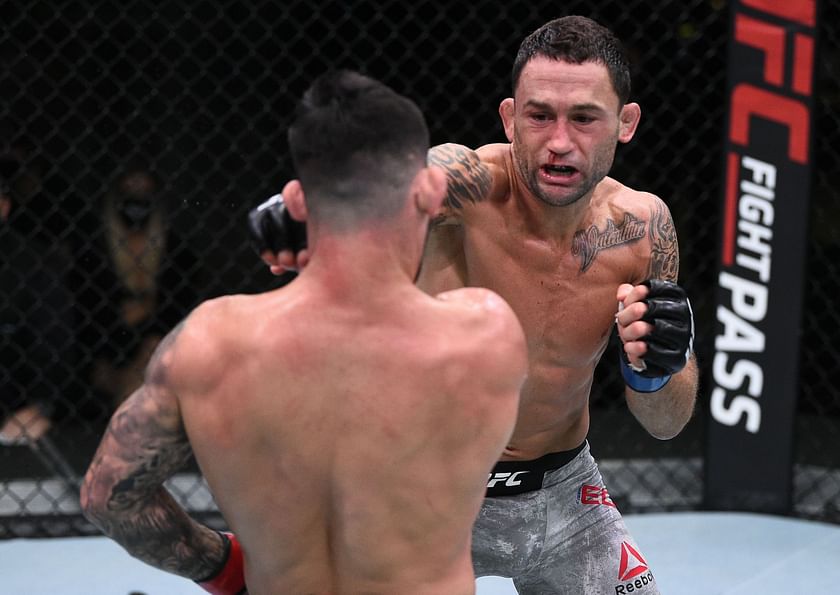 If all goes to plan, then the next legend of the octagon to hang up his gloves will be former lightweight champion Frankie Edgar. 'The Answer' is booked to face off with Chris Gutierrez at UFC 281 later this month, and according to ESPN, it'll be his last fight evere.
Assuming the report is correct and Edgar does indeed retire after the Gutierrez fight, it'll mark the end of a truly storied career in the UFC which began way back in February 2007. 'The Answer' immediately marked himself out as a fighter to watch with a debut win over the highly-touted Tyson Griffin, and when he shocked the world by upsetting BJ Penn to claim the lightweight title in 2010, the native of New Jersey cemented himself as an all-time great.
He's gone onto plenty of stirring victories, defending his crown successfully on three occasions before losing it. He then picked up huge wins over the likes of Chad Mendes, Urijah Faber and Yair Rodriguez. Sadly, he's fallen on hard times recently.
Edgar's once-iron chin was cracked by Brian Ortega in early 2018. After that knockout loss – the first of his career – he's suffered a further three. That's including his last two fights against Cory Sandhagen and Marlon Vera.
Given that he's now 41 years old, it makes perfect sense for Edgar to finally hang up his gloves. It's likely that he'll be entered into the UFC's Hall of Fame in the near future. For now, though, the big question should be whether he can depart on a high by beating Gutierrez. Alternatively, like so many before him, he'll leave on his shield.