The Muay Thai super fight between Rodtang Jitmuangnon and Superlek Kiatmoo9, which headlined ONE Friday Fights 34 last Friday inside the legendary Lumpinee Boxing Stadium in Bangkok, Thailand, has lived up to every expectation.
The promise of an all-out war and striking masterclass was delivered by two of the best Muay Thai fighters today. It was unfortunate that the ONE flyweight Muay Thai world title of Rodtang was not on the line because Superlek missed the weight by five pounds, which resulted in a catchweight scrap at 140 pounds.
Although it provided a barnburner and turned out to be an all-time classic, the conclusion of the fight left a sour taste on fans and combat sports personalities as 'The Kicking Machine' eked out a unanimous decision victory over the 'Iron Man.'
One particular moment in the fight has directly changed the outcome, with Superlek scoring a knockdown against Rodtang in the last minute of the second round with an elbow strike. ONE Championship posted the clip on their Instagram account on September 23 with the caption:
Superlek DROPS Rodtang 🤯 @superlek789⁠ #ONEFridayFights34 #ONEChampionship #MartialArts #MuayThai
This sequence has drawn mixed reactions from fans, as one faction doesn't view it as a knockdown from a strike so much as a slip from Rodtang while he was backpedaling. Users @chris_phenom, @ethanrawlins_, @naythit_linntun, and @bernardoromao_ commented:
"That knockdown didn't look legit. Looked like it whiffed and rodtang slip."
"I'd love to see a different angle too, hard to tell if Rodtang slips the elbow and then just gets the knee as he is moving which makes him fall, or if the elbow actually caught him properly"
"That was not a knockdown in the highlights you can literally see Rodtang slip"
"THAT WAS NOT A KNOCKDOWN. Watch wisely, he slipped. The way he gets up, walks, talks, everything…he was totally fine."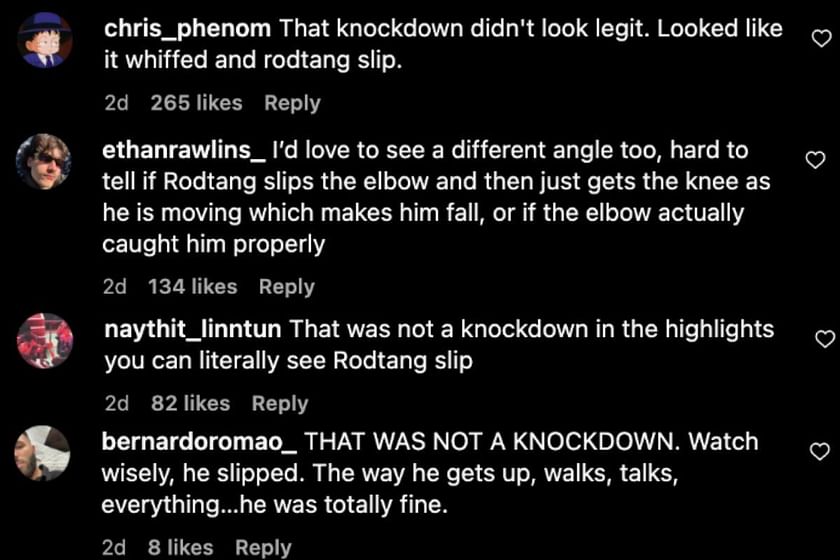 Meanwhile, the other group of fans believed that it was indeed a knockdown scored by Superlek, and they are also clamoring for a rematch with two additional rounds, as users @pop.the.don, @calrecon, @iustin_bd, and @ayejacksonn commented:
"That's a knockdown he got dropped 💯"
"3 rounds would be not enough for them"
"Need a REMATCH!!! but in 5 rounds"
"Beautiful fight ,people saying it was a robbery ,couldn't literally went either way🙌"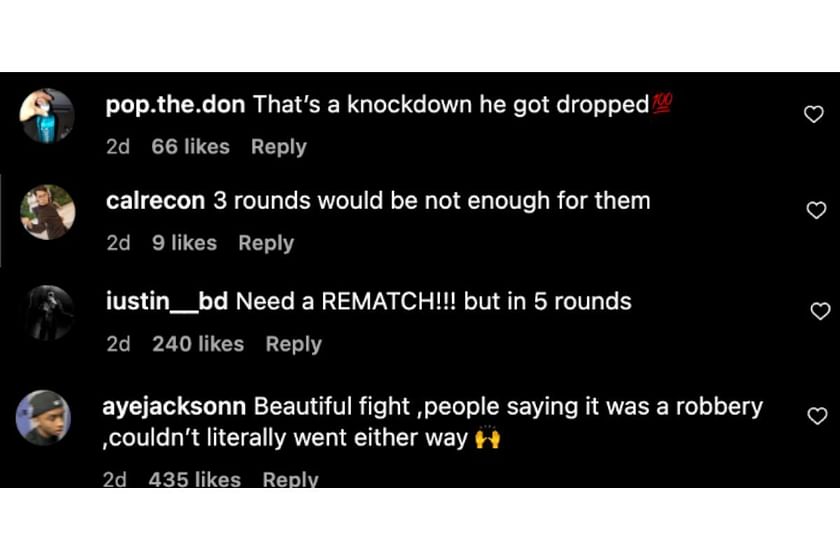 Because of this debate and steam on social media, the world's largest martial arts organization might just be forced to do a rematch between the two. The first fight might just be the beginning of a legendary rivalry between two of the best Muay Thai fighters in the world today.
Edited by Nicolaas Ackermann