Conor McGregor has jovially called out Nate Diaz for a Slap fight under the banner of Dana White's Power Slap League.
'Notorious' suggested being pitted against Diaz for the Power Slap League championship fight. The Dubliner hilariously claimed that the Slap championship was the closest that the Stockton slapper could come to winning a title. McGregor wrote:
"Me Vs Nate on it for the title hahahaha maybe that's a title you'd have a better chance of coming close to winning Nate you little slapper hahahaha"
Conor McGregor finally seems to have taken notice of Dana White's Power Slap League and claims to be 'in' on it. The Irishman posted multiple tweets about the same, also enquiring about the nitty-gritties.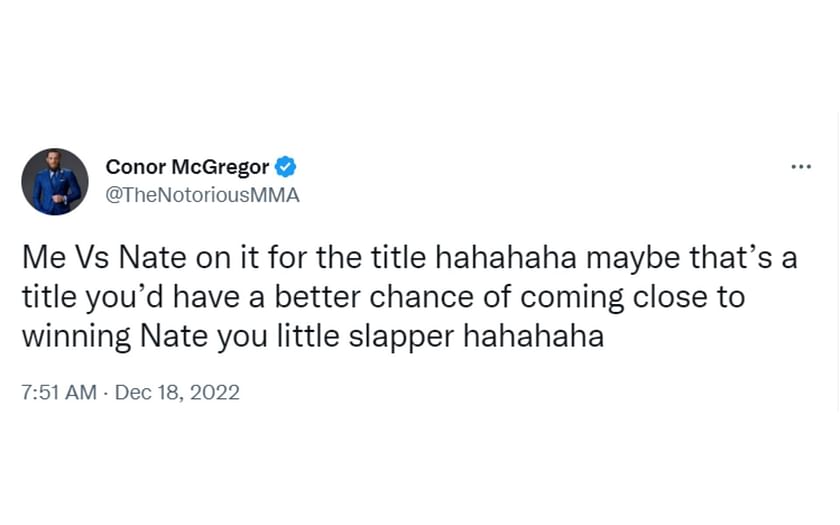 Conor McGregor's two previous outings with Diaz going 1-1 is not news anymore. 'Notorious' is currently plotting a comeback after staying out of the octagon for over a year due to a broken leg that he suffered in a trilogy clash with Dustin Poirier. Meanwhile, Diaz, perhaps temporarily bade farewell to the octagon win a submission win over fellow legend Tony Ferguson in September.
However, both Diaz and McGregor have expressed interest in a trilogy fight at some point in the future. It would certainly be an experience watching them go at it under the Slap Fighting Rules, where Diaz could have a significant advantage.