Former UFC featherweight and lightweight champion Conor McGregor has hit back after UFC welterweight champion Kamaru Usman sent him a warning following UFC 261.
In the aftermath of Kamaru Usman's spectacular second-round KO win over Jorge Masvidal at UFC 261, MMA megastar Conor McGregor took to his official Twitter account and jibed at Usman.
McGregor tweeted a video of himself landing a step-in left straight/cross from the southpaw stance against fellow southpaw Dustin Poirier in their UFC 257 fight. In a statement attached to the tweet, McGregor pointed out the similarity between the strike he landed and Usman's step-in right straight/cross from the orthodox stance against Masvidal who was also in the orthodox stance.
McGregor then suggested that Usman is "copying" his shots, besides also talking about Usman oftentimes using his (McGregor's) famous quotes. 'Notorious' and 'The Nigerian Nightmare' proceeded to get into an intense war of words on social media after this.
Conor McGregor and Kamaru Usman have time and again taken shots at each other on social media. McGregor has often asserted that he'd like to capture the UFC welterweight title someday. Meanwhile, Usman has consistently claimed that he'd offered the Irish MMA star a shot at fighting him for the belt, only to be turned down by McGregor.
Conor McGregor vs. Dustin Poirier 3 and Kamaru Usman vs. Colby Covington 2 are expected to take place in 2021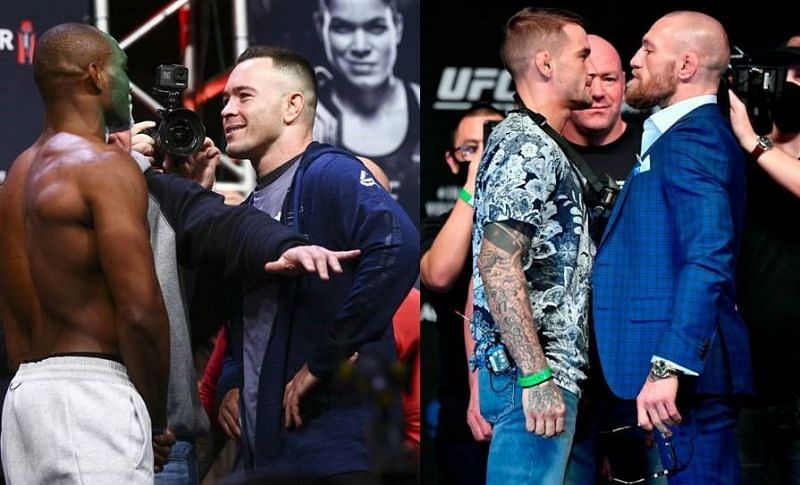 The first fight between Conor McGregor and Dustin Poirier was contested at featherweight. McGregor was seen defeating Poirier via first-round TKO at UFC 178. Their rematch, however, was contested at lightweight and saw Poirier defeat McGregor via second-round TKO at UFC 257.
Presently, Conor McGregor is set to fight Dustin Poirier in a lightweight bout – their highly anticipated trilogy fight at UFC 264 on July 10th, 2021. The winner of this fight could compete for the UFC lightweight title later this year.
Welterweight champion Kamaru Usman is expected to face archrival Colby Covington in a rematch later this year. The first fight between Usman and Covington saw the champion secure a fifth-round TKO win over Covington at UFC 245. As of this time, no specific date has been revealed for the rematch between Kamaru Usman and Colby Covington.