UFC welterweight contender Belal Muhammad has once again ignited discussions on social media with his vocal support for Palestine amidst the ongoing conflict with Israel. Born to Palestinian parents in the USA, Muhammad has consistently used his platform to advocate for his homeland.
The situation in the region has been dire, with escalating violence leading to the loss of numerous lives on both sides. 'Remember My Name' took to his social media handle to question the perceived complexity of the situation, especially when it involved the deaths of Palestinian children.
He wrote on his official 'X' account.
"Why is it 'complicated' only when Palestinian children are being killed?"
This post, however, triggered mixed reactions from the online community. While some expressed support for Muhammad's advocacy, others took a more critical stance. One user wrote:
"Consequences of electing terror leaders 🤷‍♂️"
"Because they distinguished the kids among children of light and children of dark....!!! Moreover they distinguished the kids among humans and human animals 😶😶"
Another user opined on the complexity, stating:
"It's complicated because Palestinians voted in a terror group and would do it again and again."
The debate continued, with discussions ranging from political affiliations to allegations against both sides:
"We are witnessing the killing of civilians in Gaza on an unprecedented scale in any conflict since 2017"
"Until now there is no evidence that Hamas r*ped, killed or beheaded babies. Yet Israel continues to kill children in Gaza. this is a real Israeli terrorist crime"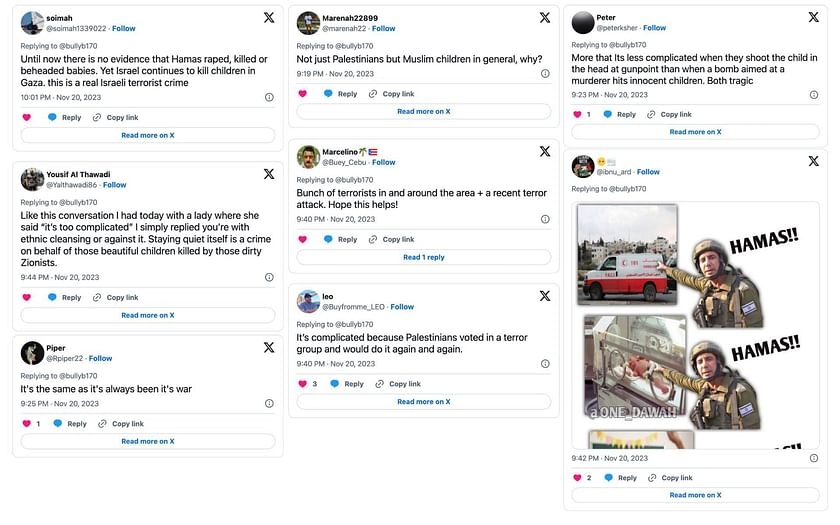 ---
Belal Muhammad's manager confirms UFC title shot promise
Belal Muhammad's manager, Ali Abdelaziz, shed light on the UFC welterweight contender's journey to a title shot. Currently holding the No.2 spot in the UFC's welterweight rankings, Muhammad's last bout was a victorious short-notice title eliminator against Gilbert Burns at UFC 288.
Abdelaziz emphasized the assurance given by UFC President Dana White regarding the welterweight contender's title opportunity. Speaking with MMA Fighting, Abdelaziz confidently affirmed:
"Dana promised him the title shot. I'll close my eyes and I'll sleep. Dana always keeps his word. [Muhammad is] the number one contender."
Abdelaziz expressed his belief in a significant development during UFC 296 on December 16. He stated:
"I believe something will happen December 16 [UFC 296]. I believe Belal Muhammad will go there, and I believe Belal Muhammad will become the UFC welterweight champion. Even if that doesn't happen, that's okay. The winner will fight Belal Muhammad."
Edited by Jigyanshushri Mahanta