The UFC world has been left divided following Alexa Grasso's rematch against Valentina Shevchenko at Noche UFC.
Grasso and Shevchenko entered the octagon last night in what was a highly anticipated women's flyweight championship bout. Going into the fight, the two were expected to put on yet another show for the fans after previously fighting at UFC 285 earlier this year.
While that is exactly what happened, the bout was overshadowed by controversy as it was declared a split draw.
Judge Mike Bell scored the final round 10-8 in favor of Alexa Grasso, while the other two judges scored it 10-9. Had Bell's scoring been similar to that of the other two judges, Shevchenko would have been crowned the new champion.
The result of the fight seems to have split the UFC world, and fighters and fans have flooded social media with their reactions to the outcome.
Take a look at the fighters' reactions below:
"Dear Mike Bell, quit your job! #UFCNoche" - Marion Reneau
"I think a draw is crazy, 3-2 Grasso makes more sense to me #UFCNoche" - Joe Giannetti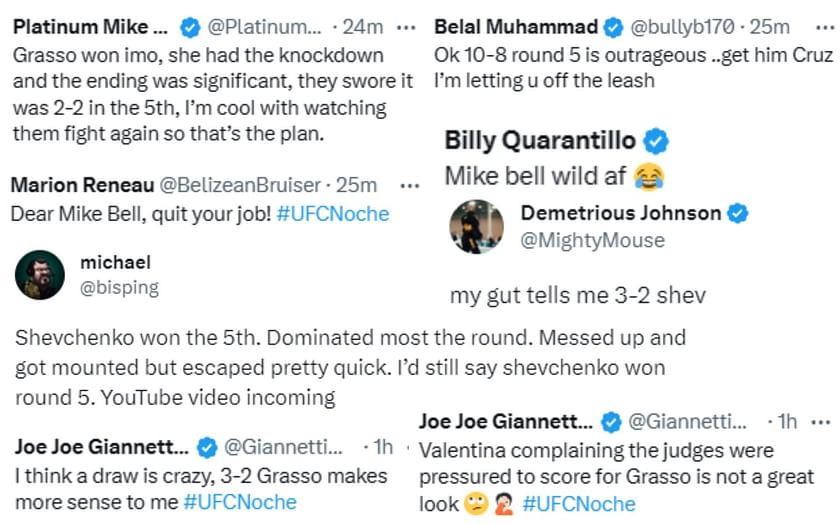 Fans had this to say about the matchup:
"Mike Bell needs fired, right now."
"48-47 Grasso is the right score"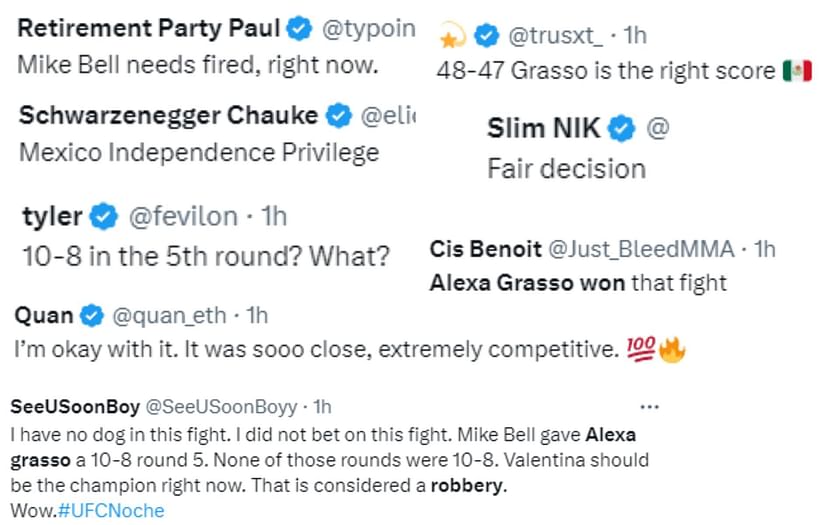 ---
Alexa Grasso claims she is open to whatever the UFC wants next
After retaining her UFC women's flyweight championship, Alexa Grasso spoke about what's next for her in the octagon at the post-event press conference.
It looks like she is open to any challenge that the promotion gives her.
The Mexican was asked if she is looking to fight Valentina Shevchenko one more time or take on a different challenger next. Alexa Grasso responded:
"I won't like stop the division, you know? There are a lot of girls fighting you know, to have this opportunity like I did. So, I will not like to stop it but whatever the UFC says, I'm in."
Catch her comments in the video below (44:04):