Prime Hydration, a beverage brand created by YouTubers Logan Paul and KSI, has recently announced a significant relationship as the world's largest football team, FC Barcelona's official hydration sponsor.
KSI announced the collaboration through Twitter:
"Out with the old, in with the new. Goodbye Gatorade, Prime is now the new hydration sponsor of FC Barcelona 🙌🏿"
Check out the tweet below:
To date, the hydration drink has acquired sponsorships with a variety of sports teams, most notably the UFC and Arsenal FC. The beverage brand recently broadened its reach by endorsing UFC champions Israel Adesanya and Alexander Volkanovski.
Their remarkable journey to success began in early 2022 with a brilliant online marketing approach. Leveraging their immense online following, KSI and Logan Paul collectively command an enormous fan base exceeding 50 million, effectively harnessing the power of their digital presence to generate a buzz surrounding the drink.
The announcement of Prime as FC Barcelona's official hydration sponsor has sparked enthusiasm among the fans.
"Big moves well done," one fan wrote.
Another fan remarked:
"WOWWW that's massssive, congrats! Ah woulda been so elite seeing Messi drink a prime tho."
While another fan praised Logan and KSI on their accomplishment:
"This is amazing, feel so inspired well done lads."
Here are the reaction of other fans to the latest development:
"Smashed it bruh"
"Barca replaced One Goat with Two Goats."
"Insane"
"Big move"
"Mazzzzzza! Congrats bro"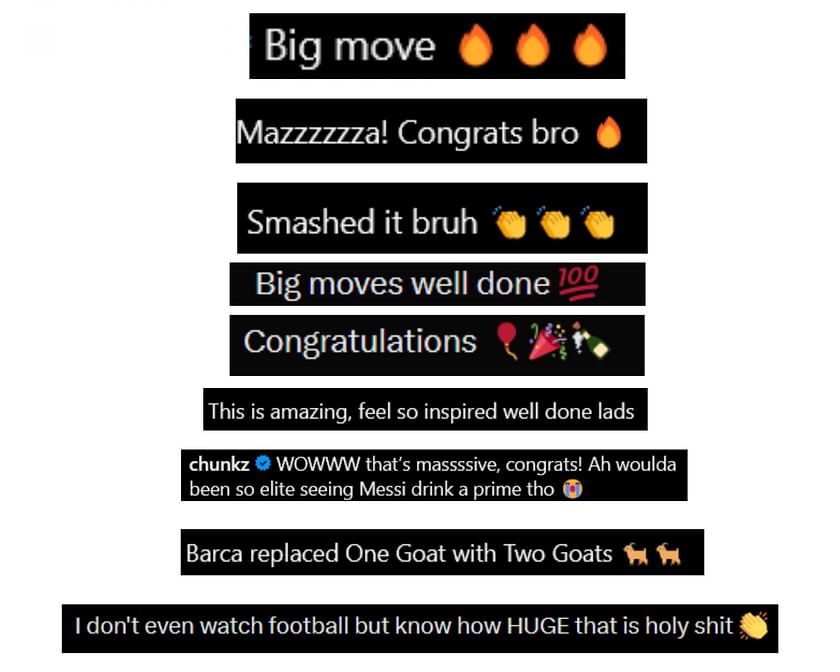 ---
What are the ingredients in Prime hydration drink?
As the popularity of Prime hydration drink continues to soar, many people may be curious about its contents. It's worth noting that certain countries have banned hydration drinks due to their excessively high caffeine levels. However, the drink initially introduced in the United States, positions itself as a "naturally flavored beverage."
According to the product's official website, the drink boasts several key components. It is formulated with zero sugar, 10% coconut water, BCAA's (branched-chain amino acids), electrolytes, antioxidants, and Vitamin B. Moreover, each 500ml bottle contains a mere 25 calories.
In terms of ingredients, the energy drink shares similarities with other popular drinks like Gatorade and Powerade. These beverages primarily consist of water, along with a combination of citric acid, potassium, and sodium (to provide electrolytes), flavorings, artificial sweeteners, stabilizers, and specific vitamins.