Former UFC middleweight champion Michael Bisping shared his thoughts regarding the Mexican Congress' revelation of ancient alien remains that date back a millennium.
An official event in Mexico City, led by journalist and UFO expert Jaime Maussan, featured the revelation of two supposed alien bodies. The two "non-human" remains were presented in transparent display cases for all attendees to observe. These mummified specimens, obtained from Cusco, Peru, are believed to be approximately a thousand years old.
Michael Bisping recently reacted to a video unveiling aliens and inquired about his fans' opinions on the matter:
"I'm seeing this on my feed a lot. Apparently Mexico unveils legit 1000 yr old alien corpses. What we saying? Bullsh*t or what?"
Check out Bisping's tweet below:
Fans responded to the UFC Hall-of-Famer's post with a variety of reactions.
One fan wrote:
"Let's find out if there's candy inside."
Another wrote:
"So now we know who help out with the pyramids."
Check out some more reactions below:
"Wait 30 days. The data has been made publicly available and will be peer reviewed. I think it's legit."
"Distraction from the fact the house of cards is collapsing"
"It's just a publicity stunt, if aliens did exist they would not be humanoid at all"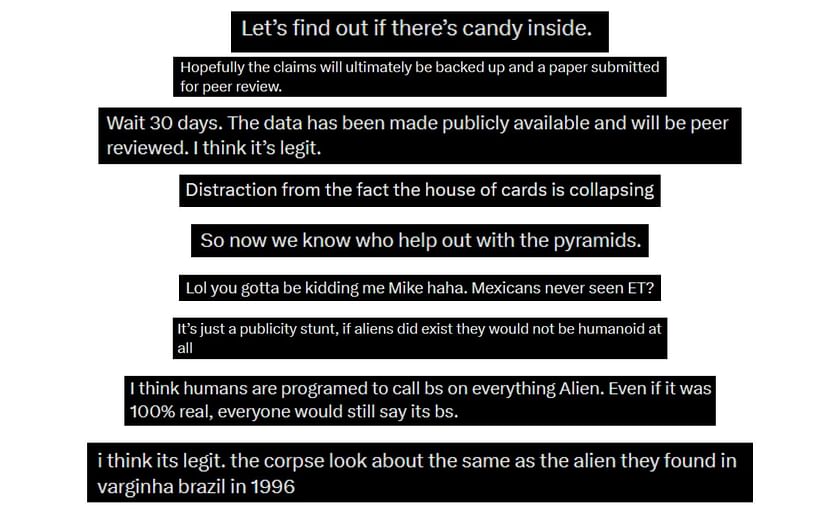 ---
Michael Bisping disputes Israel Adesanya's strategy against Sean Strickland at UFC 293
Sean Strickland pulled off a major upset victory last weekend at UFC 293, defeating middleweight champion Israel Adesanya via unanimous decision.
However, according to Michael Bisping, Adesanya's loss was a result of a poor game plan from his corner.
In a recent YouTube video with TNT Sports, Bisping stated:
"The reason he almost got the finish in Round 1 was because Izzy was moving backward, and Izzy relies on a lot of fast footwork so you throw an attack on him, he moves back out of the way. Well, when you've backed up all the way to the fence, there's no further to move back and you can't even lean back as far and that was his own demise. That's because he was backing up the whole time."
He added:
"You don't win fights by backing up. Granted, we have seen masterclasses... you've got to have some forward pressure as well, and dancing away all night, backfooting and backtracking, and not throwing very much is no surprise. That is not the recipe to win a fight."
Check out Bisping's comments below (from 3:52):
Edited by Jigyanshushri Mahanta