Belal Muhammad, who is currently ranked as the fourth best fighter in his weight class, has offered a potential solution to improve the UFC. In his opinion, the fix is simple and straightforward.
It's clear that Muhammad believes that the UFC can be made better with a few minor tweaks or changes.
During a recent Reddit AMA (Ask Me Anything) session, Belal Muhammad, aka 'Remember The Name', was asked what changes he would like to see implemented in the UFC while he is still an active fighter. Muhammad's response was straightforward and to the point, he would like to see the UFC stop allowing fighters to remain ranked if they refuse to fight. This suggestion implies that some fighters may be using their rankings to avoid certain opponents or fights, which Muhammad sees as detrimental to the sport.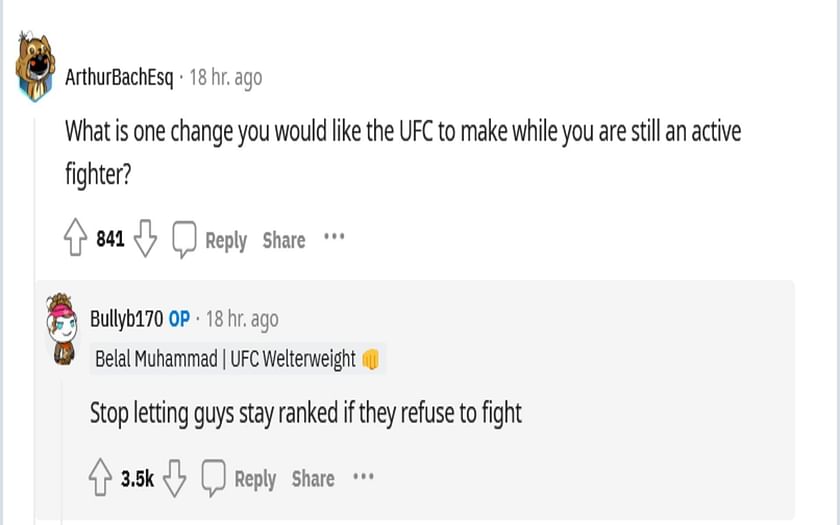 By making this change, Muhammad believes that the UFC will become a more competitive and exciting environment, with fighters being encouraged to take on any challengers, regardless of their ranking or perceived skill level.
---
Belal Muhammad exploits the Jake Paul scenario to attack Colby Covington
Belal Muhammad, who is currently ranked #4 in the UFC welterweight division, has taken the opportunity to mock his fellow welterweight Colby Covington in light of Jake Paul's altercation with Floyd Mayweather. Muhammad has been actively campaigning for a title shot and believes that he deserves to be next in line for a shot at the championship, despite his current ranking.
His most recent performance in the division was particularly impressive and has garnered a lot of attention from fans and analysts alike. Muhammad's confidence in his abilities has been bolstered by his recent successes, and he is eager to prove himself to be one of the best fighters in the division. By taking a shot at 'Chaos', Muhammad is signaling that he is ready to take on any and all challengers in his quest for the UFC title.
The American mixed martial artist wrote on Twitter:
"People laughing like they wouldn't have ran from 15 dudes... That's Miami, Colby got jumped by one guy there and has been running ever since."