Charles Oliveira is gearing up for his lightweight title rematch against Islam Makhachev in the main event of UFC 294. The highly anticipated event is scheduled to place at the Etihad Arena in Abu Dhabi, United Arab Emirates, on Oct. 21.
The past year was challenging for Oliveira. He lost his 155-pound title due to a weight miss before his fight with Justin Gaethje at UFC 274. Despite this setback, Oliveira managed to defeat 'The Highlight' in the first round through submission.
However, Charles Oliveira needed to secure another victory to reclaim the championship. Unfortunately, in the main event of UFC 280, 'Do Bronx' suffered his first defeat in almost five years when Islam Makhachev submitted him in the second round.
A video recently gained widespread attention on X (formerly Twitter), showing Charles Oliveira effortlessly tossing a sparring partner over the cage during training.
Check out the video below:
The video elicited a diverse range of reactions from fans.
One fan wrote:
"I've always wanted to see a tall strong mf pull this shit off"
Another wrote:
"Charles via WWE throw."
Check out some more reactions below:
"I hope Charles wins by throwin Islam outta the cage 😂😂🤣🤣"
"USADA was at his door the next morning."
"UFC royal rumble would be incredible"
"Is there anything in the UFC rulebook specifically stating you can't throw a guy over the top and out of the cage?"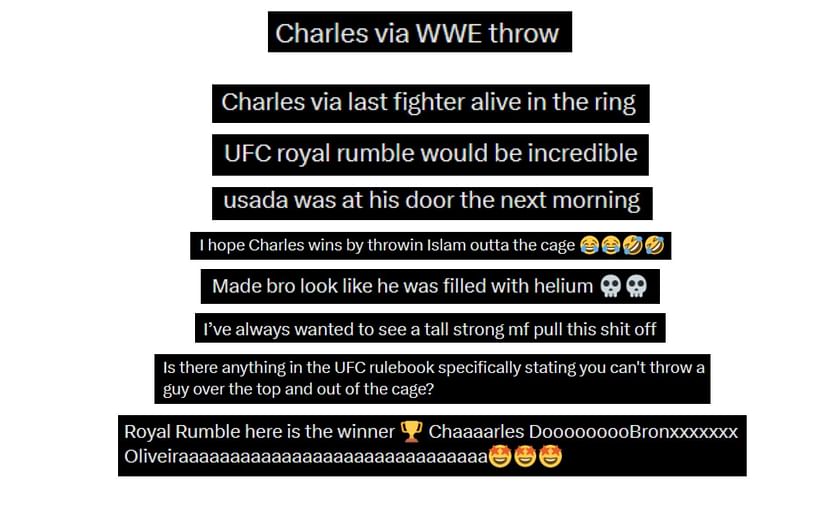 ---
Khabib Nurmagomedov discusses his prediction for Islam Makhachev vs. Charles Oliveira rematch
Khabib Nurmagomedov has an unexpected prediction for the UFC 294 rematch between Islam Makhachev and Charles Oliveira. While 'The Eagle' expressed unwavering confidence in his protege's abilities before their initial encounter, he anticipates a somewhat altered outcome in the rematch.
In a recent interview with Gorilla Fighting, Nurmagomedov suggested that this rematch will be a demanding challenge for both fighters, with Makhachev facing a tougher test than their first encounter. He explained this by pointing out that 'Do Bronx,' has nothing more to lose:
"Will the rematch be more difficult than the first fight? Yes, it's more difficult. For Islam there will be more risk. Oliveira has nothing to lose, he has already lost. If in the first fight he had any concerns and so on, now he doesn't. I don't think it will be an easy fight for both of them. For Islam, the second fight will be harder than the first. This is my purely personal opinion."
Check out Nurmagomedov's comments below: