A veteran of the fight game, Chael Sonnen has fought in the UFC, WEC and Bellator MMA. In a career spanning 22 years, Sonnen has fought some of the best fighters the sport has to offer.
'The Bad Guy' has shared the octagon with Anderson Silva, Jon Jones, Fedor Emelianenko, Tito Ortiz and many more legends of the sport. He fought Anderson Silva for the UFC middleweight belt and Jon Jones for the UFC light heavyweight title but came up short both times.
Sonnen has also worked as an MMA analyst for ESPN since 2014. The first video on Chael Sonnen's YouTube channel went live in February 2018. In just three years, his YouTube subscriber count has grown to almost 900,000. A big reason has been his UFC fight predictions and their inaccuracy.
He has gotten them wrong so many times that fans refer to his predictions as curses. According to Sonnen, fans have now started to beg him, ''not to pick their favorite fighter."
On that note, here's a list of the top five incorrect predictions that made fans fear the Chael curse.
---
#5. UFC 236: Max Holloway vs. Dustin Poirier 2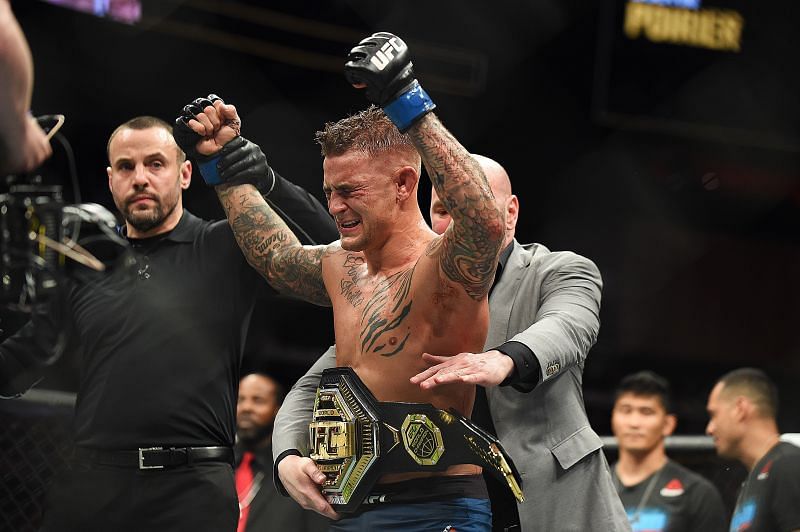 We're starting off the list with one of Chael Sonnen's earlier predictions. Sonnen had already predicted the outcomes of many fights, but this contest was significant. Max Holloway and Dustin Poirier were both at a crossroads. The two had met earlier in 2012; it was Holloway's UFC debut. 'The Diamond' submitted Holloway in the first round and won the fight.
In 2019, seven years after their first match, the interim lightweight title was on the line. The victor would fight Khabib Nurmagomedov in a unification bout. The stakes were high for both men.
Sonnen posted a video on his YouTube channel a day before the fight. He picked Holloway to win the bout. Sonnen argued that Max Holloway's output would be more than Poirier's. According to him, Dustin Poirier had more power, but 'Blessed' would be faster and more accurate.
The bout was an all-out war. Both Holloway and Poirier gave one of the best performances of their careers. 'The Diamond' pressed the action early, but Holloway rallied and made the fight more even. The final rounds were full of intense back-and-forth action. After five rounds of relentless fighting, Poirier won via unanimous decision, capturing the interim UFC lightweight belt.
Here are the Latest UFC Predictions by Sportskeeda
#4. UFC 259: Amanda Nunes vs. Megan Anderson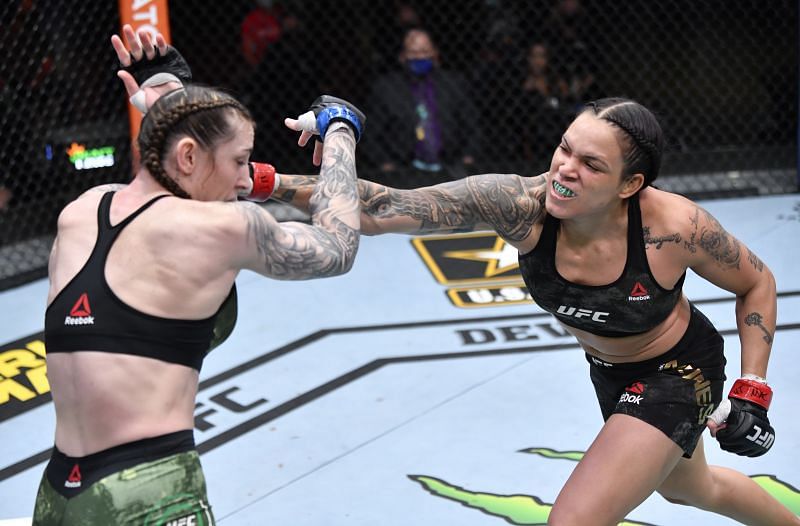 UFC double champ Amanda Nunes is often considered the best female mixed martial artist of all time. She held an 11-fight winning streak and was the favorite to win against Anderson. But some, like Chael Sonnen, had their doubts.
In his prediction video, Sonnen argued that Megan Anderson had a size advantage over Amanda Nunes. He also pointed to Anderson's durability and punching power.
However, on fight night, Nunes dominated Anderson. She finished Anderson inside the first round via armbar. 'The Lioness' overwhelmed the taller fighter, something Sonnen said she would have difficulty doing.
With her win, Nunes cleaned out the UFC women's featherweight roster.
---
#3. UFC 257: Dustin Poirier vs. Conor McGregor 2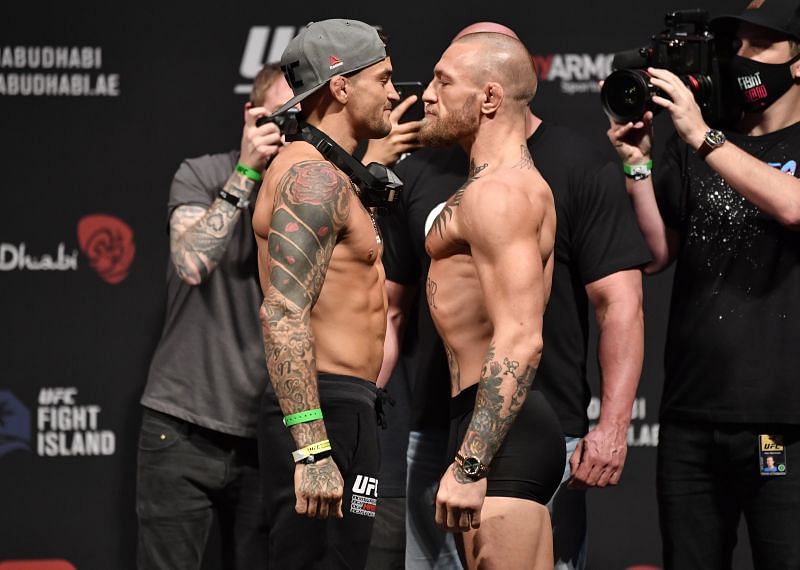 Conor McGregor v Dustin Poirier 2 was huge. The Irishman wanted to make a big comeback, and Poirier wanted redemption. The bout became the third-highest selling PPV event in UFC history.
Sonnen made his prediction before the fight and picked Conor McGregor. He emphasized that 'The Notorious' had beaten Poirier with ease the first time. He also said that McGregor would be more aggressive.
However, that was not the case. After having initial success, McGregor soon started to fade. Poirier's leg kicks compromised his movement in round two. 'The Diamond' knocked McGregor out with a flurry of punches at the end of the round.
The Chael curse struck again, and this time the victim was UFC's most popular fighter.
#2. UFC 259: Jan Blachowicz vs. Israel Adesanya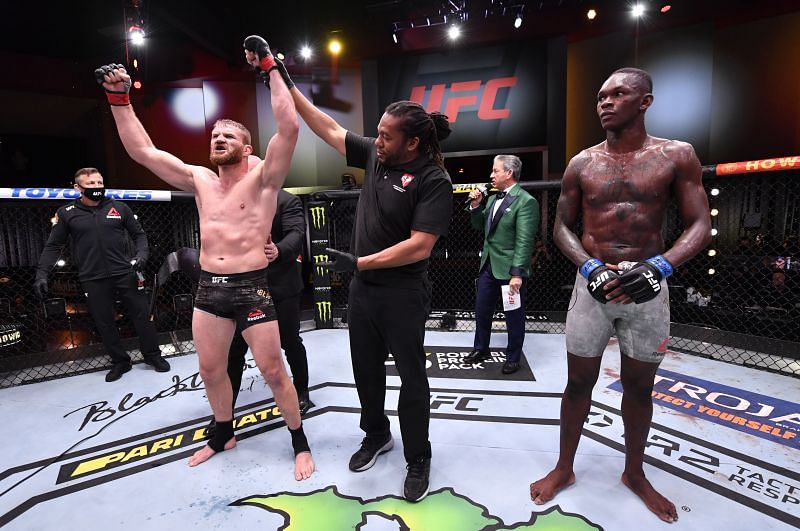 Israel Adesanya took the UFC middleweight division by storm in 2018. He soon climbed up the ranks and claimed the title for himself in 2019. After dispatching Paulo Costa in October 2020, 'The Last Stylebender' showed interest in moving up a weight class. He wanted to challenge newly crowned light heavyweight champ Jan Blachowicz. The bout got scheduled for UFC 259.
Sonnen chose Adesanya to come out on top. According to him, Blachowicz had more power, but 'The Last Stylebender' was too fast and technical. Blachowicz was a huge underdog going into the fight.
For Adesanya, a lot was at stake. His undefeated status was on the line, as well as the opportunity to become double champ. However, it did not go his way. Blachowicz out-grappled him and edged ahead on significant strikes to claim a unanimous decision victory.
---
#1. UFC 260: Stipe Miocic vs. Francis Ngannou 2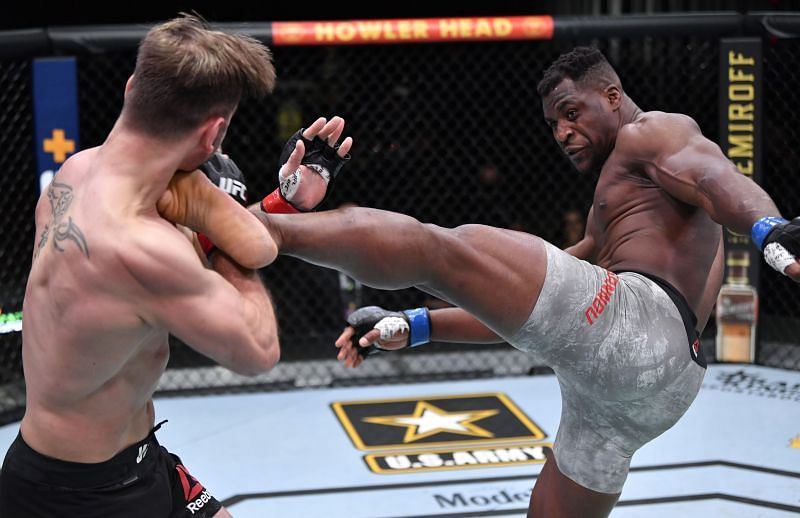 Stipe Miocic vs. Francis Ngannou 2 was one of the biggest heavyweight matches in UFC history. Miocic defeated Ngannou decisively in their first fight. However, the Cameroonian clawed his way back into contention, and the rematch was on.
In his official prediction, Sonnen pointed out that he had not seen any evidence that favored Ngannou. He said that much like in the first fight, the Ohio native would take Ngannou down and neutralize him. While making his prediction, Sonnen himself acknowledged the 'Chael curse.'
"My predictions have been so wrong... that people have even labeled it the Chael curse."
His prediction turned out to be wrong yet again. Ngannou was more than a match for Miocic's wrestling. He dominated and knocked out Miocic in the second round to become the new UFC Heavyweight champion.