| | |
| --- | --- |
| Full Name | Stipe Miocic |
| Date of Birth | August 19, 1982 |
| Nationality | American |
| Height | 6 ft 4 in |
| Role | Wrestling, Boxing |
Stipe Miocic: A Brief Biography
Stipe Miocic is a former 2-time UFC Heavyweight Champion with a professional MMA record of 20-wins and 4-losses. He is currently ranked #8 in the UFC pound-for-pound rankings and #2 in the UFC Heavyweight Rankings.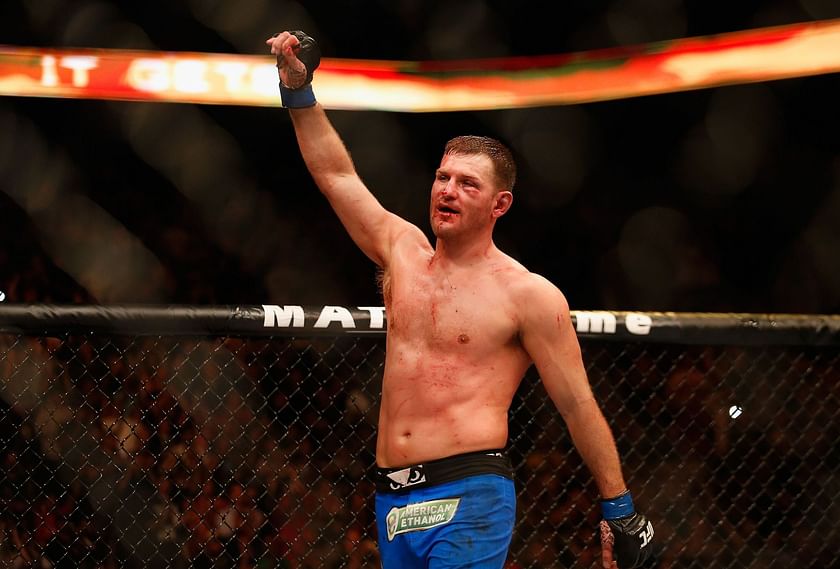 Early Life and Career
Stipe Miocic started his combat sports journey in 2005 while he was in school. He was brought to the Strong Style MMA Training Centre as a training partner wrestle with Dan Bobish.
Stipe returned to Strong Style MMA after completing his paramedic degree. He started training in MMA but then changed to boxing. Miocic became a Cleveland Golden Gloves boxing champion and an NCAA Division 1 wrestler before starting his MMA career. He made his amateur debut in 2006 at NAAFS - Thursday Night Fights against Dave Bush, which he won via TKO (punches). He went on to garner a perfect record of 5-0 before turning professional in 2010.
Stipe made his professional debut at NAAFS - Caged Fury 9 against Corey Mullis. He won the bout via TKO (punches) and then went on to get a 6-0 professional record and won the NAAFS Heavyweight Championship before signing up with the UFC.
Stipe Miocic UFC
Stipe Miocic signed a contract with the UFC in 2011 and made his debut against Joey Beltran at UFC 136. Miocic won the fight via unanimous decision. Miocic then defeated Philip De Fries and Shane del Rosario before losing his first UFC fight against Stefan Struve at UFC on Fuel TV: Struve vs. Miocic. He bounced back and went on a 3-fight win streak including a 35-second TKO victory over Fabio Maldonado before, again losing. This time against Junior dos Santos at UFC on Fox: dos Santos vs.Miocic.
Stipe then defeated Mark Hunt and Andrei Arlovski to receive a title shot for the UFC Heavyweight Championship against Fabricio Werdum. Miocic fought Werdum at UFC 198 and KO'ed him with a punch to win the UFC Heavyweight Championship in the first round of the fight. Miocic then defended his title against Alistair Overeem at UFC 203 via TKO, followed by Junior dos Santos at UFC 211 who, he defeated via first-round TKO to avenge his loss. Stipe created history when he defended his belt against Francis Ngannou at UFC 220 via unanimous decision to break the record for the most consecutive UFC Heavyweight title defenses (3).
Stipe lost the belt in his next bout against Daniel Cormier at UFC 226 via first-round KO punches. Stipe reclaimed his title in his rematch against Cormier at UFC 241 via fourth-round of TKO punches. He won the trilogy against Daniel as he defeated him via unanimous decision at UFC 252. Miocic's lost his title again at UFC 260 against Francis Ngannou via second-round KO (punch).
Stipe Miocic vs Daniel Cormier 3
Stipe Miocic fought Daniel Cormier for the UFC Heavyweight Championship at UFC 252. Miocic won the first round on 2-judges while one judge gave the round to Cormier. Miocic knocked down Cormier in the second round to secure the round. Stipe continued his dominance and won the third round as he maintained ground control time for close to 2-minutes. Cormier made a comeback and won round 4 as he landed nearly double the number of strikes despite Stipe having ground control. However, the champion bounced back in the fifth and outclassed Cormier in the round.
Miocic outworked and outclassed Cormier to win the bout via unanimous decision to retain the UFC Heavyweight Championship and win the trilogy against Daniel Cormier.
Stipe Miocic vs Francis Ngannou 2
Stipe Miocic fought Francis Ngannou for the second time at UFC 260 for the UFC Heavyweight Championship. Unlike the first fight, Miocic would be unable to establish dominance over Ngannou. He was only able to land 12 strikes whereas Ngannou landed 38 total strikes.
Stipe was unable to outwrestle Ngannou as his takedown attempts were unsuccessful. Miocic lost the fight in the second round when Ngannou connected with a series of punches and TKO'ed him to become the new UFC Heavyweight Champion.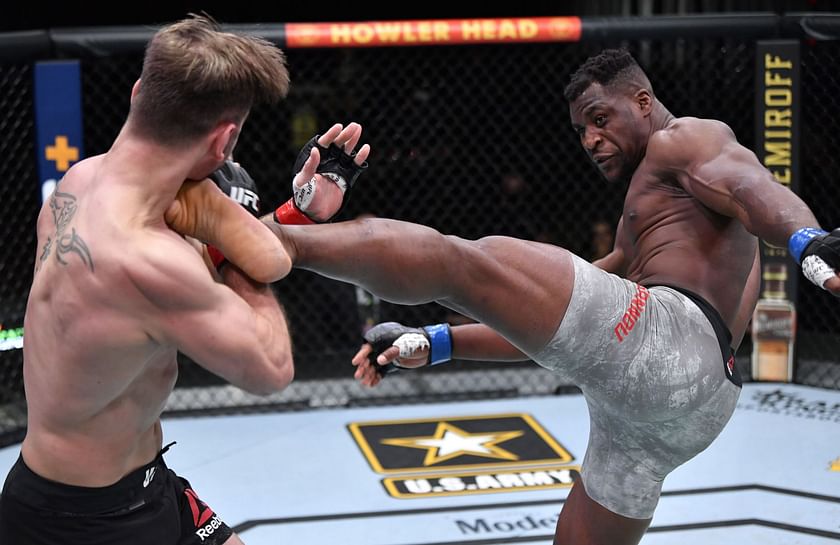 Stipe Miocic Career Stats
Win-Loss-Draw:
| | | | |
| --- | --- | --- | --- |
| Matches | Wins | Losses | Draws |
| 24 | 20 | 4 | 0 |
Wins by KO/TKO:
15
Wins by Submission:
0
Wins by Decision:
5
Current Titles:
None
Reach:
80 in (203 cm)
Weight:
234 lb / 106.14 kg
Weight Class:
Heavyweight
Stipe Miocic Last Fight
Stipe Miocic's Last fight was against Francis Ngannou at UFC 260 for the UFC Heavyweight Championship. Stipe lost the fight in the 2nd round via KO (Punch).
Stipe Miocic Upcoming Fight
None
Stipe Miocic Record
Below is the MMA and UFC professional record of Stipe Miocic:
| | | | | | |
| --- | --- | --- | --- | --- | --- |
| Result | Record | Opponent | Method | Event | Date |
| Loss | 20-4 | Francis Ngannou | KO (punch) | UFC 260 | 27/03/2021 |
| Win | 20–3 | Daniel Cormier | TKO (punches) | UFC 241 | 15/07/2020 |
| Loss | 19–3 | Daniel Cormier | KO (punches) | UFC 226 | 17/07/2019 |
| Win | 18–2 | Francis Ngannou | Decision (unanimous) | UFC 220 | 07/07/2018 |
| Win | 17–2 | Junior dos Santos | TKO (punches) | UFC 211 | 20/01/2018 |
| Win | 16–2 | Alistair Overeem | KO (punches) | UFC 203 | 13/05/2017 |
| Win | 15–2 | Fabrício Werdum | KO (punch) | UFC 198 | 10/09/2016 |
| Win | 14–2 | Andrei Arlovski | TKO (punches) | UFC 195 | 14/05/2016 |
| Win | 13–2 | Mark Hunt | TKO (punches) | UFC Fight Night: Miocic vs. Hunt | 02/01/2016 |
| Loss | 12–2 | Junior dos Santos | Decision (unanimous) | UFC on Fox: dos Santos vs. Miocic | 10/05/2015 |
| Win | 12–1 | Fábio Maldonado | TKO (punches) | The Ultimate Fighter Brazil 3 Finale: Miocic vs. Maldonado | 13/12/2014 |
| Win | 11–1 | Gabriel Gonzaga | Decision (unanimous) | UFC on Fox: Henderson vs. Thomson | 31/05/2104 |
| Win | 10–1 | Roy Nelson | Decision (unanimous) | UFC 161 | 25/01/2014 |
| Loss | 9–1 | Stefan Struve | TKO (punches) | UFC on Fuel TV: Struve vs. Miocic | 15/06/2013 |
| Win | 9–0 | Shane del Rosario | TKO (elbows) | UFC 146 | 29/09/2012 |
| Win | 8–0 | Philip De Fries | KO (punches) | UFC on Fuel TV: Sanchez vs. Ellenberger | 15/02/2012 |
| Win | 7–0 | Joey Beltran | Decision (unanimous) | UFC 136 | 08/10/2011 |
| Win | 6–0 | Bobby Brents | TKO (submission to leg kicks) | NAAFS: Fight Night in the Flats 7 | 04/06/2011 |
| Win | 5–0 | William Penn | KO (punches) | NAAFS: Caged Vengeance 9 | 16/04/2011 |
| Win | 4–0 | Gregory Maynard | TKO (punches) | NAAFS: Night of Champions 2010 | 04/12/12010 |
| Win | 3–0 | Jeremy Holm | KO (punches) | NAAFS: Rock N Rumble 4 | 28/08/2010 |
| Win | 2–0 | Paul Barry | TKO (punches) | Moosin: God of Martial Arts | 21/05/2010 |
| Win | 1–0 | Corey Mullis | TKO (punches) | NAAFS: Caged Fury 9 | 20/02/2010 |