| | |
| --- | --- |
| Full Name | Priyamvada Saradhi |
| Date of Birth | November 30, 1990 |
| Nationality | Indian |
| Height | 5ft 4in (164cm) |
| Role | Bike Racer, Car racer, Rally Navigator |
| Family | Dr Shashi Bhushan (Brother), Dr Sunanda Saradhi (Mother), Partha Saradhi (Father) |
Priyamvada Saradhi: A Brief Biography
Priyamvada Saradhi is professional racing driver, motorcycle racer and also a rally co-driver .She is the only female in Indian Motorsports to participate in many disciplines of racing such as road racing, rallying, drag racing, hill climbs and autocrosses.
Priyamvada currently drives for Ahura racing in the formula F4 series in the JK Tyre National racing championship and also co-drives in the INRC for Snap racing.
She was nine when she first drove a car. Priyamvada grew up in a house where both her parents were driving cars. Her father would go to work in a Maruti 800 and her Mother would drop her to school
in a Maruti 1000. Her father would frequently take her family on road trips, during which she
developed a keen interest in automobiles.
BIOGRAPHY
During her schooling, Priyamvada was a part of the School Choir and Literary
Club, winning many laurels for her school.
She was an active athlete, competing in sports like swimming, running, throw
ball, long jump, and pursued tennis during her summer breaks.
She started her motorcycle racing career in 2009 by winning the legendary National Hill Climb Race
- Race to the Clouds held at Nandi Hills, Bangalore
This was immediately followed by racing saloon cars in Hill Climbs, Drag and Autocross.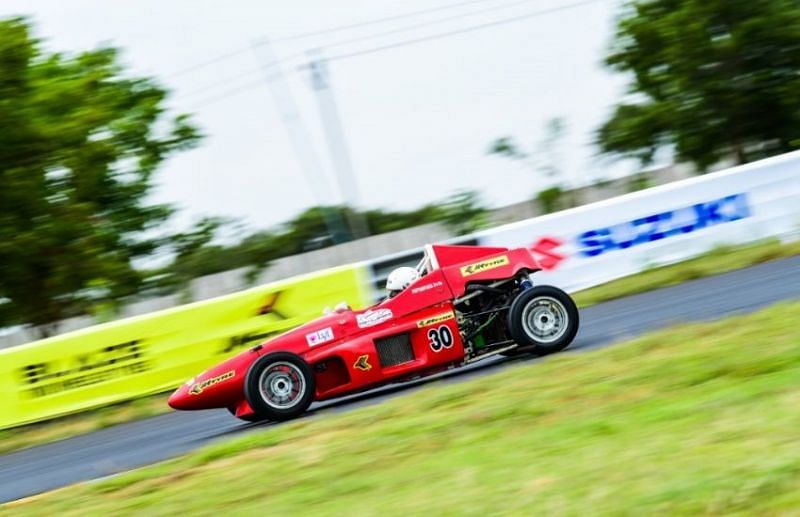 EMERGENCE AS AN AUTO RACER RALLY NAVIGATOR
Priyamvada continued to dominate the Hill Climb series while also bagging a
National Drag Racing Championship Title in 2010-11 and becoming the first and
the only Woman in India to do so.
She received top honors for 4W Autocross and Drag Racing during 2010-2013.
In 2017 she competed in her First Circuit Racing Series, without any formal
racing academy training and was awarded 3rd best rider for 2017.
2017 also saw her participating in her First 2w National Rally and her first
podium finish in that class.
The first quarter of 2018 saw spectacular performance from Priyamvada in her
first National 4W Rally as a co-driver, and as a TSD(Time Speed Distance)
Navigator.
June 2018 saw her dominate the National Talent Hunt for Team Ahura Racing on her
first try at Formula 4 Racing.
She also has the rare distinction of having podium finishes in almost all of her
events.
Her dedication to better herself at the sport and her passion for all things
automobile is revolutionizing the way the world perceives the strength of a
woman.
ACHIEVEMENTS
MOTORCYCLE RACING
2009 - RACE TO THE CLOUDS - WINNER - LADIES CLASS
2010 - KING OF THE HILLS - WINNER - LADIES CLASS
2010 - KING OF THE HILLS 2 - WINNER - LADIES CLASS
2010 - KING OF THE HILLS 3 - WINNER – LADIES CLASS
2011 - INDIAN NATIONAL DRAG RACING CHAMPIONSHIP - WINNER– CATEGORY – MF3
- 165CC-210CC 4 STROKE
2017 – TVS ONE MAKE SUPPORT SERIES - CIRCUIT RACING (6 ROUNDS) – 3 RD BEST
RIDER 2017
2017 - INDIAN NATIONAL RALLY MANGALORE - 2ND RUNNER UP
2018 – FORMULA JUNIOR RACING SERIES – 2 ND RUNNER UP – STOCK UPTO 165CC 4
STROKE, LADIES CLASS
CAR RACING
2010 – KING OF THE HILLS – WINNER – LADIES CLASS
2010 – CAF RALLY AUTOCROSS – 1ST RUNNER UP
2011 – INDIAN NATIONAL DRAG RACING CHAMPIONSHIP (ROUND 2) – WINNER –
LADIES CLASS
2017 – DIRT 3 NATIONAL AUTOCROSS – GOA – FASTEST LADY DRIVER
2018 – 43 RD K1000 NATIONAL RALLY – 4 TH RUNNER UP – ONLY FEMALE PARTICIPANT
2018 – MOODBIDRI TSD RALLY – WINNER
2018 – INRC 2018 ROUND 1 – 2 ND RUNNER UP – FMSCI 2W DRIVE CUP
2018 – MAHINDRA MONSOON CHALLENGE – 2 ND RUNNER UP