An auto technology instructor Larry Thomas was brutally murdered in 2006. Thomas was first beaten with a baseball bat before he was run over by a truck in Mountain Pass, California.
Thomas' wife Stephanie and her boyfriend Shawn Pritchett were found guilty of the murder.
Although no one initially reported Larry as missing, it was only when Stephanie's brother William Peters realized that Larry wasn't returning his calls that the former informed the police.
The case of Larry Thomas' murder will be uncovered in Oxygen's true-crime series Snapped. The episode, which will air on February 5, 2023, and its synopsis reads:
"The abrupt disappearance of a Henderson, Nev., husband and father of five brings to light accusations of infidelity and cover-ups over a two-year hunt for evidence and truth."
Trigger warning: This article contains mentions of murder. Discretion is advised.
---
Larry Thomas' wife made several allegations against him
1) Larry Thomas was run over by a truck
Larry Thomas was beaten with a baseball bat before he was driven into a truck and then run over by the same truck. Shawn Pritchett, Larry's wife's boyfriend, carried out the heinous act.
Pritchett and Stephanie had been dating for a long time, and Larry found out about it. Initially, the latter wanted to divorce his wife, keeping in mind the future of the five children, but he decided to separate from her, and asked her to move out of their house.
---
2) Larry's skull was completely crushed
According to prosecutor Mark DiGiacomo, Larry had a depressed skull fracture and added that his whole face was crushed in. He also noted that his head was split in half while the ribs were all cracked and his spine was bent.
Larry's body was found a month later, when some hikers discovered it near the southern California-Nevada border.
---
3) Stephenie claimed she was in an abusive relationship
When Stephanie was asked about the murder, she initially claimed that she had a big fight with Larry the day before and that he left the house. She also said that it wasn't unusual for him to suddenly leave the house.
She also added that she was in an abusive relationship with 47-year-old Larry. She claimed that Larry had an accident a few years ago, and that he would sexually and physically abuse her often.
---
4) Stephenie and Shawn were convicted
Investigations narrowed down on Stephanie and Shawn as the culprits behind the killing. While it is not clear, people close to them believe that Stephenie may have tried to get the money out of Larry's life insurance policy, of which she was a beneficiary.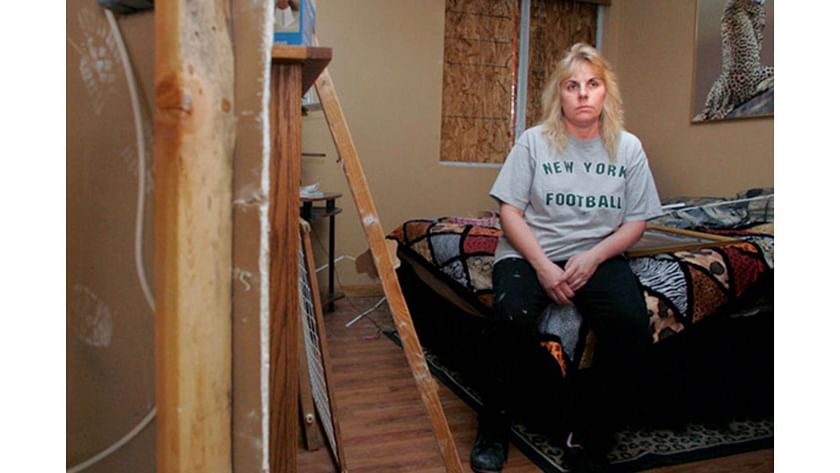 GPS locations and other phone records were pinned down upon the two of them as the people behind the murder were convicted. Pritchett was found guilty of first-degree murder and Stephenie was found guilty of second-degree murder and sentenced to 10 to 25 years in prison.
---
5) Stephanie claimed that her husband had another affair
When Stephanie's brother reported the incident to the police, the woman was questioned about their relationship. She claimed that her husband was having an affair with another woman.
The police said that Stephanie wasn't aware of who the woman was but did know that there was a number that her husband frequently called.
However, when the police contacted the other woman, she denied any relationship and said the two were just friends.
---
Larry Thomas' murder will be uncovered in Oxygen's Snapped on February 5, 2023.