BTS Jungkook's beloved family dog, Gureum, passed away late last year. As mentioned by Jungkook in several interviews, his family dog held a special place in his heart and was a huge part of his life.
Likewise, Jungkook's older brother also shared the sad news with fans who were continuously asking him for updates about Gureum as it had been months since they last saw him.
Meanwhile, the K-pop singer is known to be a dog-lover. He is currently the proud dog dad of his Doberman, Bam, and two Italian greyhounds, Peng and Song.
---
BTS Jungkook's older brother shares the sad news of Gureum passing away in 2021
ARMYs recently asked BTS Jungkook's older brother, Jeon Jung-hyun, about their family dog, Gureum, who was a white Maltese. To their surprise, Jung-hyun responded that Gureum passed away at the age of 20 late last year.
On March 9, 2022, Jung-hyun took to his official Instagram account, where he usually posts pictures of all the family dogs in their house. He shared a heartbreaking story on the platform stating that Gureum passed away in 2021.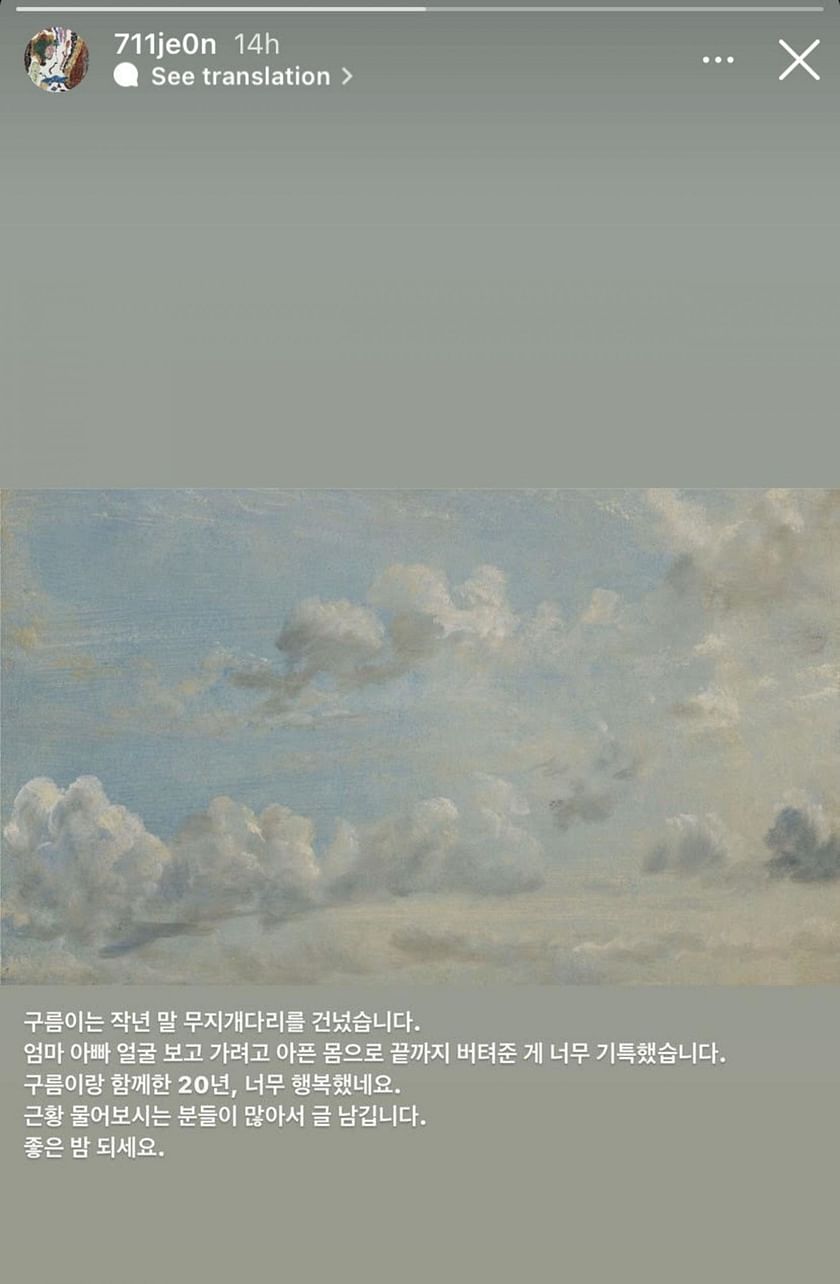 Jung-hyun's Instagram story read:
"Gureum (cloud) passed away late last year. I was so proud of him for holding on till the end despite being so sick. The 20 years spent together with Gureum were very precious to me. I am posting this story since many people were asking about his recent condition."
It goes without saying that the loss of a dog is quite hard-hitting, especially when they have been a part of the family for the past 20 years.
Jungkook has spoken about Gureum on a number of occasions. Fans lovingly referred Gureum to as 'Cloudie' since his name translates to 'cloud.'
Gureum seems to have had a special place in Jungkook's heart as he was his childhood dog. As noted, Gureum has been a part of the maknae's life ever since he was four years old.
---
Fans send their sincere condolences to Jungkook and his family
Upon hearing the heart-wrenching news, ARMYs took to social media platforms to pay their respects to the Jeon family. Jungkook previously revealed that Gureum was a rescue dog.
Since his family adopted Gureum from a rescue shelter, the dog stayed with them and was well looked after.
Meanwhile, other BTS members who are known to be dog lovers are V (Kim Tae-hyung) and Suga. Both singers frequently post pictures and videos of their pets on their official social media accounts.
BTS members' furry little friends are popular among fans who can't seem to stop gushing over them. ARMYs often request the group members to share pictures of their pets and enjoy it when their furry little friends try new tricks.