Aspiring rapper Cblu has left fans concerned as rumours of him passing away have floated across TikTok. Many have taken to his social media accounts and have asked in distress as to whether he has died. It seems like a netizen is spreading false information as the musician is very much alive. He verified the same on his Instagram and TikTok accounts as well.
Rumours of the youngster passing away recently took over TikTok. It was speculated that he was killed at a Red Lobster restaurant.
Many were quick to believe the rumours as the artist has fallen into trouble with the police in the past. The singer, whose real name is Camrin Williams was arrested on charges of criminal weapons possession and obstructing government administration. This comes after law enforcement caught him with a loaded silver Bryco Arms 9mm firearm during a car stop.
He was also arrested for shooting a Bronx police officer in the leg.
The fact that the 17-year-old rapper is a member of the Reywey Crew, that is part of the Crips must have also left fans worried and have them believe that the rumours of his death are true.
However, this is far from the truth. It seems like the No Ozone hitmaker caught onto the social media rumours. He has since responded to the same.
---
Cblu is alive and well
Cblu took to his official TikTok account today to assure followers that he is still alive and was not shot. He took to his c.blu80 TikTok account where he boasts 193.7K followers and uploaded a video that showed him dancing to a song. He also wrote in the video:
"When u wake up to ppl sayin u 💀 at red lobster"
The rapper used the skeleton emoji to insinuate his supposed death.
Evidently, the rapper is very much alive. He has also been active on his Instagram account where he boasts 288K followers. He recently promoted @marshmallowworldwide t-shirts and also showed fans that he was devouring food. Three days ago the musician uploaded an image of himself on Instagram as well where he was seen with a firearm. He wrote in the caption:
"Stayed strong thru the storm Now all I see is Sunny days"
Netizens were thrilled to hear that he was still alive. A few comments under his latest TikTok video read: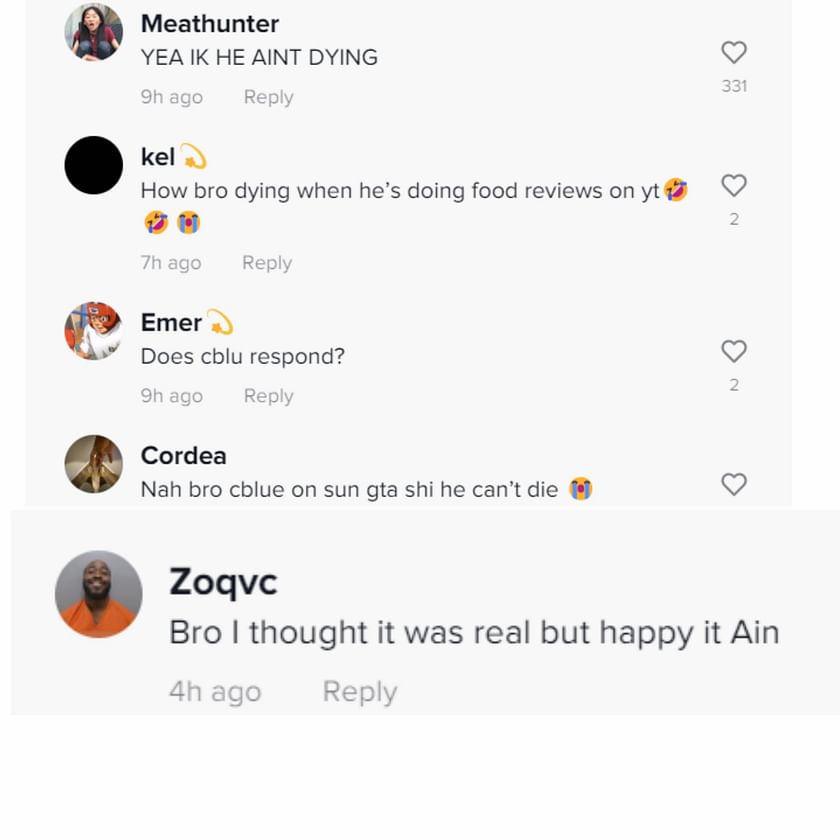 Netizens often spread false information online purely for momentary popularity. It is important to verify such announcements by credible news publications. Considering his popularity, his management team would have surely released a statement if he had passed away.
Cblu is not the only celebrity to have become a victim to an internet death hoax. Several high profile stars including Jaden Smith, Adam Sandler, Justin Bieber and DJ Khaled amongst others have also been rumoured to have died when they are still alive.
Cblu recently collaborated with fellow artist Jay Patek for their track Night in the Yams. The duo released a music video for the same in May.