Astronaut Buzz Aldrin, who was the second man to land on the moon after Neil Armstrong, recently tied the knot with his long-time partner Dr. Anca Faur on the occasion of his 93rd birthday, on Friday, January 20.
He took to Twitter to announce the wedding, addressing Dr. Faur as his "longtime love" while sharing that the couple had a "small private ceremony" and they were as excited about their new journey as "eloping teenagers."
In their wedding photo, Buzz can be seen wearing a black suit with a bowtie, while his wife is seen donning a white gown embellished with rhinestones.
Aldrin's wedding to Dr. Faur marked his fourth marriage; he has previously been married three times.
The latter is 63 years old and has a 30-year age gap with Aldrin. She holds a PhD in chemical engineering and catalysis from the University of Pittsburgh and has served as the Executive Vice President of Buzz Aldrin Ventures since 2019.
---
A look into Buzz Aldrin's past marriages and children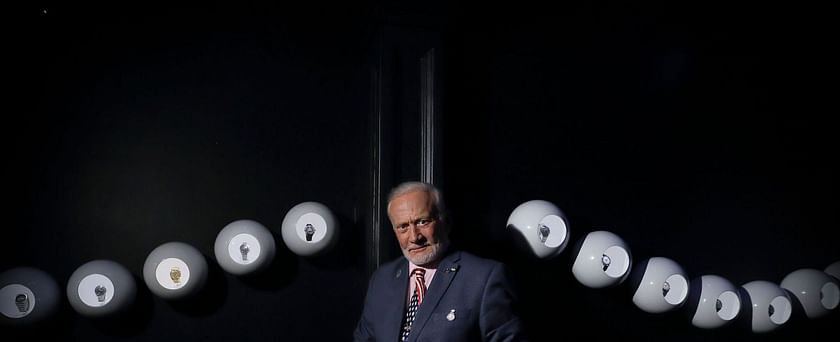 Buzz Aldrin has been married four times during his lifetime. He first tied the knot with Joan Archer in 1954 in Paterson, New Jersey, while he was engaged in 21 years of military service. The couple also welcomed three children together and were together when Aldrin became the second man to walk on the moon in 1969.
Speaking about her former husband's historic achievement, Joan once told the Los Angeles Times that she felt angry towards Aldrin following the Apollo 11 mission:
"I had married an engineer and here he was a hero. This was disturbing, but I didn't understand, and my immediate reaction was anger toward Buzz. I did realize I should have expected it."
Buzz Aldrin and Joan Archer Aldrin eventually decided to end their marriage in 1974. The latter, a Rutgers University graduate, started working at ABC following their separation. She worked with the network until her retirement in 1998. Joan passed away on July 22, 2015, at the age of 84. Aldrin issued an official statement after the passing of his first wife, stating:
"The future will recall Joan Archer Aldrin as a soft-spoken wife and mother, raising three well-behaved, individual-minded children and dealing with both our tribulations with a most admired human acceptance."
Aldrin married his second wife, Beverly Van Zile, in 1975, a year after divorcing his first wife. The duo did not have any children together and were married for three years before parting ways in 1978. Not much is known about their married life and separation. Beverly often appeared on the show Tattletales with her husband in 1975. She reportedly died in April 2004.
The astronaut reportedly met his third wife, philanthropist Lois Driggs Cannon, at a mutual friend's beach party in 1985. The pair possibly started dating and married in 1988.
At the time, Lois was already a mother to Lisa Cannon, Brynn Cannon, and Bryant Cannon, from her first marriage to Bryant W. Cannon. The duo attended several red carpet events together and stayed married for more than two decades.
Unfortunately, it came to an end in 2011 and their divorce was finalized in 2013. Lois reportedly died of natural causes at the age of 88 on July 17, 2018.
Buzz Aldrin has three biological children, James Michael Aldrin, Janice Ross Aldrin, and Andrew John Aldrin, all of whom he shares with his first wife Joan. Janice spoke about her father's mission to the moon during a 2021 interview with CNN and said:
"I didn't have a concept that this was coming from the moon, and how crazy that was. I was just disappointed that it wasn't in color."
Andrew said that he had "total faith in NASA and the Apollo program" at the time and did not have the fear "that anything bad was going to happen." He continued:
"It didn't strike me that Apollo 11 was really all that scary or risky. It was just normal. It was, this was just the next mission we were going to do because that's what dad said we were going to do."
The Aldrin siblings shared that their father often taught them science when they were children and said that he loved to share his physics knowledge even during family outings to the zoo and at dinner time. Janice shared:
"I never asked my dad for help with my homework because I wouldn't be able to understand what he was saying. My eyes would start glazing over."
Prior to Joan Archer's demise, she and Buzz Aldrin became grandparents to Janice's son, Jeffrey Michael Schuss. The former astronaut also became a great-grandfather after Jeffrey and his wife, April Schuss, gave birth to their sons, Nathaniel, Benjamin, and Archer.